TUSCARAWAS COUNTY, Ohio — Severe storms made their way throughout much of the Northeast Ohio region Monday evening resulting in a multitude of alerts for tornado warnings, severe thunderstorm warnings and flash flood advisories.
Tuscarawas County was among the hardest hit areas of the region with high winds causing devastating damage to a number of structures.
One county resident described the storm as "probably the worst one to hit this area in years."
The sounds of chainsaws could be heard throughout the village of Gnadenhutten in Tuscarawas County on Tuesday. Everywhere you looked, you could see signs of the severe storm that passed through the night before.
The storm ripped roofs from buildings, uprooted trees, caused power outages and in some cases, led to extreme damage to homes.
A Tuscarawas County family had a tree smash through their bedroom's roof as some slept inside. Miraculously they all made it out alive but not before breaking a window to get their kids out of the house and to safety.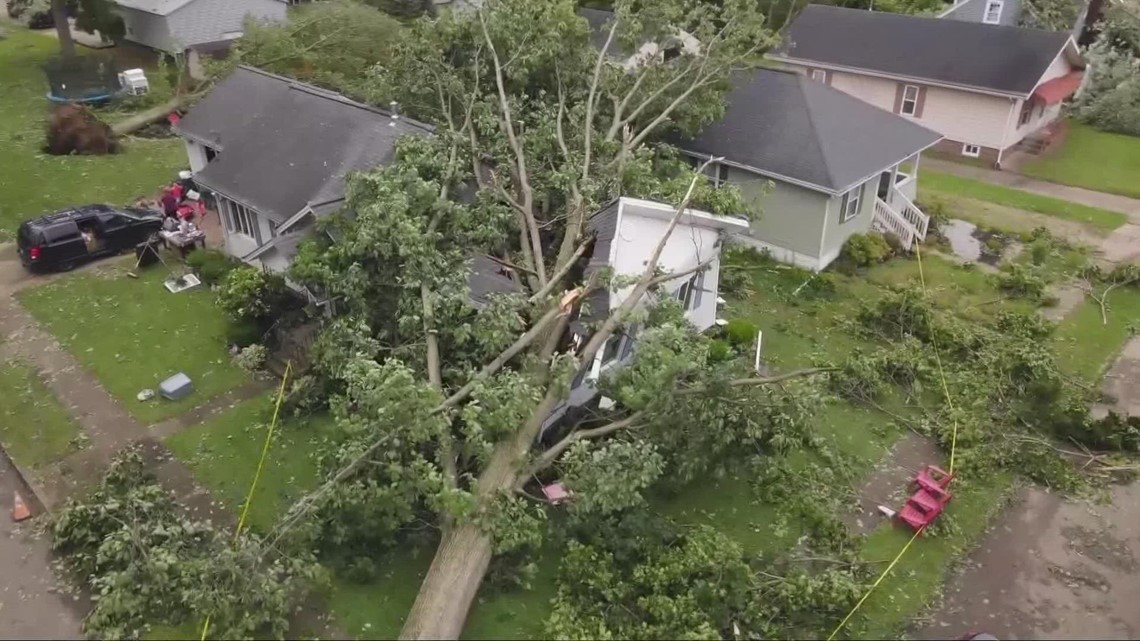 Some others weren't so lucky.
Local resident James Sellars' dog Champ tragically passed away when the storms rolled in. Now their house is left with a gaping hole in the roof.
Sellers recounts the harrowing experience when the worst of the storm came, "I was scared out of my mind. I thought we were going to lose our house."
More residents had rain water pouring into their homes, windows smashed with debris and cars destroyed.
Adding to the dismay and struggles of picking up the pieces, there may be no power for up to a week despite line workers working around the clock.
Though the road to recovery will take time, the Gnadenhutten community is pulling together to support each other and volunteering their time to help the cleanup effort.
One resident told 3News about the help that has already began in the community, "I don't know where they came from. They appeared and started working. It's just absolutely awesome."