What an evening!
The Northeast Ohio region is experience severe weather Sunday evening. From severe thunderstorms to tornado warnings, the WKYC team is working to keep you updated with the latest information.
PHOTOS: Severe Storm Images-April 14, 2019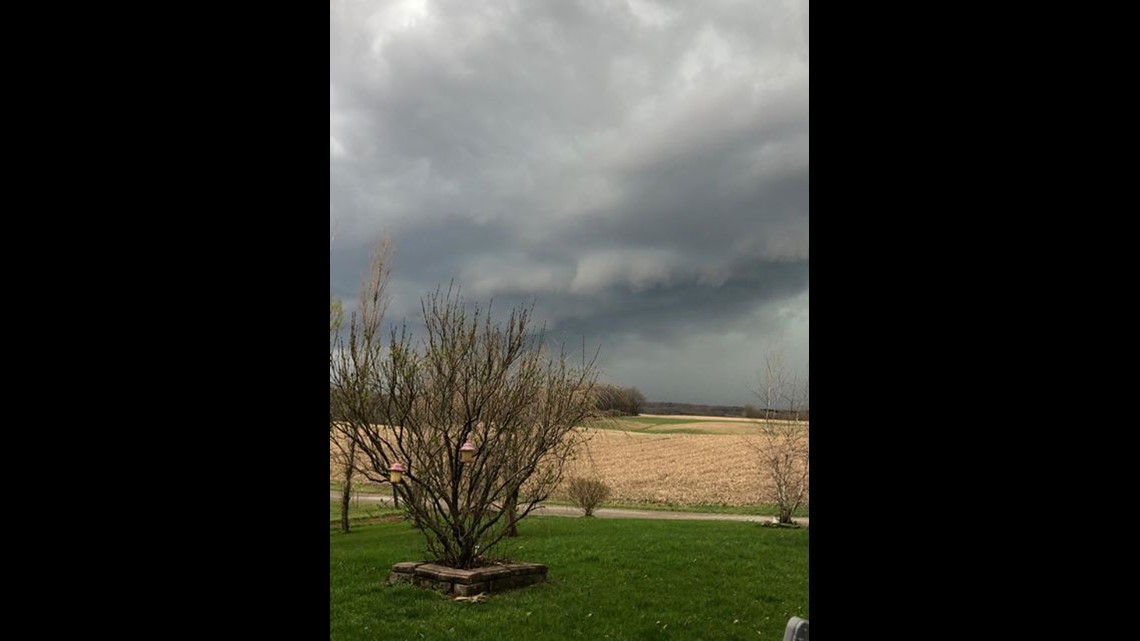 Check out some time stamped updates below:
11:00 p.m.
Shelby Police updated damage reports from a tornado that touched down in their city.
Chief Lance Combs reports as many as ten people suffered minor injuries.
Damage to the city's power infastructure is severe. The police department itself lost power and is working from a generator.
Many roads there are impassable because of downed power lines and trees.
The city hopes open the middle two lanes of Mansfield Ave by 9 am. Crews will work for several more days to replace poles and restring the power lines. Please bear with us, as our crews work around the clock to repair the infrastructure.
The Chief also thanked law enforcement and volunteers for their patience and support, and apologized for not sounding a tornado siren as soon as possible.
Read his full statement, here.
8:20 p.m.: WKYC's Ray Strickland was in Shelby, OH and provided an live look at the damage.
7:50 p.m.: Shelby Police announce the closing the Municipal Court Tuesday, April 15.
Facebook:Shelby Police Department
7:50 p.m.: Michael Estime reminds folks to beware of high waters in Stark and Summit Counties.
7:35 p.m.: WKYC's Ray Strickland is in Shelby, Ohio, one of the most impacted areas of the storms. He has a look at some of the damage.
7:17 p.m. New video shows a tornado in Shelby, OH
7:05 p.m.: Thousands of people in Stark, Portage and Summit Counties are without power. For the latest outage totals,click the link below.
RELATED: Thousands without power amid stormy Sunday: See the hardest hit areas
7:00 p.m: Our Photo Journalist Sean Forester captured damage on Laser Road in Shelby, one of the most impacted areas.
6:40 p.m.: A live look at Interstate 80 just outside of Youngstown.
ODOT
6:28 p.m.: 9-year-old Autumn Englehart captured this rainbow after the storm in Wakeman.
6:20 p.m.: Tornado Warnings issued for Northeastern Trumbull County and Southeastern Ashtabula County was in effect from 6:20 p.m. until 7 p.m.
6:00 p.m.: The National Weather Service issued a severe thunderstorm warning for several areas in Cuyahoga County.
5:51 p.m.: The national weather service issues a severe thunderstorm warning for Cleveland,Parma, and Lakewood until 6:30 p.m.
5:15 p.m.: The Storm is brewing and Jenn out in Massillon caught these swirling clouds.
5:05 p.m.: Video submitted to us by Caden Speck shows strong winds in North Lawrence.
4:20 p.m. : Meteorologist Michel Estime kicked off our coverage of tornado warnings in Southeastern Huron and Northern Richland on Facebook Live.