Weather Blog | Always breaking down our northeast Ohio weather in July 2019
Every day, we give you an in-depth look at the weather conditions that affect northern Ohio.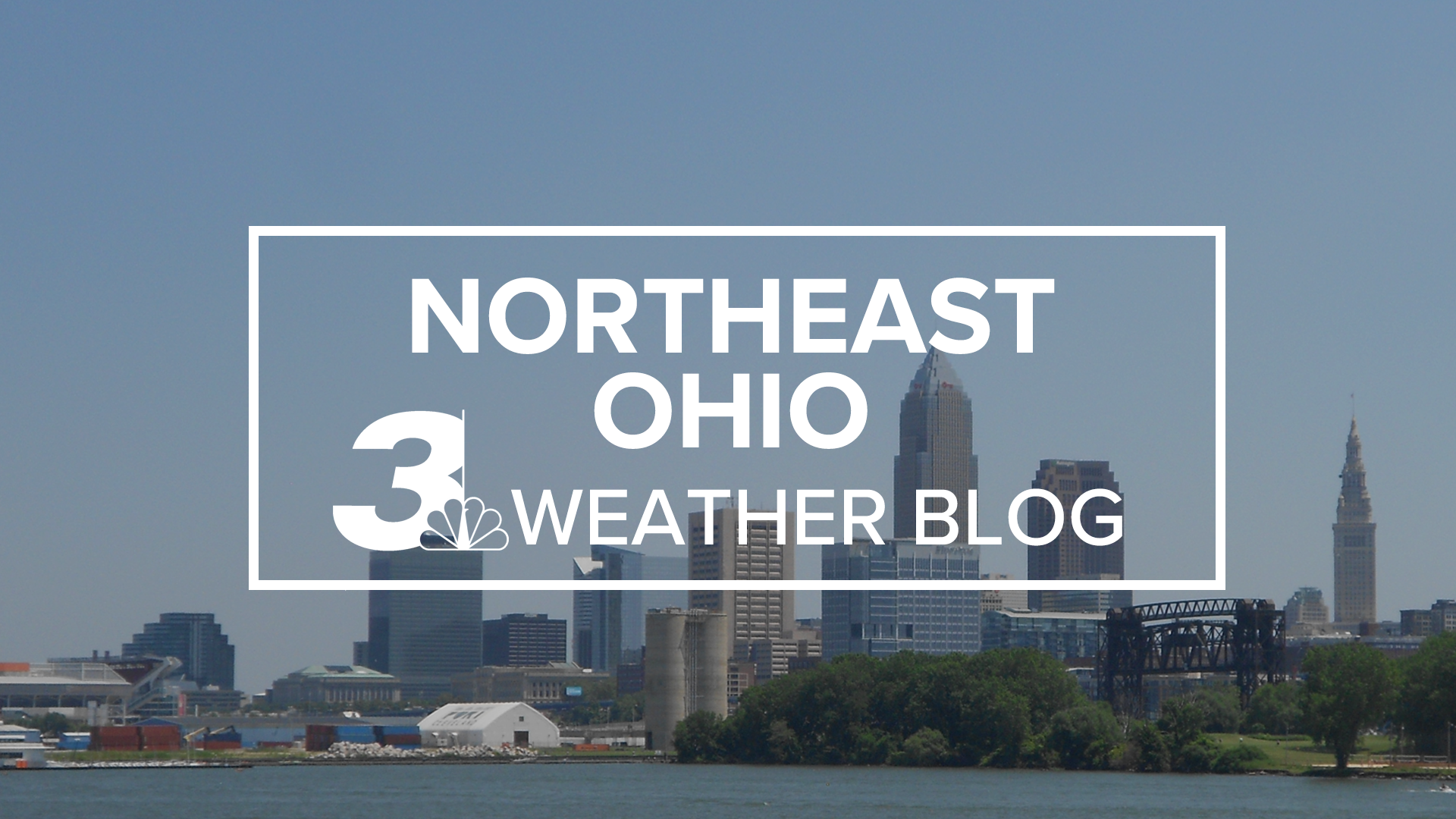 Welcome to our new weather blog that will give you a look at our weather highlights for northeast Ohio weekday evenings written by WKYC Weather Content Producer Frank Macek. Please email your weather related questions to fmacek@wkyc.com.
Chapter one
:
July 31
Wednesday Afternoon Weather Update:
Skies are mostly cloudy across the Cleveland area this afternoon. A cold front continues to move across the eastern part of the state, bringing more showers and thunderstorms to parts of our viewing area. A severe thunderstorm warning was issued for Columbiana County until 5 p.m.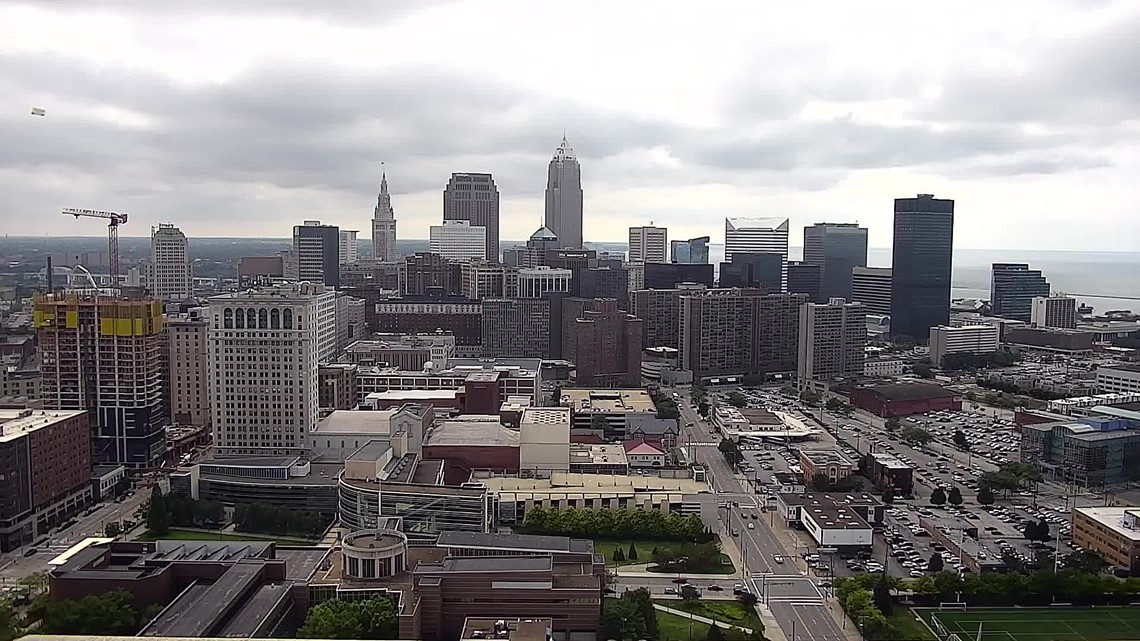 High pressure will begin building in tonight and will remain nearly stationary over the Great Lakes region through the weekend providing a beautiful weather setup for northern Ohio.
Temperatures will be lower to mid 80s with plenty of sunshine. Just remember, you sunscreen if you plan on being outdoors as UV indices will be on the high side.
Beach Hazards Statements Expiration:
Rising water levels along the Lake Erie shoreline will ease off this evening as any minor flooding should come to an end, especially over our western lakeshore communities.
A Beach Hazards statement was issued by the National Weather Service earlier in the day and expired at 4 p.m. Swimmers were asked to be alert for changing conditions that could make swimming or boating activities hazardous.
We have been getting multiple reports of funnel clouds across our southern counties this afternoon.
As we discussed in an earlier blog post, funnel clouds that form over Lake Erie are called waterspouts. But what if they form over land? They are called landspouts.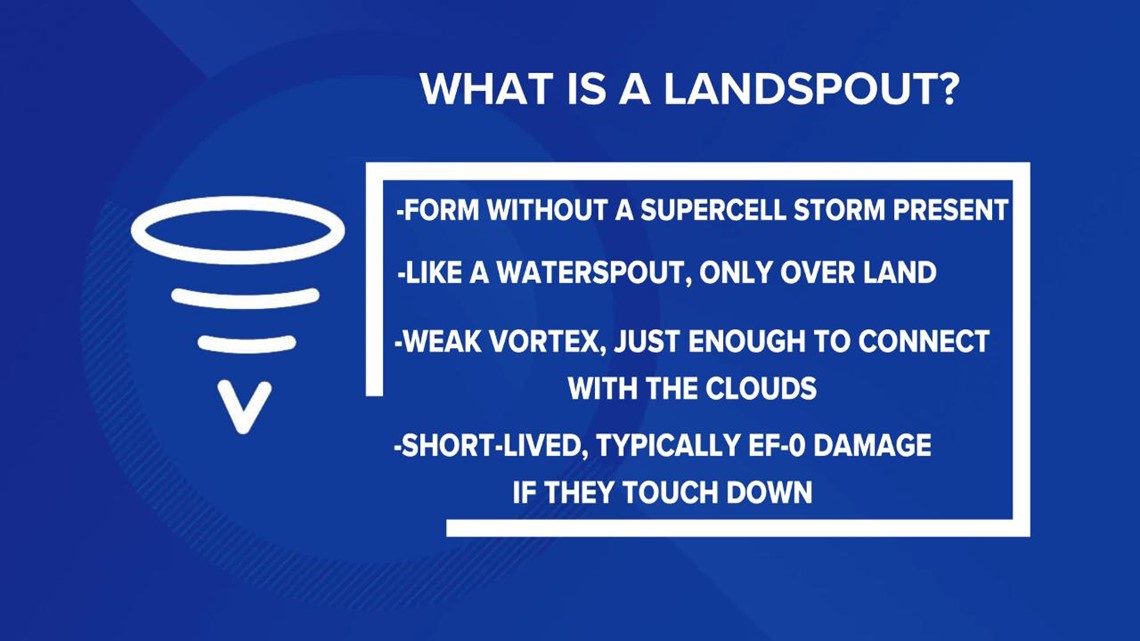 Landspouts share a very strong resemblance and development to waterspouts meteorologically. According to the National Ocean and Atmospheric Administration or NOAA, "A landspout is a tornado with a narrow, rope-like condensation funnel that forms while the thunderstorm cloud is still growing and there is no rotating updraft - the spinning motion originates near the ground."
Think of it begin like a dust devil that spins near the ground, then moves upward instead of downward.
This is what you are seeing across our southern viewing area this afternoon. Viewer David Becker tweeted out this photo from Stark County.
Please tag us with #3weather in your photos if you captured this landspout on camera or any others that form this afternoon. Remember: your safety first!
Does it seem like the northern Ohio is seeing more days each summer over 90 degrees? So far for 2019, 12 days have been over 90 degrees, including 10 in July alone.
Last year, Cleveland saw 22 days of searing heat above 90 degrees and in 2016, the number of days jumped to 29 days.
The most ever recorded in a single summer year since 1938 occurred in both 1952 and 1955 when 37 days saw a high temperature over 90 degrees in a single year.
Over the past 10 years, the average has been about 16.7 days per year, versus 11.6 days per year from the period of 1980 to 2018.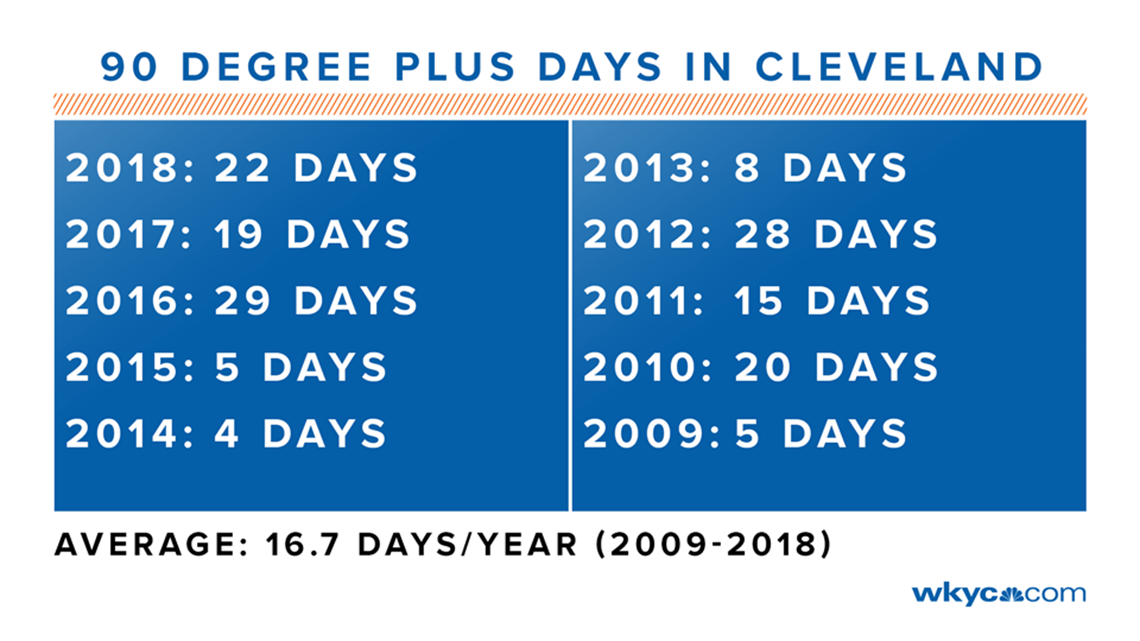 Despite being in the height of summer, we want to prepare you for what's ahead. So we asked our AccuWeather partners and expert long-range forecaster Paul Pastelok to break down the Fall outlook across the country and why the summer clothes may need to stay out a little longer.
Chapter two
:
July 30, 2019
Tuesday Afternoon Weather Update:
Skies are generally partly sunny across much of northern Ohio this afternoon. Scattered showers are moving across our southern and eastern counties as part of a cold front pushing through the state. As the front passes, humidity levels will become more comfortable this evening and skies will be fair.
As of 4 p.m. temperatures are generally in the upper 70s to lower 80s.
The forecast calls for mostly cloudy skies tonight with a low of 66 degrees. Wednesday will see partly sunny skies after a chance of morning showers or thunderstorms. Expect a high around 80 degrees.
Space Station Viewing Opportunity:
Tonight, we'll have a good opportunity to see the International Space Station fly over northeast Ohio (weather permitting).
Because the station's orbit changes from pass to pass, northern Ohio only gets to see flyovers on occasion, according to Cleveland State Research Astronomer Jay Reynolds.
Over the next week or so, we'll have around a half dozen evening opportunities that we'll post on our social media platforms and here on the blog as we get specifics times and directions from NASA.
Did you know? The International Space Station flies in a low earth orbit, about 254 miles above the surface at a speed of 4.76 miles per second or 17,500 miles per hour. At that speed, the space station orbits the Earth every 90 minutes.
Check the graphic below for Tuesday night's viewing opportunity.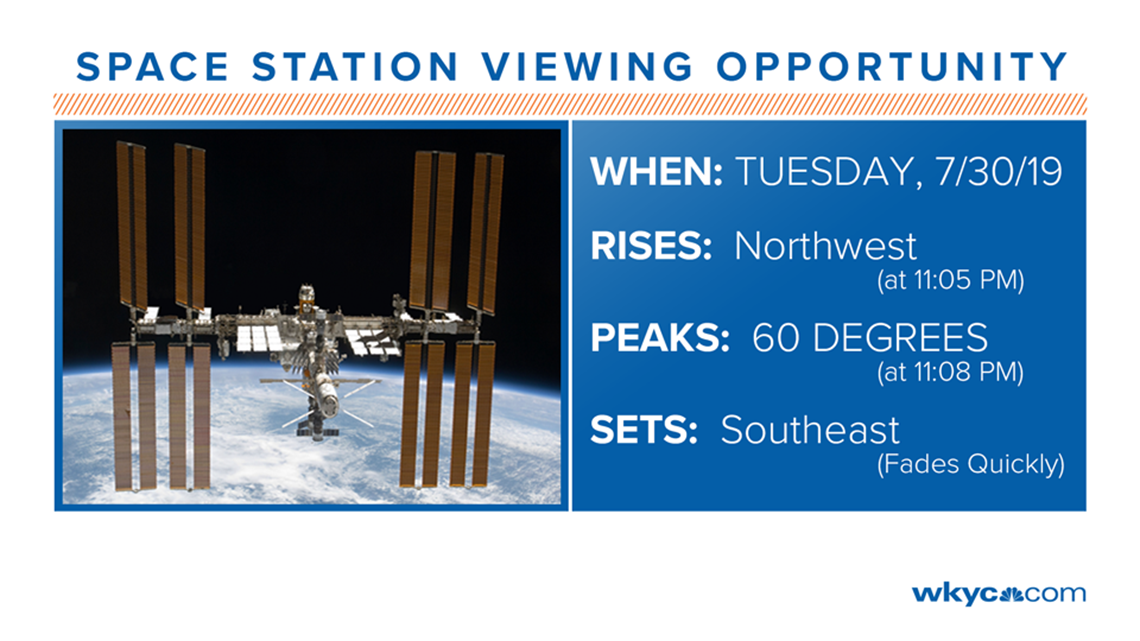 We are firmly entrenched in the "Dog Days of Summer" which run from July 12th through August 20th. However, the dog days aren't directly related to the hot weather as most people think.
According to the Farmer's Almanac, the phrase actually refers to the time of the year when the dog star, Sirius, is visible in the sky. In the summer, Sirius rises and sets with the sun. On July 23rd, the alignment, or conjunction, of the two give Sirius its brightest appearance in the sky.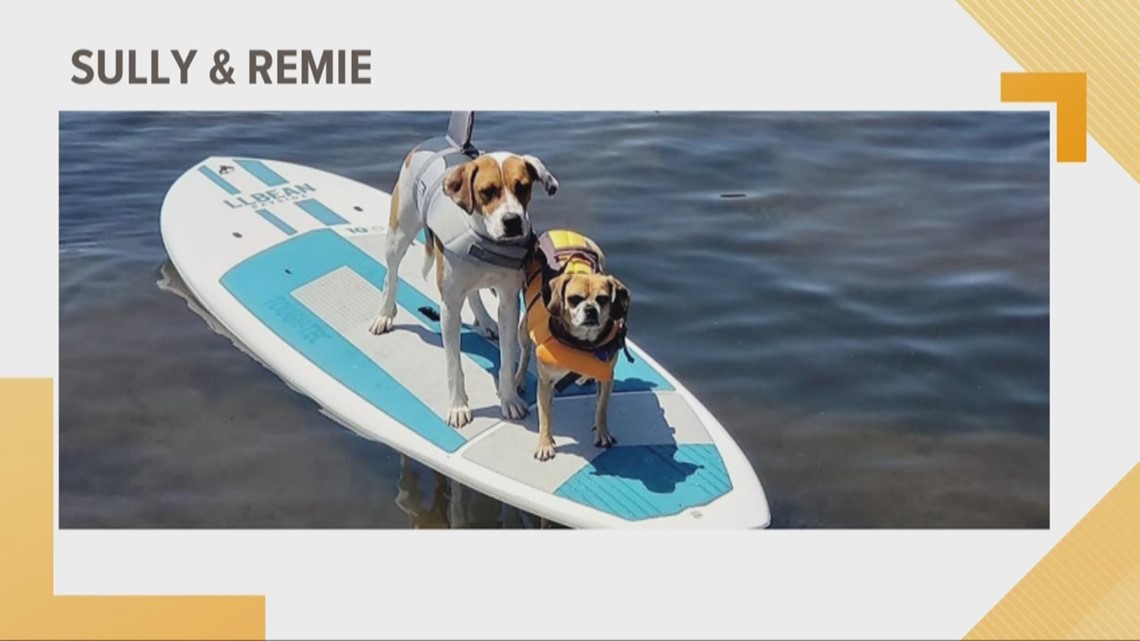 The ancient Romans believed Sirius provided Earth more heat during this time that began 20 days before and 20 days after the solar alignment. Therefore, the period is referred to as the "dog days of summer."
In reality, Sirius has nothing to do with the higher temperatures of summer in Ohio. The Earth's tilt and orbit around the sun determines our seasons and July and August are the seasons of highest heat for the northern hemisphere.
Don't tell you pets though, so they can feel your center of attention during the hottest days for the year like Sully and Remie above.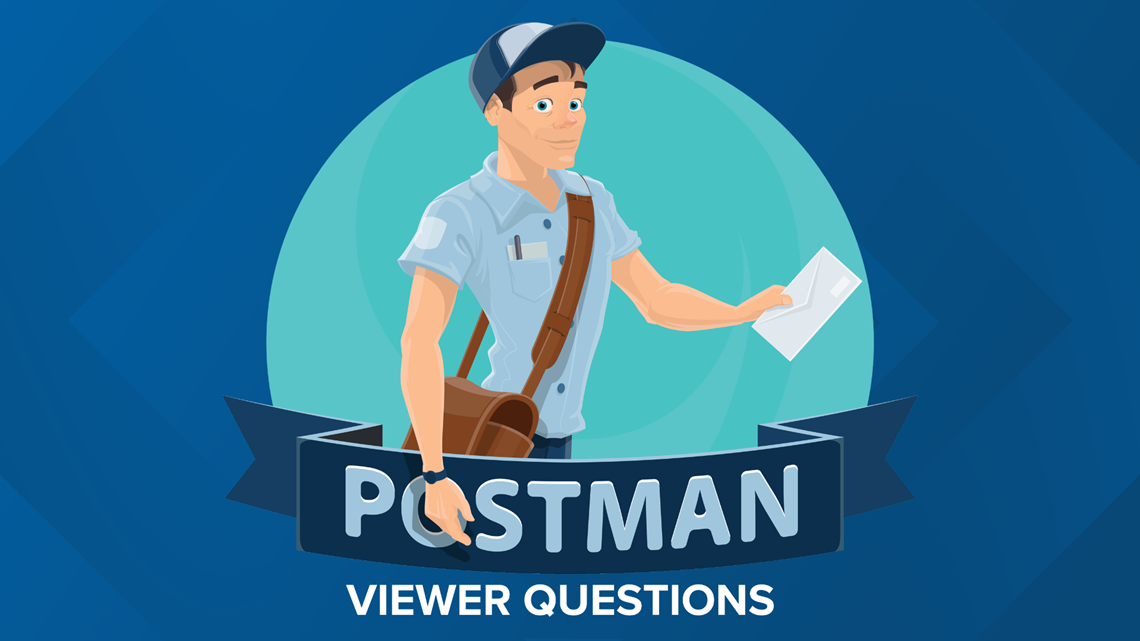 Time to check the mailbag for some viewer questions about the weather. Don't forget, you can send us your weather related questions to fmacek@wkyc.com
Question #1: What is air our made of?
Air is made up of several gases. The highest concentrations of gases are nitrogen (78.09%) and oxygen (20.95%). The rest of air consists of elements like carbon dioxide and other trace gases in very small, or trace, amounts.
Question #2: What is heat lightning?
Despite what most people think, there is really no such thing as "heat lightning."
Because waves of light travel farther than waves of sound before dissipating, a viewer will see lightning, but never hear the thunder.
In the summer, distance thunderstorms are more common at night and people often say the term "heat lightning" when this situation happens.
You see plenty of lightning (but perhaps not the actual lightning bolt), but never hear the thunder.
Question #3: Why are sunsets red?
Light is made up of all different wavelengths. At sunset, more red light is scattered toward you because of things like aerosols and other pollutants in the lower atmosphere.
The process is amplified as the sun's light passes lower to the horizon, causing more red light to be scattered than say the blues or greens we see during the daytime.
Also, red sunsets can be much more brilliant after volcanic eruptions or wildfires across the planet that add further pollution to the atmosphere and cause even more scattering of the red light wavelength.
Chapter three
:
July 29, 2019
The weekend turned out pretty much how we expected it with just a few isolated showers and thunderstorms, mainly over our eastern counties.
On Saturday, Cleveland reached 87 degrees and 89 degrees on Sunday, although the humidity made it feel a bit hotter. We are are still running above normal for daytime high temperatures.
Through Sunday, we've had a total of 40 days where temperatures have been at least 80 degrees this summer.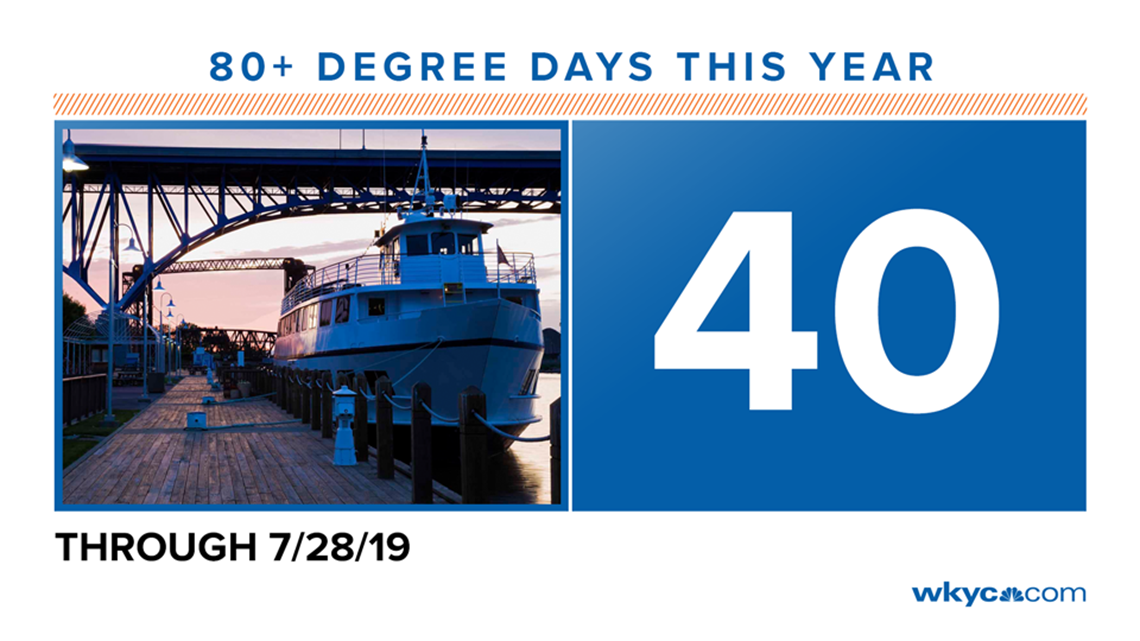 Severe Weather Potential:
We have a very small chance of any strong to severe thunderstorms across northern Ohio this evening and tonight with the passage of a cold front. Although widespread severe weather is not expected at this time, a few isolated cells could produce some hail and gusty winds.
A line of showers and thunderstorms will continue moving their way east across Ohio this evening. As of 5 p.m., the line extended from near Toledo through Indianapolis. The chances for storms will last into Tuesday morning.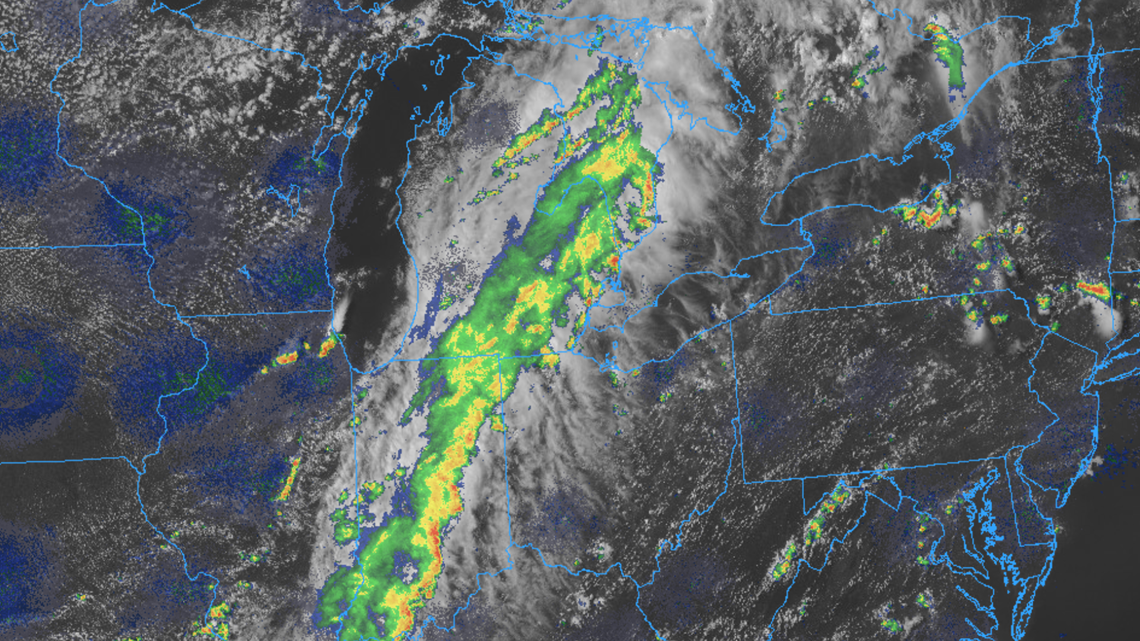 The tropics are becoming active in both the Pacific and Caribbean with three areas of concern.
In the Caribbean, we have tropical wave just south of Puerto Rico bringing some shower and thunderstorms to the area. The National Hurricane Center says the system will have trouble developing any further over the next few days due to atmospheric conditions. The odds will improve over the next five days and this system will need to be monitored closely.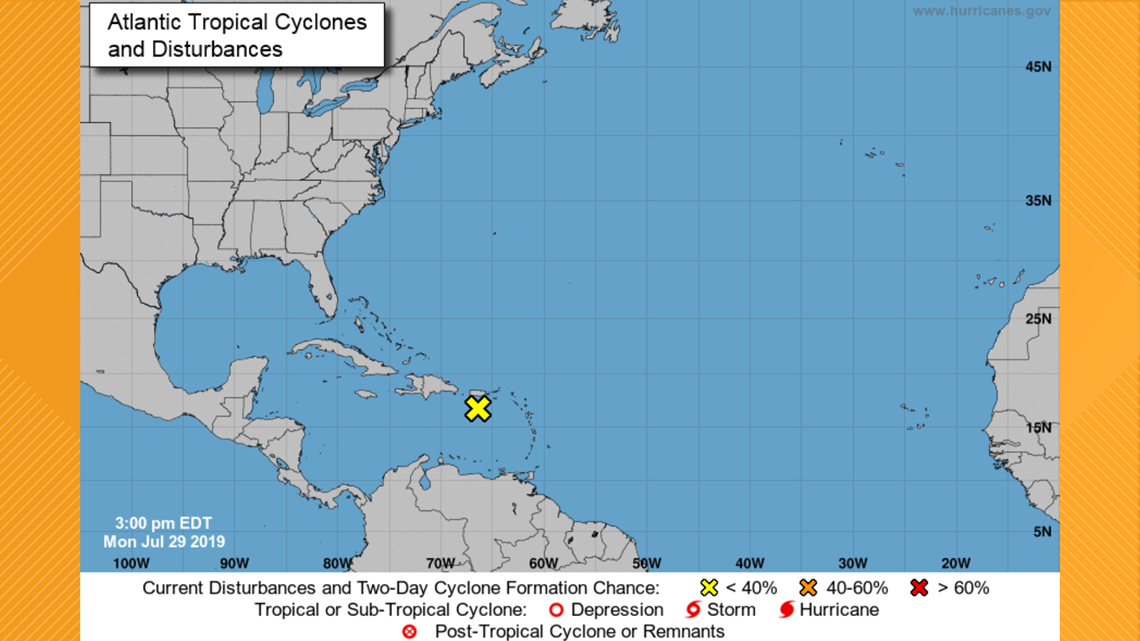 In the Central Pacific, Tropical Storm Erick is located 1310 miles east, southeast of Hilo, Hawaii and is moving toward the west at 17 mph as of Monday morning. Maximum winds are currently 70 mph or just below hurricane strength. Forecasters expect Erick to become a hurricane by the end of today and could reach category 2 before weakening as it passes south of the main Hawaiian Island of Hawaii on Friday.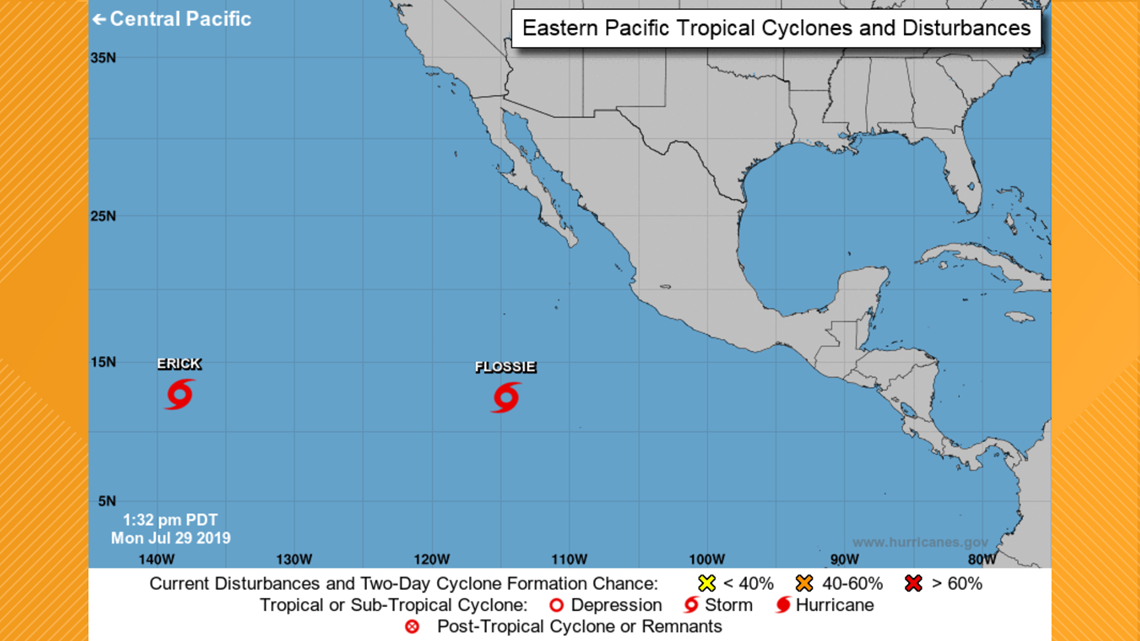 On Erick's heels is Tropical Storm Flossie which is also expected to become a hurricane by Tuesday. This storm is about 820 miles west of Manzanillo, Mexico, and move west at 18 mph. At the current time, Flossie is no threat to land.
Explaining Chances of Rain:
Say you've just seen a forecast for Saturday and the outlook says rain is possible and may ruin your plans this weekend with a "70 percent chance or rain." But, what does that "70 percent chance of rain" really mean?
"Chances of precipitation" can best be explained as the odds of rain happening. The term can be somewhat confusing because the forecast can refer to two different ways to gauge rain threat depending on the context and type of forecast being offered.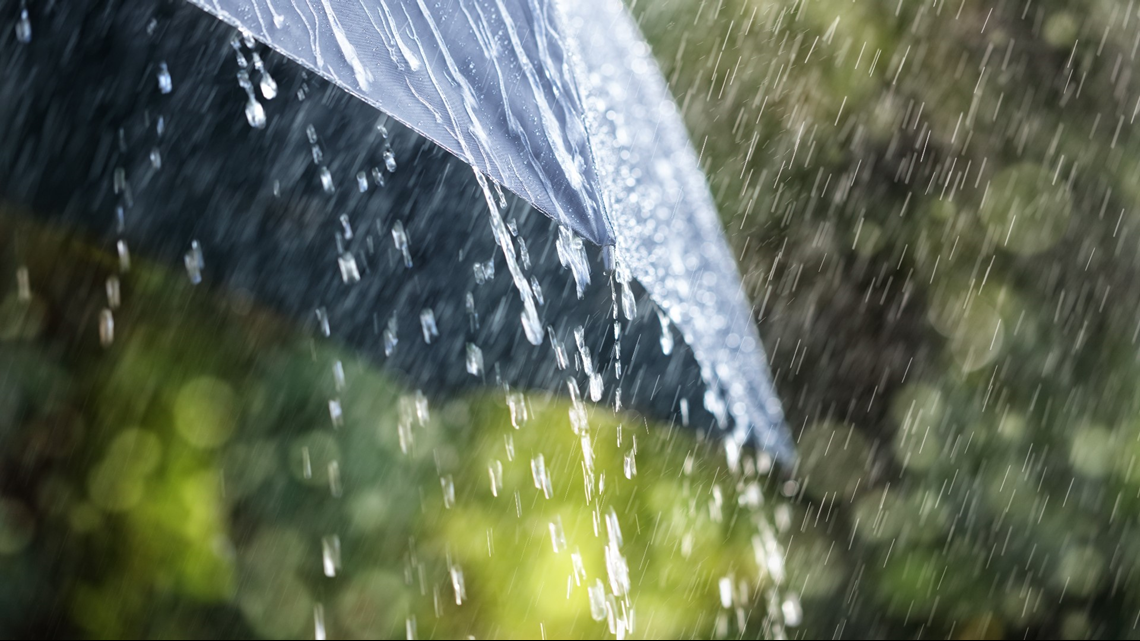 First, a forecast of a "70 percent chance of rain" could mean 70 percent of the area will get rain if it does indeed rain. On the other hand, 30 percent of the forecast area won't get any rain. This can be referred to as an "areal chance forecast."
Or the "70 percent chance of rain" can refer to the degree of confidence a meteorologist has that rain will actually arrive within the forecast period. In this case, a "70 percent chance of rain" can mean there is a strong chance (or odds of 7 in 10) that the rain will actually happen when we think it will occur. We'll call this our "confidence forecast."
So, which type of "chance of rain" do you see on our Channel 3 News extended forecasts? We give you our "confidence forecast" in whether we are betting it will actually rain or not on a given day. Hopefully, your weekend won't be spoiled any time soon, but if it is, you won't be caught off guard.
Chapter four
:
July 26, 2019
Once again, an Air Quality Advisory has been issued for Ashtabula, Cuyahoga, Geauga, Lake, Lorain, Medina, Portage and Summit Counties for Saturday July 27th.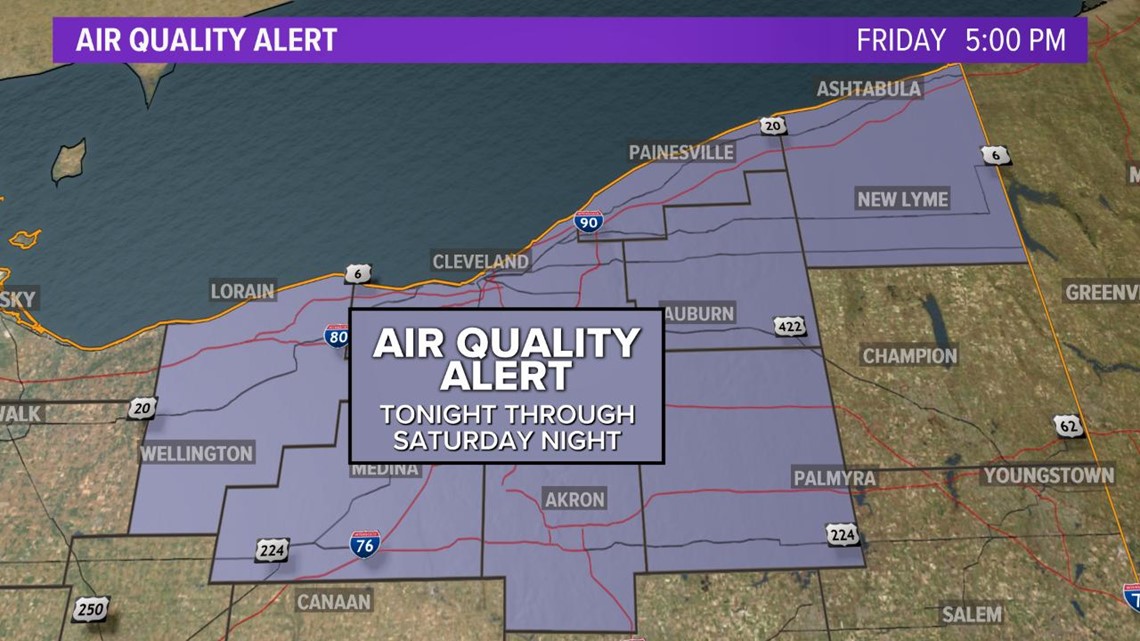 For more information, click on the story below:
Let's talk a look at what these advisories are and why they are issued. For northeast Ohio, this responsibility doesn't fall on the National Weather Service, but on the Northeast Ohio Areawide Coordinating Agency or NOACA, for short.
NOACA's overall mission is "to address the transportation, air quality and water quality needs of Cuyahoga, Geauga, Lorain, Lorain and Medina Counties," according to their website. However, they also oversee other counties in specific areas including air quality.
NOACA will issue an Air Quality Advisory when ozone and fine air pollution levels are expected to go beyond what is considered healthy per EPA standards.
If you have breathing problems, you know poor air quality can make you feel miserable, especially for those with chronic health conditions like bronchitis, asthma or emphysema.
Pollution can often cause chest pain, coughing, throat irritation and nasal congestion.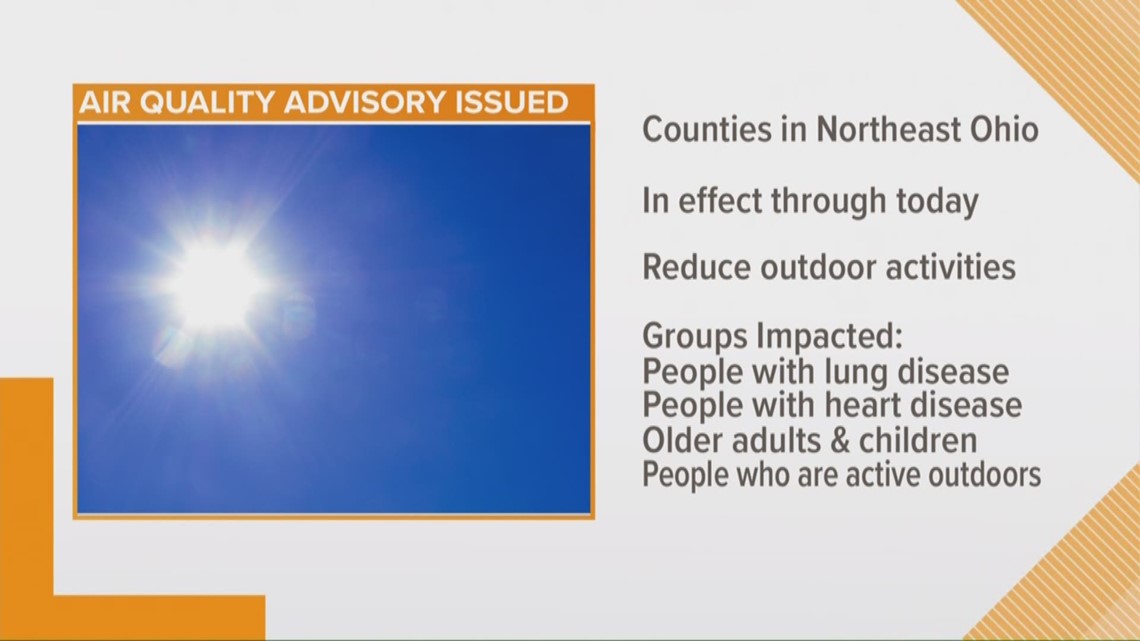 Air Quality can enter advisory criteria because higher air temperatures, lack of wind and/or inversion layers in the lower atmosphere that can trap fine air particulates close to the ground and keep them from dissipating.
The highest concentrations of pollution continue in and close to the our major cities in northeast Ohio including Cleveland, Lorain, Elyria, Akron, Canton and Medina thanks to pollution emitting factories and vehicular traffic.
You can sign up to receive free e-mail advisories from NOACA when alerts are issued or find them posted here on wkyc.com and the WKYC News and Weather Apps.
The Days are Getting Shorter:
Yes, the days are now getting shorter for northern Ohio as we've crossed the midway point of the year.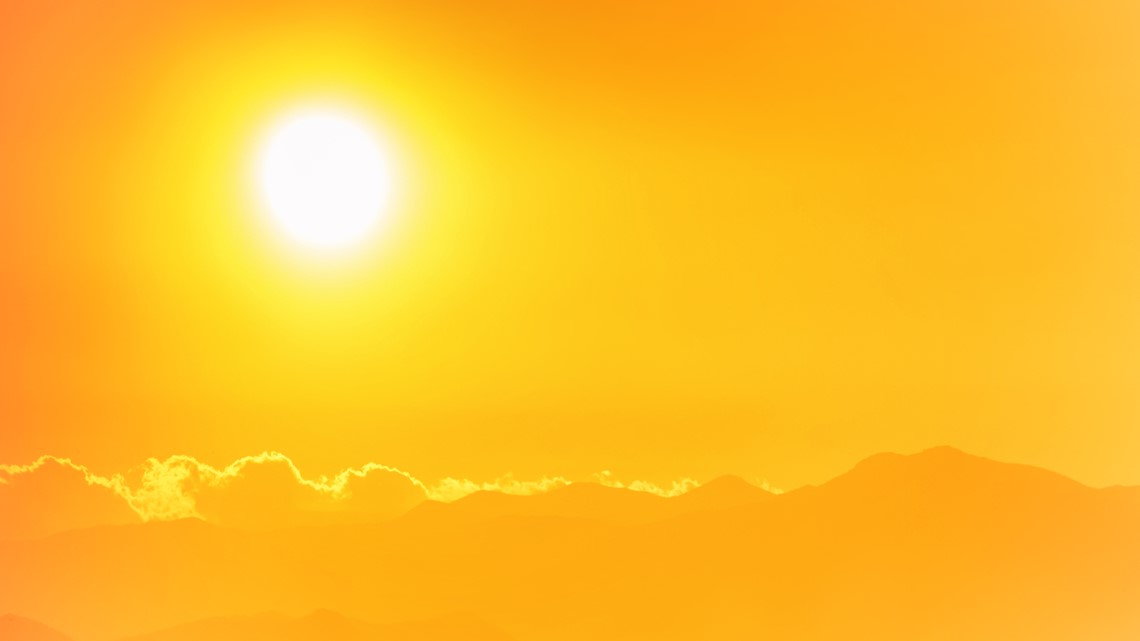 In the morning hours, the earliest the sun will rise in 2019 occurred on June 9th at 5:52 a.m. and will lasted 12 days in a row before starting to move in the opposite direction. By the time we hit December, the latest sunrise of the morning occurs at 7:52 a.m. on December 27th.
At night, our latest sunset in 2019 occurred at 9:04 p.m. June 21st and lasted until July 3rd before heading in the opposite direction. The earliest sunset this year will occur December 5th at 4:56 p.m.
With the later sunrise and earlier sunset times, we begin to lose daylight starting in July.
This year from July 1st to July 31st, we'll lose 24 minutes of daylight in the morning hours and 19 minutes of daylight in the evening, for a combined total of 43 minutes of time you won't get to enjoy the sunshine.
The lesson here: Enjoy the longer days while you can! They won't be around forever!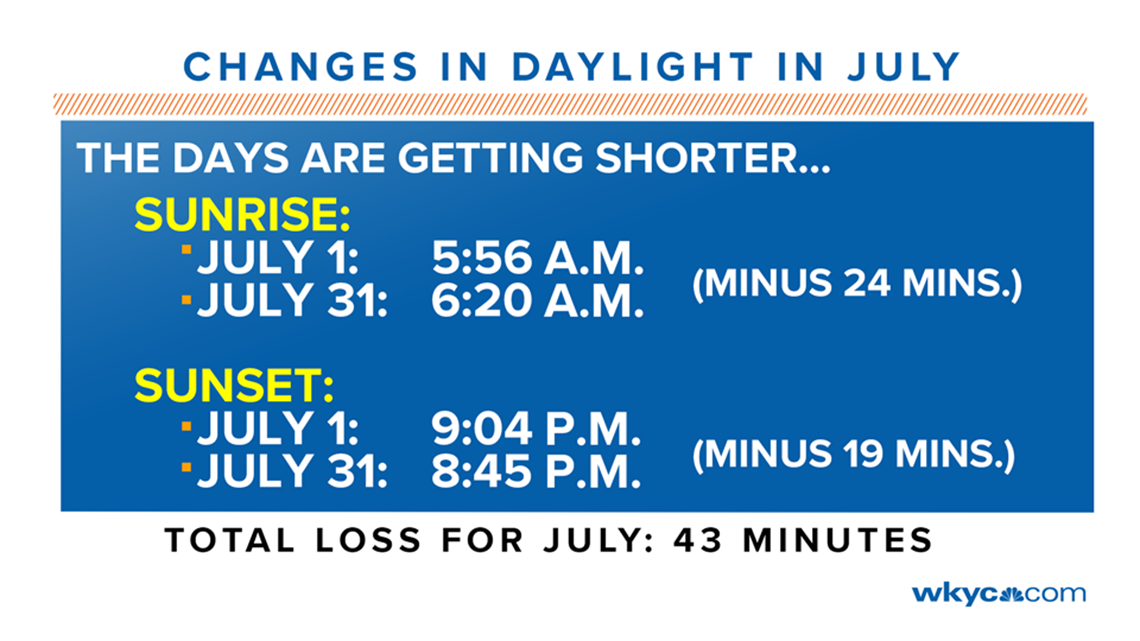 Since Friday is upon us already, let's take a peek at your weekend forecast from the Channel 3 Weather Team as temperatures begin to warm back up, but won't be as hot as their were last weekend. Enjoy!
TONIGHT | Mainly clear and quiet. | Mid 60s
SATURDAY | Mostly sunny and continued warm. | Upper 80s
SUNDAY | Partly cloudy with an isolated storm chance. Warm and humid. | Around 90
Chapter five
:
July 25, 2019
Not much really to talk about with our weather in northern Ohio on Thursday. Skies are partly to mostly sunny across northern Ohio as seen on the GOES-East satellite this afternoon.
Notice cloud cover is visibly absent over the lake and immediate lake shore region. Drier, more stable air is keeping cloud formation at bay over the lake until you move inland where the lifting of the warmer air begins and clouds start to form.
Upper levels winds are then pushing the clouds off to the south.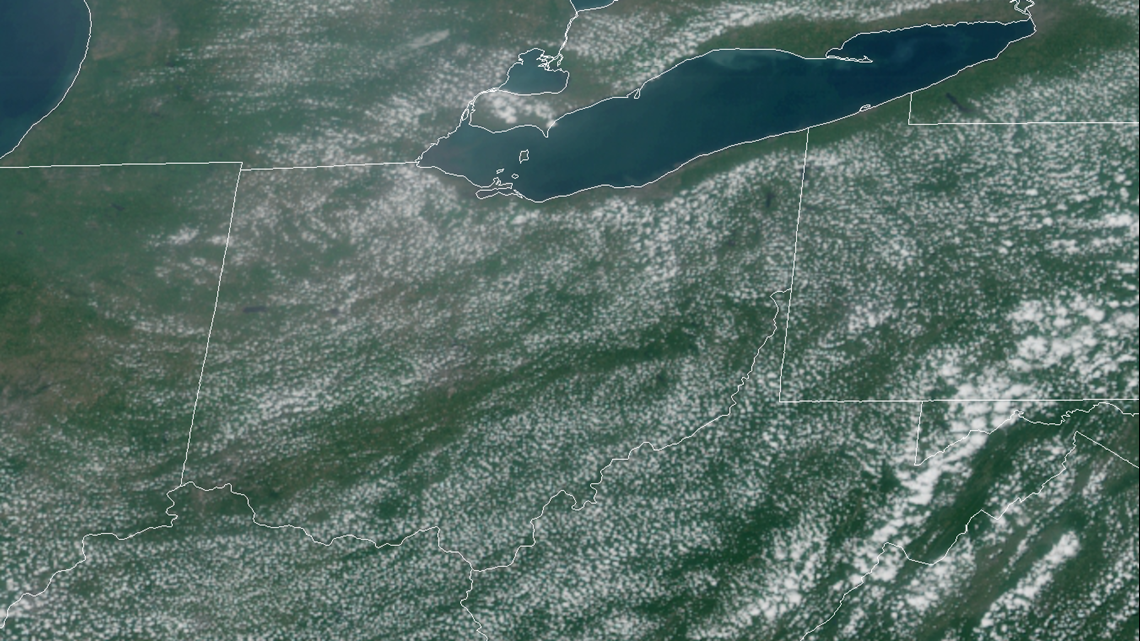 In our daily forecasts, we use terms like "sunny," "partly cloudy," "partly sunny," "mostly cloudy" and "cloudy" to describe how much cloud coverage is expected during a given forecast period.
Let's explain what each term really means to you:
*Sunny or Clear means no clouds are expected in the sky.
*Mostly Sunny means just a few clouds are expected. All clouds combined will total less than 37.5% (or 3/8ths) of total sky coverage.
*Partly Cloudy means clouds will make up between 37.5% (3/8ths) and 62.5% (5/8ths) of total sky coverage, but you'll see overall less clouds and more sun in the sky.
*Partly Sunny means clouds will make up between 37.5% (3/8ths) and 62.5% (5/8ths) of total sky coverage, but you'll expect overall less sun and more clouds in the sky.
*Mostly Cloudy means clouds will make up between 62.5% (5/8ths) and 87.5% (7/8th) of total sky coverage.
*Cloudy means the entire sky will be covered in clouds with no sun penetrating through.
Take our Weather Web Poll:
Take a few moments and vote about what you feel is our perfect summer time temperature in northeast Ohio. We'll share the results on the blog on Friday.
Many of you have been asking us about our yearly rainfall to date in northern Ohio and how it compares to normal.
No surprise: the weather been unusually wetter than normal this year!
For the Cleveland area, we are running over six inches above normal so far in 2019, while Akron/Canton and Mansfield have also far exceeded their normal rainfall totals through July 25th. See the graphic below for comparison.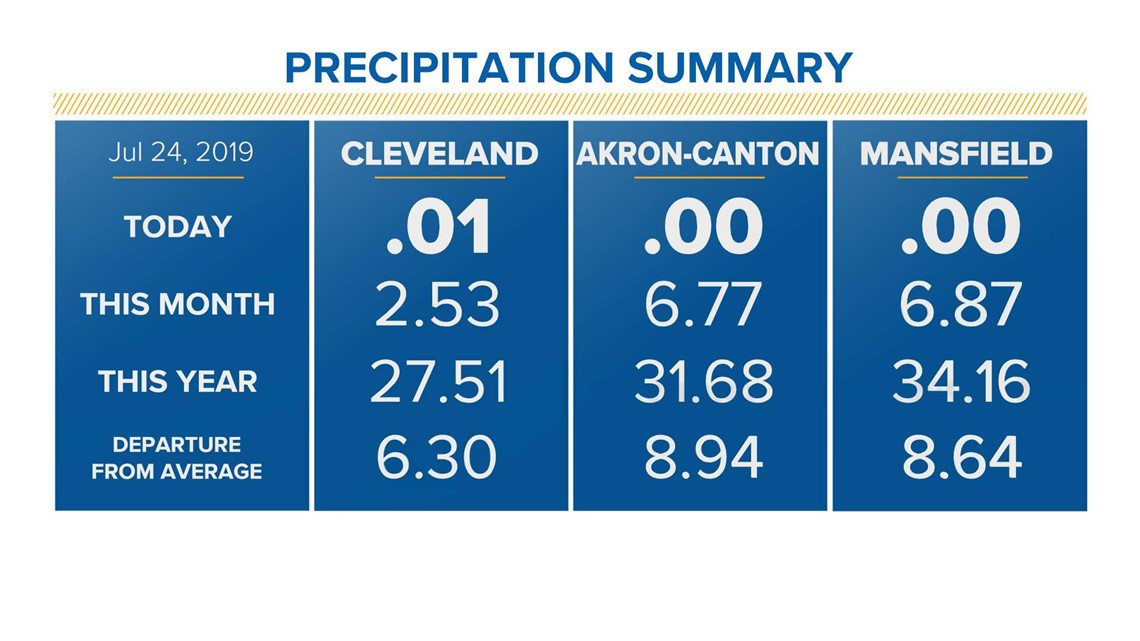 In order to break into record territory for the year, Cleveland would need at least a total of 45.43 inches of precipitation (rain and snow melt equivalent) by December 31st to crack the top 10 wettest years on records, while Akron/Canton would need a total of 45.43 inches and Mansfield would require 49.23 inches.
The all-time wettest year ever for Cleveland occurred just 8 years ago in 2011 with 65.32 inches of precipitation. (Akron/Canton's all-time record is 65.70 inches in 1990 and Mansfield is 67.22 inches in 1990).
Let's hope we don't get another 37.81 inches of precipitation before the end of the year, but with a changing global climate, anything is possible!
Chapter six
:
July 24, 2019
In case you haven't noticed over the last few days, temperatures have been below our normal high of 83 degrees in northern Ohio. We can thank the jet stream for this.
After the last weekend's high pressure system that brought us the heat wave, the high pushed off and opened up the opportunity for the jet stream to push south ushering in the cooler air from Canada. By Tuesday, the jet stream had taken push unusually far south into the southern states.
Here is what our jet stream currently looks like on Wednesday: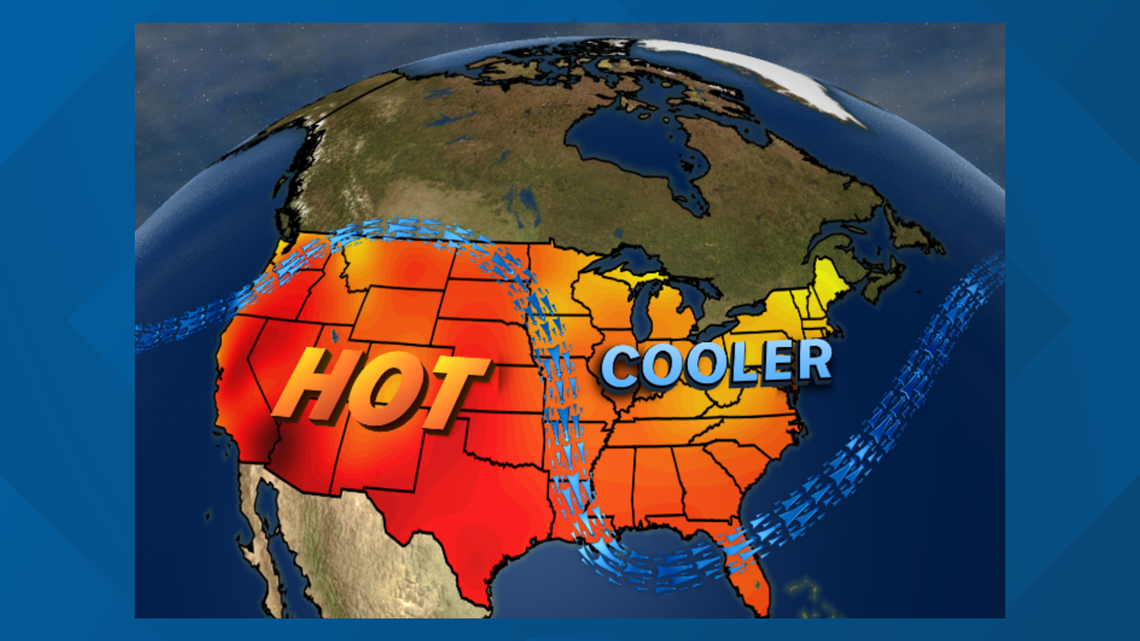 The National Weather Service define jet streams as fast, flowing, relative narrow air currents found in the atmosphere about 6 miles above the surface of the earth that guide our weather.
In the northern hemisphere, we have three types of jet streams:
*The Polar jet stream that generally stays way up into Canada.
*The Mid-Latitude jet stream that affects the majority of northern Ohio weather
*The Subtropical jet stream that affects areas from Mexico to Florida and steers tropical systems.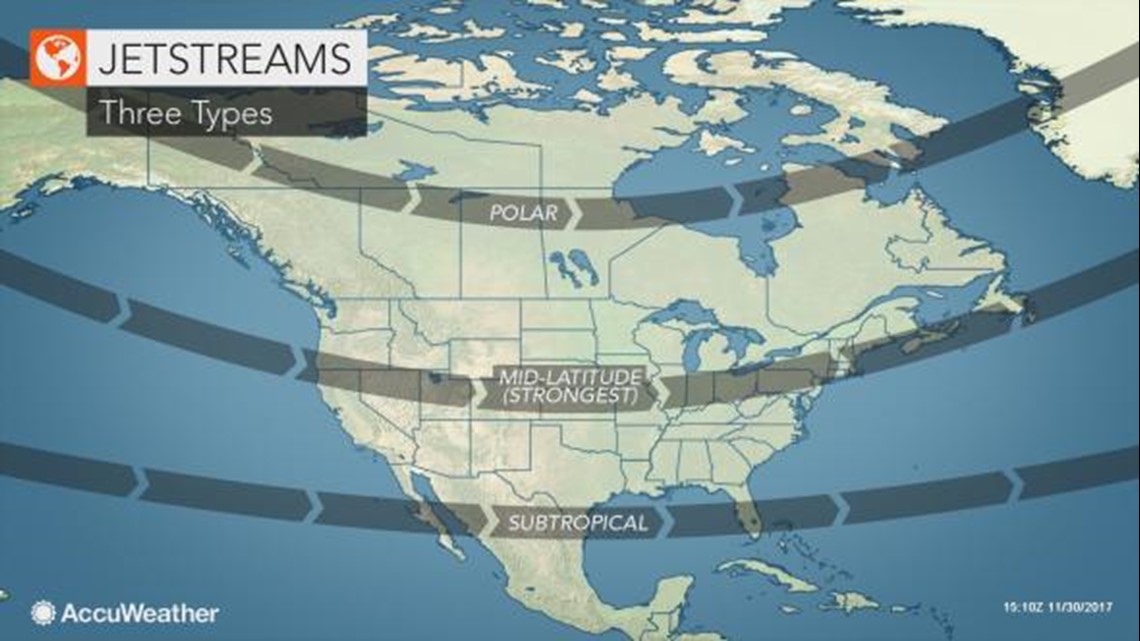 In the summer time, the jet streams are usually zonal, or moving in a general west to east direction. This keeps the cold air to the north of the mid-latitude jet stream, usually north of the U.S./Canada border and the warm air to the south over the United States.
In the winter time, the jet streams become more like a roller coaster, jutting south and then back north in waves. When the happens, the jet streams have a direct influence on the high and low pressures that form along it.
As we mentioned, we are seeing an unusual pattern for July right now, where the jet stream is showing more a winter-time setup bringing nice cool air and less humidity into northern Ohio.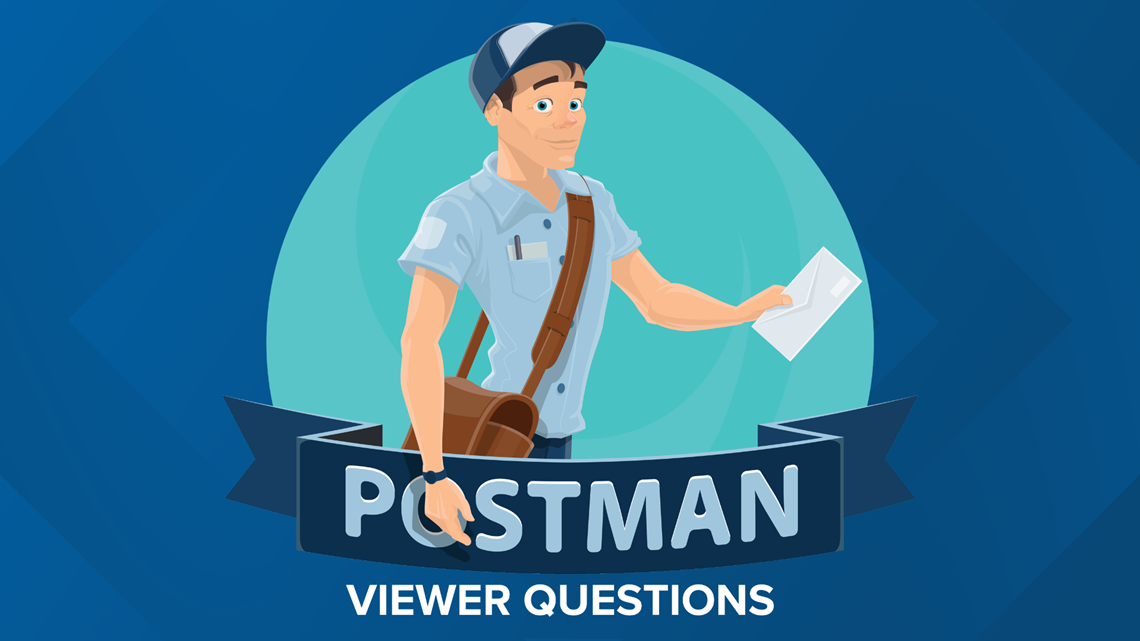 Question #1: "Where do I find all the current weather on wkyc.com?"
We have received a couple of viewer questions about where to find certain weather elements on our website, wkyc.com
Our main weather page is actually found at wkyc.com/weather and features our daily narrative weather update from the Channel 3 Weather team, the current weather conditions, a 10 day forecast, the latest weather news and video, interactive radar, our local weather maps and featured weather photo galleries.
You can also find much of this same information on both our new WKYC News App and WKYC Weather App. Click on the link below to get our new app or search "wkyc radar" in the iTunes and Google Play stores for the separate WKYC Weather app.
Question #2: "What is the safest sunscreen SPF rating to use on your skin?"
First, let's explain what SPF means. SPF is short for Sun Protection Factor or a measure of how well a sunscreen product will protect your skin from dangerous ultraviolet rays from the sun.
UVA (or ultraviolet A rays) penetrates deep into the skin and cause long-term skin damage, aging and wrinkles, but will not burn your skin.
UVB (or ultraviolet B rays) is the kind of radiation that will cause sunburns, damages skin and can even contributes to skin cancer.
SPF sunscreen protects you from UVB rays, but not the UVA rays which are not as big a concern. In you are really worried about skin problems, don't spend much time in direct sunlight.
In general, you want to use sunscreen that has a higher SPF rating on its label. The greater the number, the better the protection. The numbers below explain the difference categories of SPF. You're best best is always an SPF 50 product.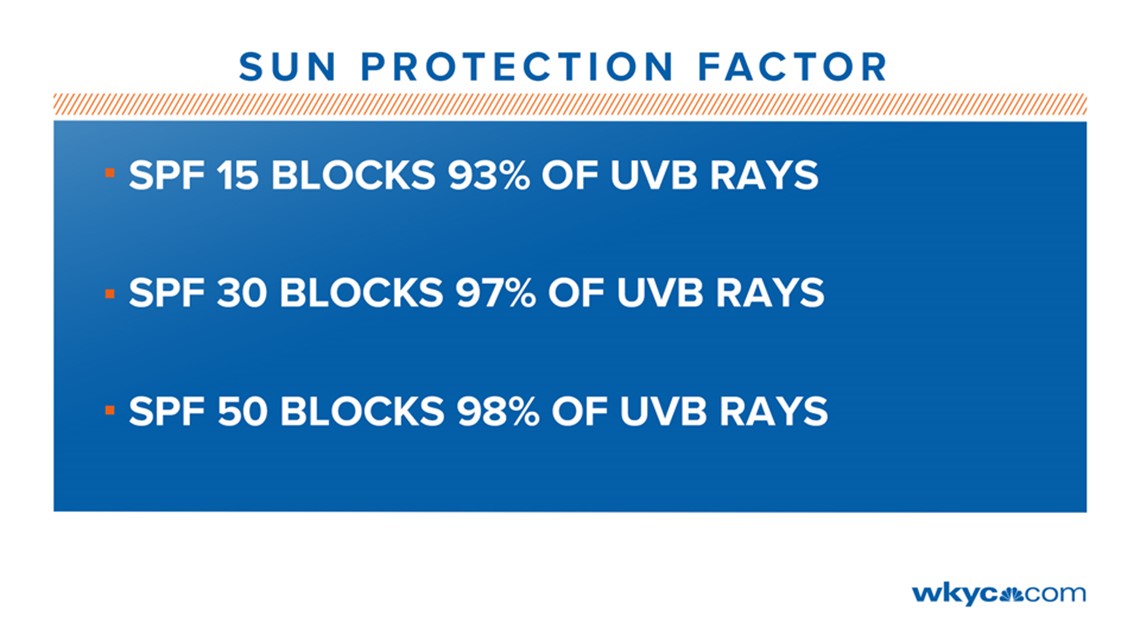 Keep in mind that even on cloudy days, ultraviolet radiation can penetrate the clouds and give you sunburn. Most people don't realize this and go outside unprotected on cloudy days, especially during the summer.
You can still get sunburned during the winter months when there is very sunny days, but the angle of the sun is lower and now as effective as burning you.
Feel free to read more about the UV index scale and SPF below:
Question #3: "Is Hollie Strano as nice a person as she is on TV?"
Yes, that's an easy one to answer. Hollie is a very positive person, loves the weather and loves being part of our Channel 3 News morning show. Catch her weekdays from 4 a.m. to 7 a.m. on "Live on Lakeside" from 11:00 am until 12:30 p.m. Monday through Thursday.
Please keep your questions coming and I'll do my best to answer them with the help from the whole Channel 3 Weather team. Email me at fmacek@wkyc.com
Chapter seven
:
July 23, 2019
Northeast Ohio continues quiet this afternoon as just a few decorative clouds drift about over southern Ohio while the northern part has partly cloudy to mostly clear skies. A large area of high pressure is building over the middle part of the country which will bring us the warmer (okay, hotter) temperatures back to the area by the end of this week.
A weak cold front to our north in southern Ontario will bring some high level clouds into the lake shore later this evening, but we can't rule out a stray shower developing. So keep that in mind if you are enjoying the outdoors.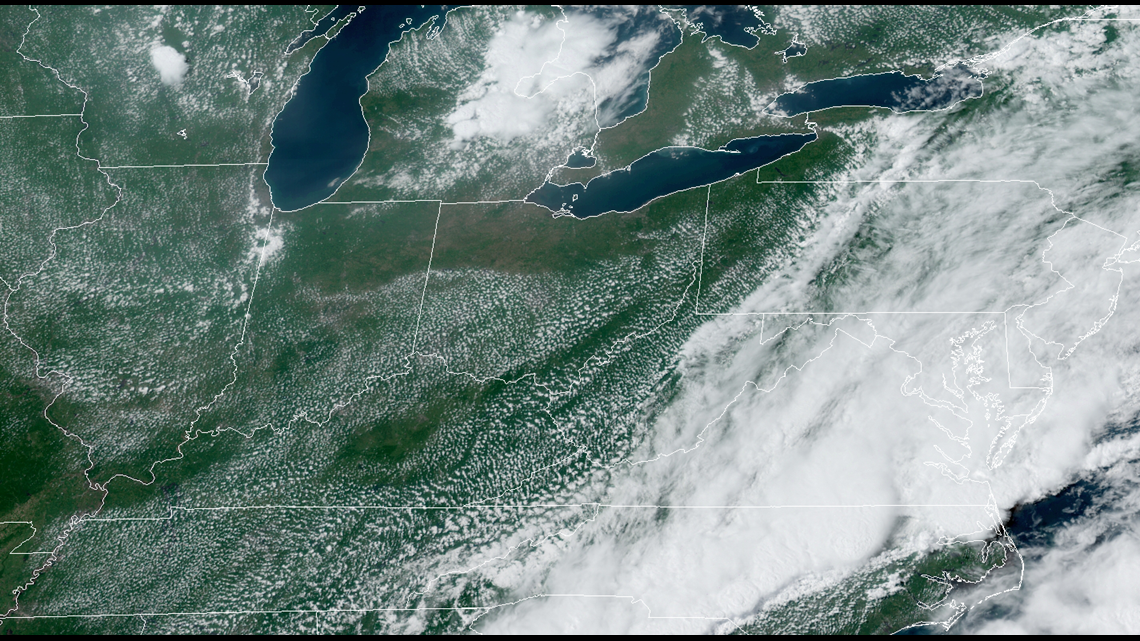 Yesterday, you may have seen pictures of waterspouts off Lorain County in the afternoon hours. Although the waterspouts stayed off shore, now is a good time to talk about them.
Unlike yesterday's cold air funnel, waterspouts are actually tornadoes over water if they are a part of a severe thunderstorm. The National Weather Service says these waterspouts are often accompanied by high winds and seas, large hail and frequent dangerous lightning. In some cases, waterspouts can actually overturn boats.
Our waterspout was caused by wind sheer over the lake when colder air was moving over the warmer waters of Lake Erie. Because of the different directions of the wind at various layers, a spinning motions developed causing the waterspout to form.
Most times, these type of waterspouts will dissipate well before they reach land. Shelly Farlow spotted yesterday's waterspout and snapped a picture and posted it to our WKYC Facebook Page.
Let's talk the tropics in case you are planning on a cruise or travel to either the East Coast or Mexico's West Coast.
Tropical Depression Three pretty much fell apart off the eastern coast of Florida and should not pose any significant risks to the East Coast except for some gusty winds and high surf. Conditions weren't favorable for any more significant develop due to upper level wind sheer with the cold front pushing out of the East Coast.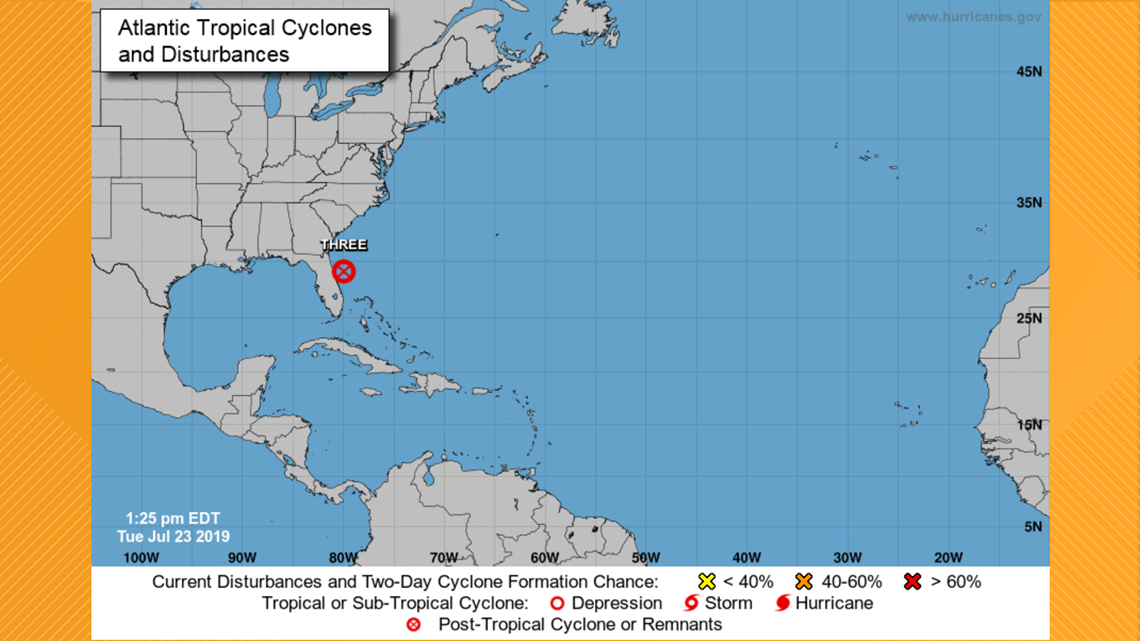 Meanwhile in the Pacific, a new tropical storm formed earlier today. Tropical Storm Dalila formed off the western coast of Mexico about 595 miles from the southern tip of Baja California. This is now the 4th named system of the 2019 Eastern North Pacific Hurricane Season.
The National Hurricane Center says the storm is moving west, northwest and will be entering cooler waters that should inhibit any significant development. Current winds are near 40 mph and the system should be downgraded to a tropical depression later tonight or early Wednesday.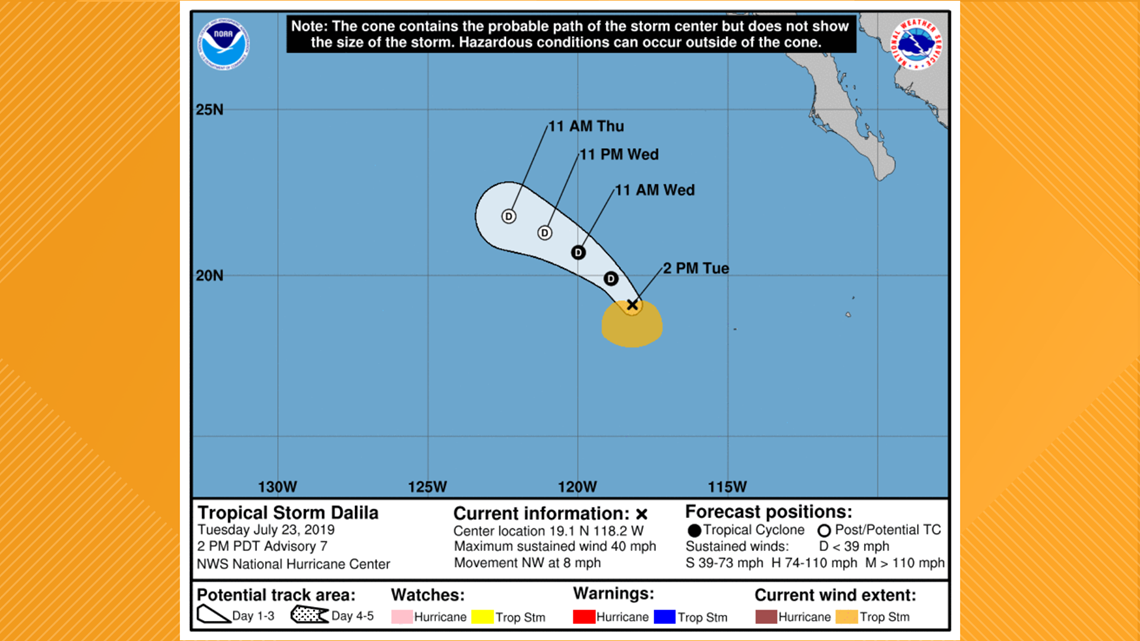 Chapter eight
:
July 22, 2019
Happy Monday! In today's blog post, we'll take a look back at the weekend, then the week ahead which promises to be much cooler than late last week.
The good news is we survived the first heat wave of the summer of 2019. The bad news is several locations in our viewing area got way too much rain again as all that water vapor that was in the air fell as rain on Sunday night and into Monday morning.
Many areas of still cleaning up today. The hardest hit areas were across our southern viewing area on a line roughly from Mansfield over to the Wooster to Youngstown.
Here are some of the biggest rain totals we spotted:
4.27" in Applecreek (Wayne County)
3.80" in Shelby (Richland County)
1.76" in Smithville (Wayne County)
1.75" in Ashland (Ashland County)
1.23" in Austintown (Mahoning County)
Our official heat wave of at least three consecutive days of 90 degrees + only lasted three days for the Cleveland area. On Thursday, the high reach 90 degrees. Friday saw 94 degrees. Saturday hit 95 degrees making it the warmest day of 2019.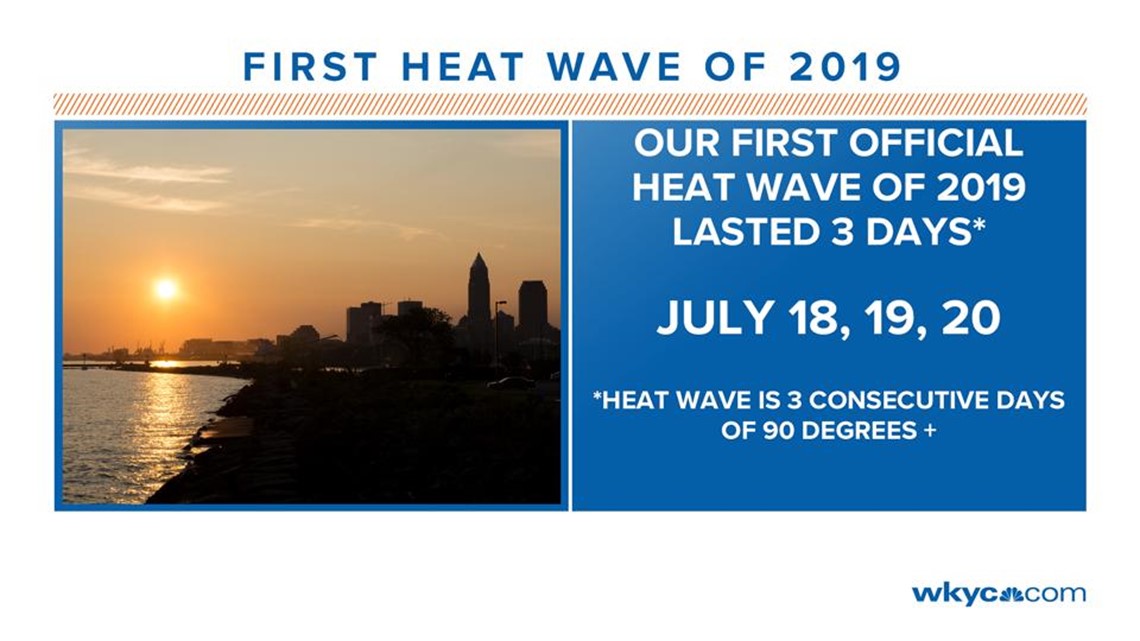 Then on Sunday the heat wave ended for Cleveland as we made it "only" to 88 degrees early in the afternoon. By the evening hours, temperatures had settled into the lower 70s with the heavy rain. Heat indices or the way it really feels to your skin were in the mid 100s during the heat wave.
The Akron/Canton area, Mansfield and Youngstown were all cooler than 90 degrees on Thursday, but surpassed 90 degrees on Friday, Saturday and Sunday.
AKRON: 90 (Thur), 91 (Fri), 94 (Sat), 93 (Sun)
MANSFIELD: 92 (Fri), 93 (Sat), 91 (Sun)
YOUNGSTOWN: 91 (Fri), 91 (Sat), 91 (Sun)
We looked back in the record books and found the last time it was hotter than on Saturday in the Cleveland area was on September 10, 2013, when we hit 96 degrees. This heat wave now puts our 90 degree plus days at 11 for the year, with 9 of those days in July. By this time last year, we had 12 days of extreme heat by July 22nd.
You might ask, "What is the hottest temperature ever recorded in Ohio before the heat index?" It was 113 degrees near Gallipolis on July 21, 1934.
Many of you have noticed and commented to us about what looks like brown spots on your tree leaves around the back yard. These are leaf spot diseases that have reported on my different types of trees in northeast Ohio including maple, oak, beech and hickory trees.
No need to worry! These spots are more cosmetic than destructive in the short term and are a result of the heavy rainfall we received during the Spring and Summer months this year.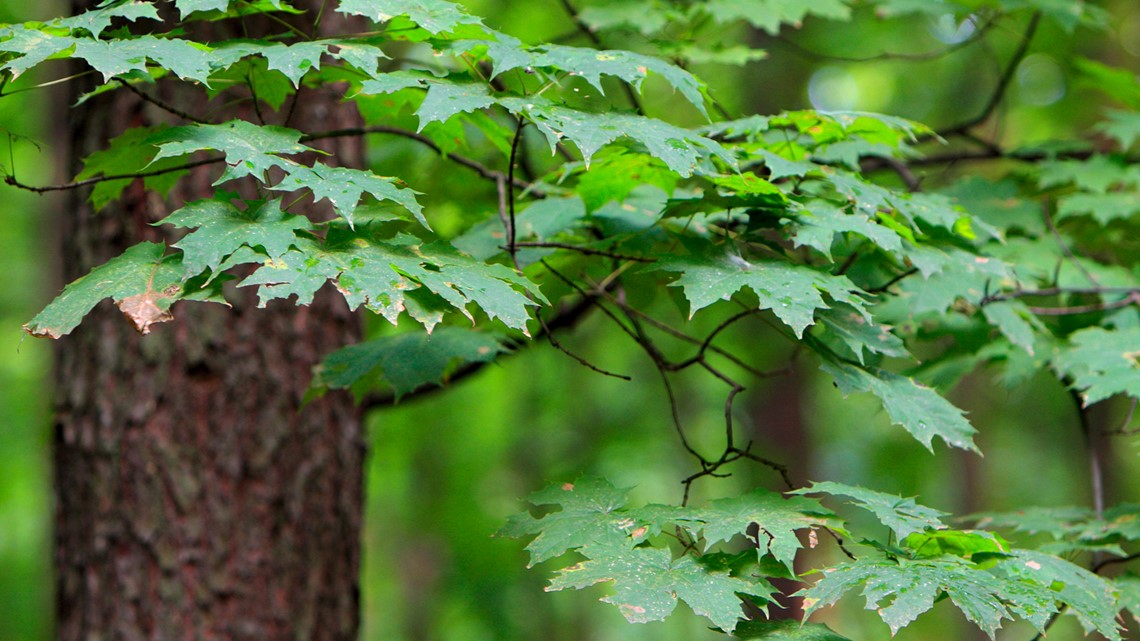 Leaf spots make it difficult for trees to complete their photosynthesis process (or how trees make the food they need from carbon dioxide and water). The result is the leaves eventually turn brown and fall off the tree prematurely. This is probably what you have been seeing, especially during these very dry spells lately.
We are told the leaves will be fine when they bloom again next year. However, several years of repeated heavy rainfalls and high heat will eventually weaken a tree and cause more catastrophic damage.
Lake Erie Water Temperatures & Algae Blooms
Typically, Lake Erie enters its warmest period of the year about this time. From July 25th to August 27th, normal water temperatures are 74 degrees just off Cleveland. So, how are you we doing this year? As of Sunday, the Lake was 69 degrees off Cleveland, 80 degrees off Toledo and 77 degrees off Erie, PA. During winter, the lake drops to an average water temperature of 33 degrees in February.
We are also closely watching the algae blooms in Lake Erie which are expected to be worse than normal this summer according to forecasts.
As of July 20, 2019, most of the existing algae blooms were found in the western basin of Lake Erie and in Sandusky Bay. Much of the lake remains at very low levels at this point.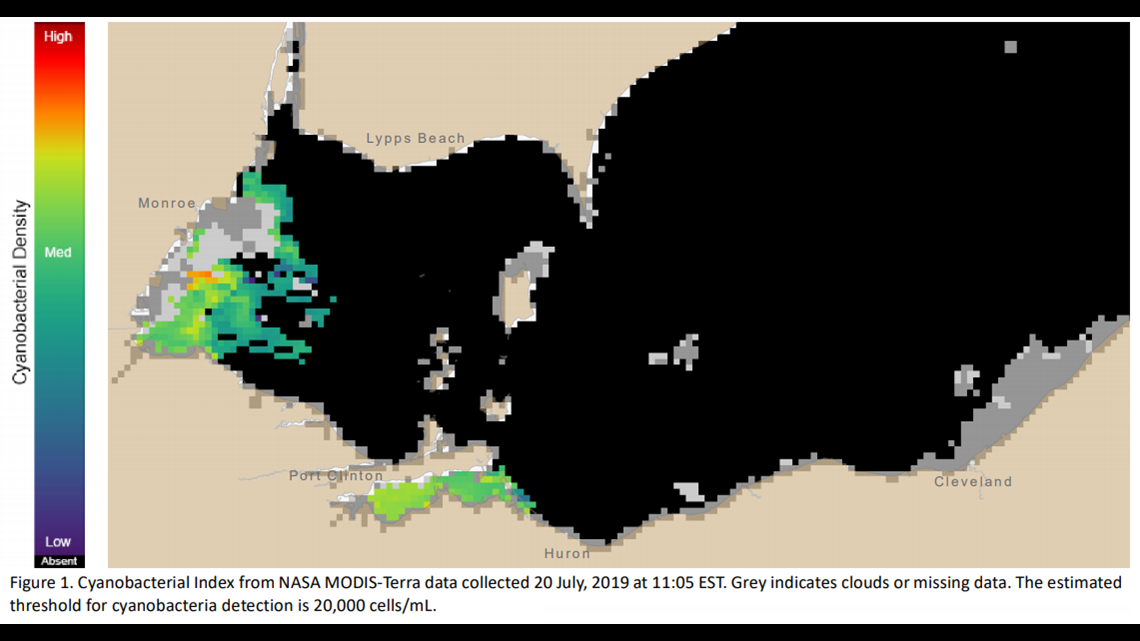 This week is going to be relatively quiet around northern Ohio. A cold front that passed through the area has ushered in the cooler temperatures and lower humidity levels on Monday and this trend will last for at least several days before another round of high heat returns by the weekend. Highs in the 70s and lows in the 60s seem really nice this time of year.
Chapter nine
:
July 19, 2019
Is it hot enough for you? We are inside day number two of our first heat wave of summer 2019. The high at Hopkins Airport in Cleveland reached 94 degrees this afternoon, just one degree shy of the record high of 95 degrees set in 1930.
An EXCESSIVE HEAT WARNING will remain in effect for northeast Ohio through Saturday evening at 8 p.m. as temperatures are expected well into the 90s again on Saturday afternoon with heat indices over 105 degrees.
The more exciting part of our heat wave is the fact that tonight's low temperature will only fall to about 80 degrees. This has only happened three times in the past 68 years according to Betsy Kling who took a look back through the record books today. The last time the low was 80 degrees or higher was way back on June 30, 1949.
So if nothing else, this heat wave will be one for the record books.
WKYC Meteorologist Matt Wintz discussed the heat this afternoon. In case you missed it, take a few minutes and watch the video below:
As we mentioned yesterday, there was at least the possibility of some strong to severe thunderstorms over northern Ohio this afternoon and evening. A SEVERE THUNDERSTORM WATCH was issued early this afternoon, but conditions so far have been stable enough to keep the severe weather at bay and north of Lake Erie into southern Ontario over to the Detroit area.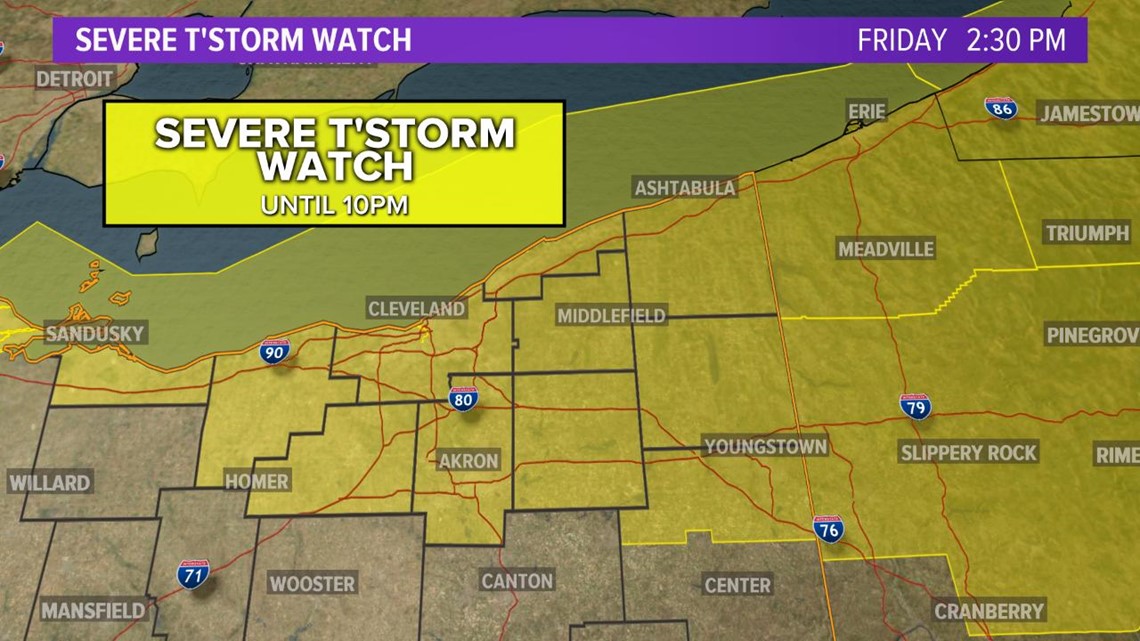 There is plenty of moisture in the air as you can feel, so all we need is a trigger like a lake breeze to kick off the storms this evening. Those would have the potential to contain very heavy rains.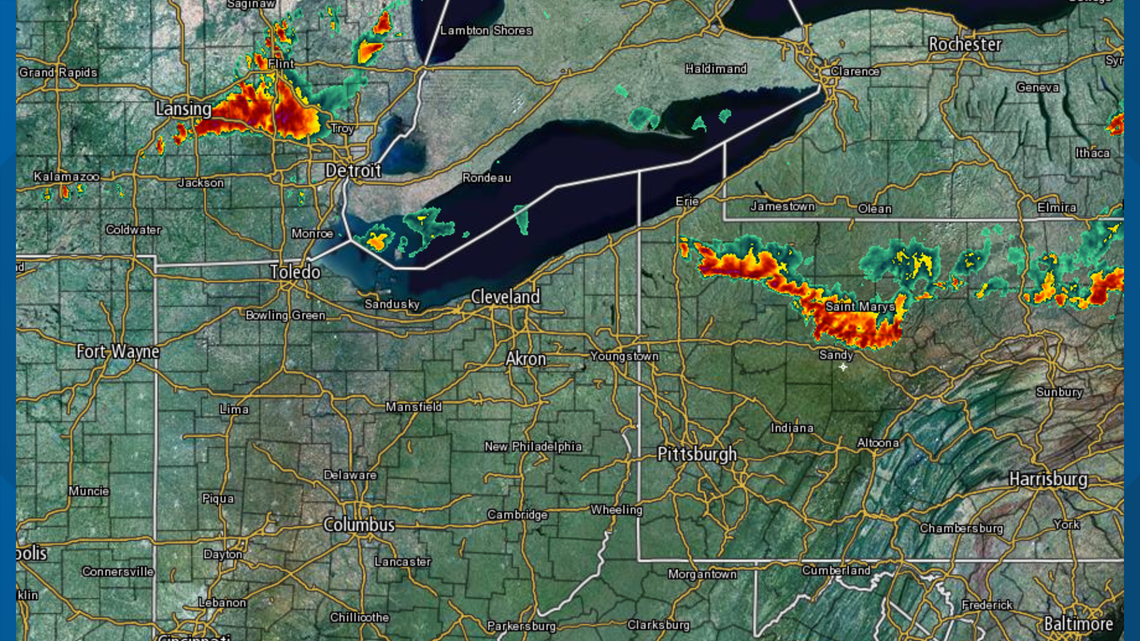 One of the fears of having high temperatures and thunderstorms is the threat of power outages across the area. Homes and businesses become ovens very quickly with the loss of air conditioning. Here are some useful things to know in the event of a power outage:
Saturday morning is the Velosano Race which gets underway at 7 a.m. The forecast is calling for clear to partly cloudy conditions, but temperatures already in the lower 80s to start the race and into the mid 80s by the conclusion of the race at 10 a.m.
Extreme caution needs to be taken if you plan on participating in the event as dehydration will be a real threat to bikers. Drink plenty of water!
The good news is the heat wave will come to a quickly and and much more seasonable temperatures are in store for next week across northern Ohio. The really hot air will be confined to the southwest and western states next week.
Click on the animation to see a timeline of the weather for next week.
Have a great weekend and we'll catch you again next week here on the weather blog! Feel free to submit your weather questions to me anytime at fmacek@wkyc.com
Chapter ten
:
July 18, 2019
UPDATE (9:45 PM): Check out this beautiful time-lapse of the sunset from the Channel 3 CSU Cam this evening. The high clouds are the left-over debris from thunderstorms that formed west of Cleveland during the early evening hours tonight. However, the storms quickly fell apart by the time they reached the city as they moved into more unfavorable conditions.
UPDATE (8:30 PM): The National Severe Storms Prediction Center has placed the very extreme northern portion of Ohio under a marginal risk for severe weather on Friday. Overall, the chances for severe weather are limited as high pressure forces storms to stay mainly to our north. However, we may see a few sneak into the area by the time the day is through. (See my discussion below about "Ridge Runners.")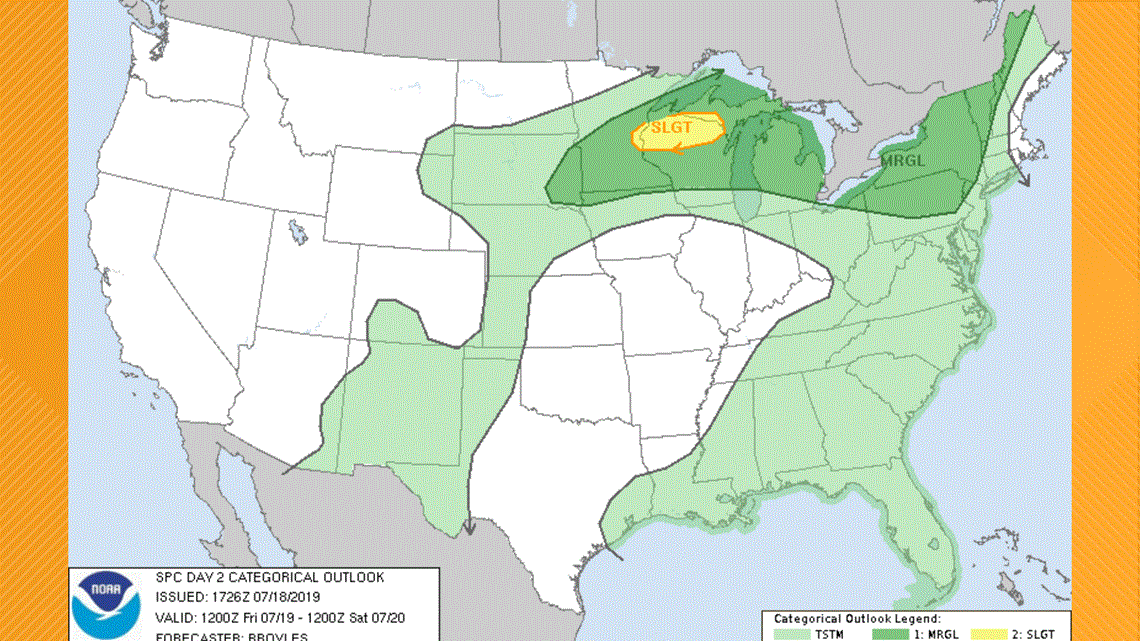 UPDATE (6:30 PM): Cleveland hit 90 degrees on Thursday just before 4 p.m., so the heat wave is officially underway!
Only one thing on my mind today: the Heat Wave!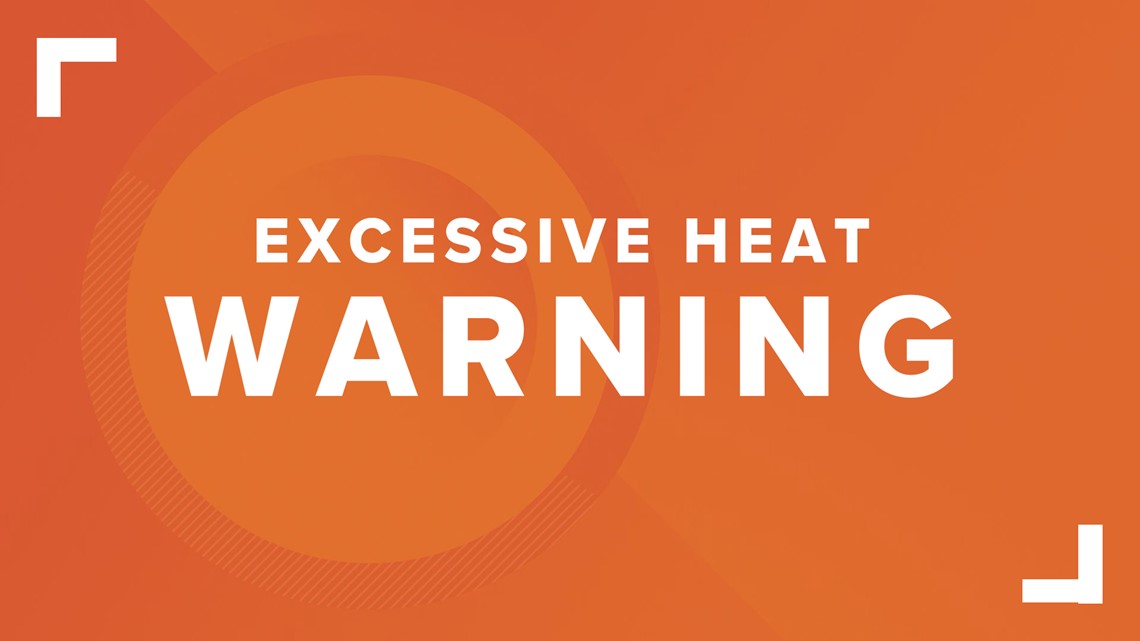 No surprise, the National Weather Service has upgraded our heat wave threat to an EXCESSIVE HEAT WARNING that's set to begin at noon on Friday and will continue through 8 p.m. Saturday for the entire Channel 3 viewing area with the sole exception of the lakeshore of Ashtabula County where prevailing winds will keep the lakeshore cool enough to keep it below warning criteria. In other words, jumping in the lake or your local pool isn't a bad idea. Just use plenty of sunscreen with SPF of 30 or higher!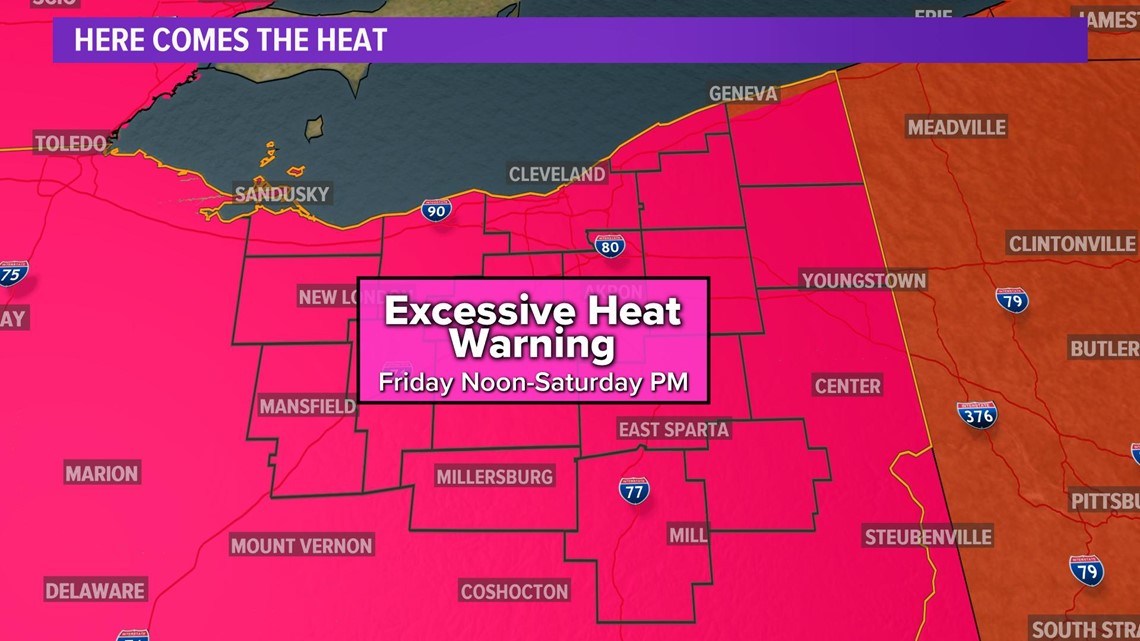 We are still looking at heat index values (or the way it really feels on your skin) of up to 107 degrees on Friday afternoon and then again Saturday afternoon.
One thing we always want to remind you about during these heat spells is to protect your pets. Outdoor pets can't deal with the heat without your help.
One very important thing to keep in mind is when walking your pet, the ground temperature of asphalt or concrete can be several degrees hotter than the surrounding air temperature. A pet's paws can quickly burn or at least become terribly uncomfortable for them.
And don't forget to NEVER leave a pet in your car, especially with the windows rolled up. Inside temperatures of cars can quickly rise above 120 degrees in a short period of time.
Those with farm animals like horses, cows and chickens should also be weary about their health during heat waves.
Below, find some additional safety tips below from ASPCA.org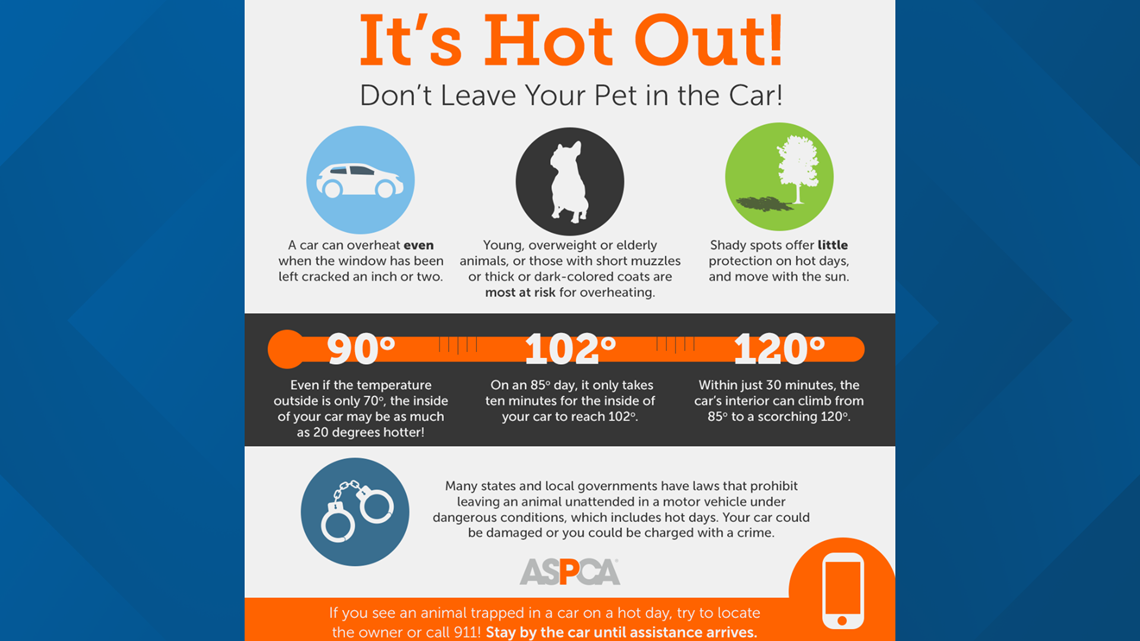 You may have heard our WKYC Chief Meteorologist Betsy Kling talk about a ridge of high pressure influencing our weather as part of this upcoming heat wave.
If you think about it, high pressure is like a bubble or a wedge in the atmosphere that provides us fair weather and traps warmer weather inside, along with abundant amounts of moisture. These types of systems can also block, dissect or force low pressure systems to divert around them.
When this occurs, any precipitation is forced to take the path of least resistance and go around the high pressure system. This is a called "ridge running."
The graphic from our partners at AccuWeather explains this setup.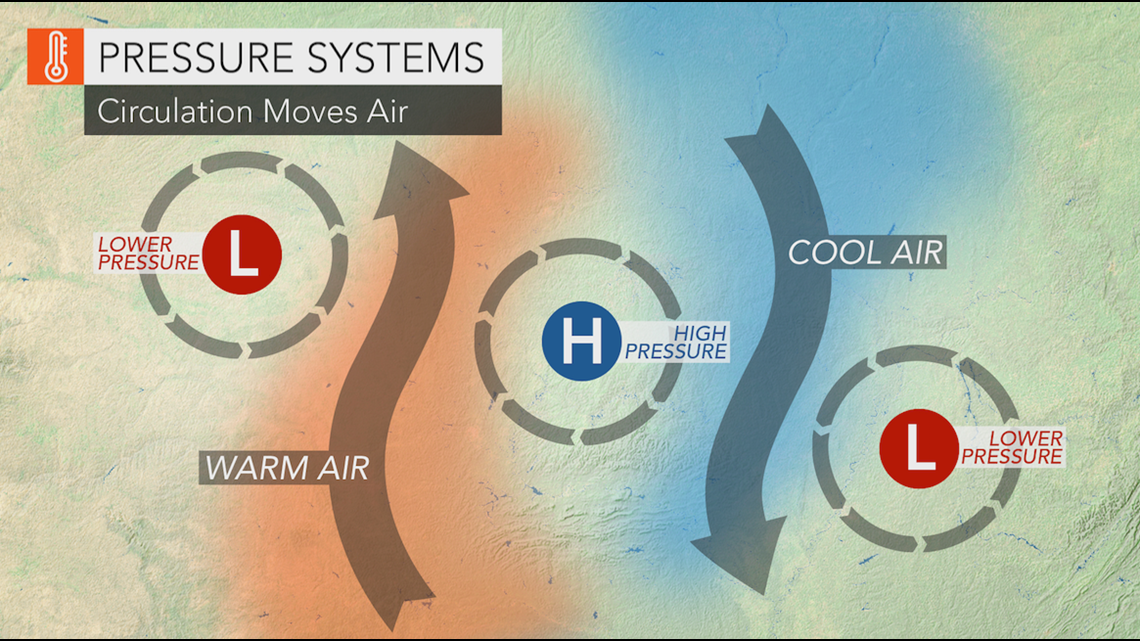 In our case, we'll be watching to see if this high pressure system that will bring us the extreme heat is strong enough to keep any precipitation to either the north or south of the area and keep our weather dry this once the heat wave begins on Friday.
One of the weather questions I received in the last few days from Laura Jacobs asks about the heat index.
As I mentioned earlier, the heat index is the way it really feels. Think of it as the opposite of the wind chill index during the winter months. The heat index takes into account relative humidity and the actual air temperature.
The higher the temperature and the humidity levels, the worse it feels on your skin. For example: a temperature of 96 degrees with 65 percent relative humidity means it actually feels like 121 degrees. And that is dangerous!
In general, caution should started to be taken when the heat index reaches 80 degrees during the summer. You'll experience real danger of heat stroke or heat exhaustion once the heat index approaches 95 to 100 degrees as will be the case tomorrow and Saturday.
Use the chart below to quickly calculate the heat index for your area.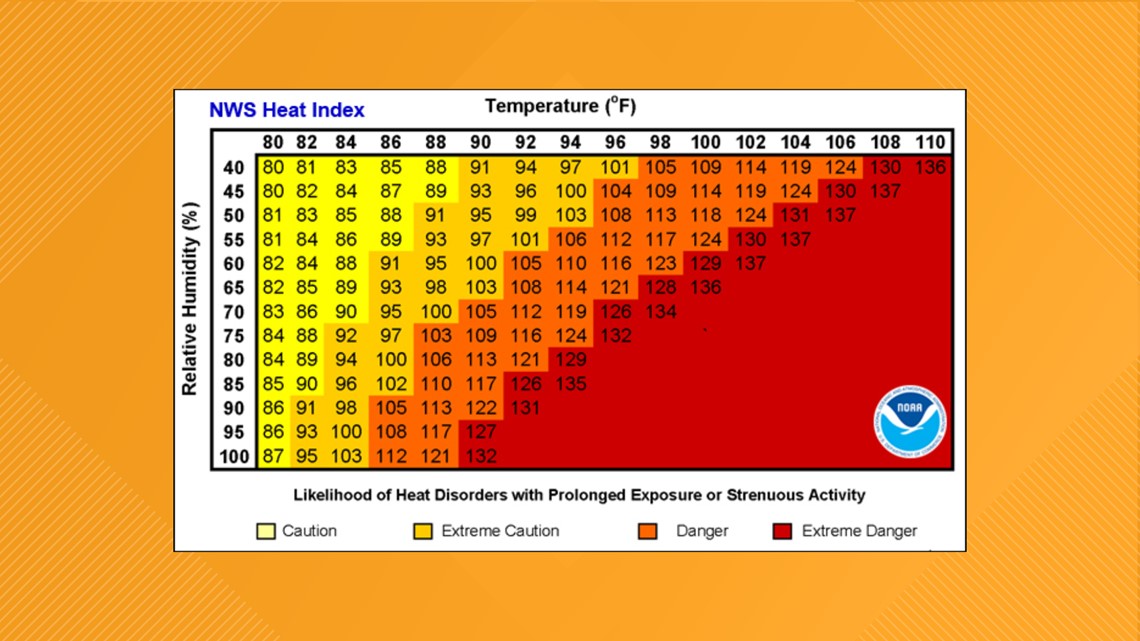 Stay with the Channel 3 Weather team for the very latest on-air and on-line. Don't forget to download our free WKYC Weather App in the iTunes or Google Play Stores. Our text WKYC to 25543 for a direct download link.
Chapter eleven
:
July 17, 2019
UPDATE (5:45 PM): The center of Post Tropical Cyclone Barry passed right through our southern Channel 3 viewing area. At 5 pm, the National Hurricane Center had the center over Holmes County, Ohio.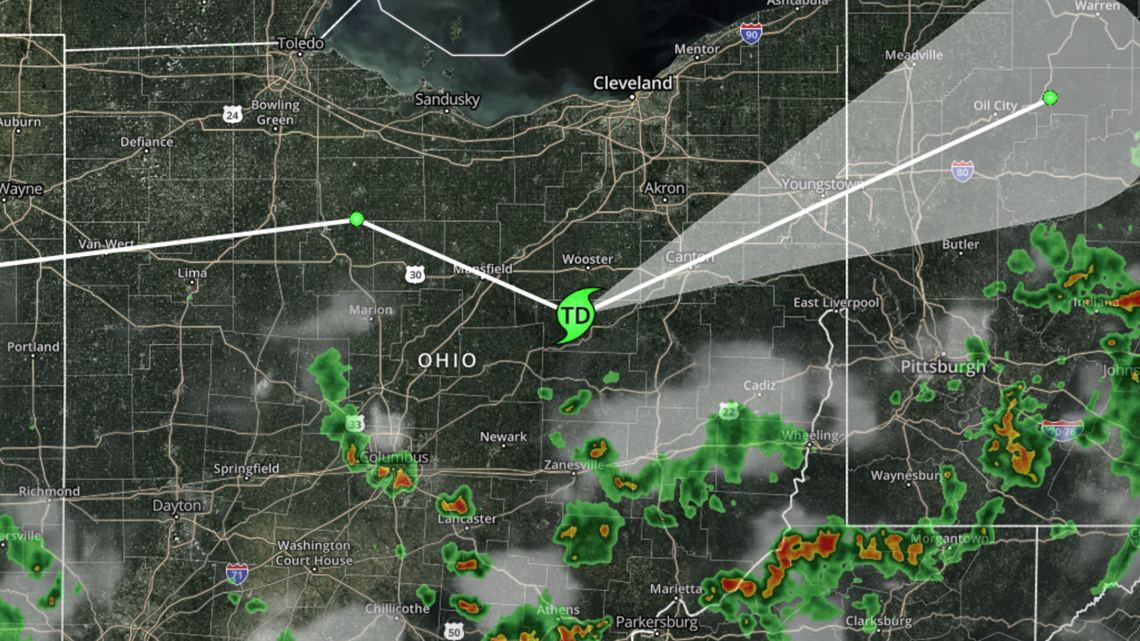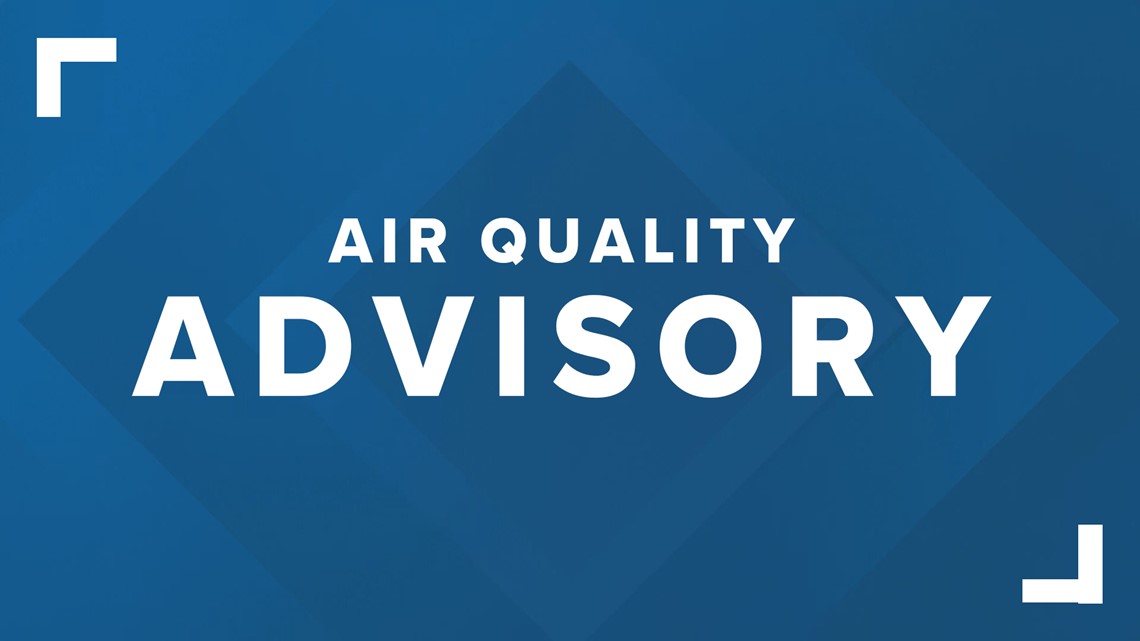 Hazy, Hot and Humid... get ready for the hottest weather of the year starting on Friday as temperatures enter heat wave territory across northern Ohio.
If we can hit 94 degrees, this will be the hottest temperature the Cleveland area has seen since September 4, 2018. Our highest temperature this year so far is 93 degrees on July 10, 2019.
Fortunately, we aren't going to come anywhere near the all-time record high in Cleveland of 104 degrees set on June 25, 1988. Remember that day?
The National Weather Service in Cleveland has issued an EXCESSIVE HEAT WATCH beginning Friday afternoon through at least Saturday evening for almost all of northern Ohio (see the map below). The only exceptions will be Ashtabula, Geauga and Lake Counties at this point. However, they may be added, so stay up on the latest forecast.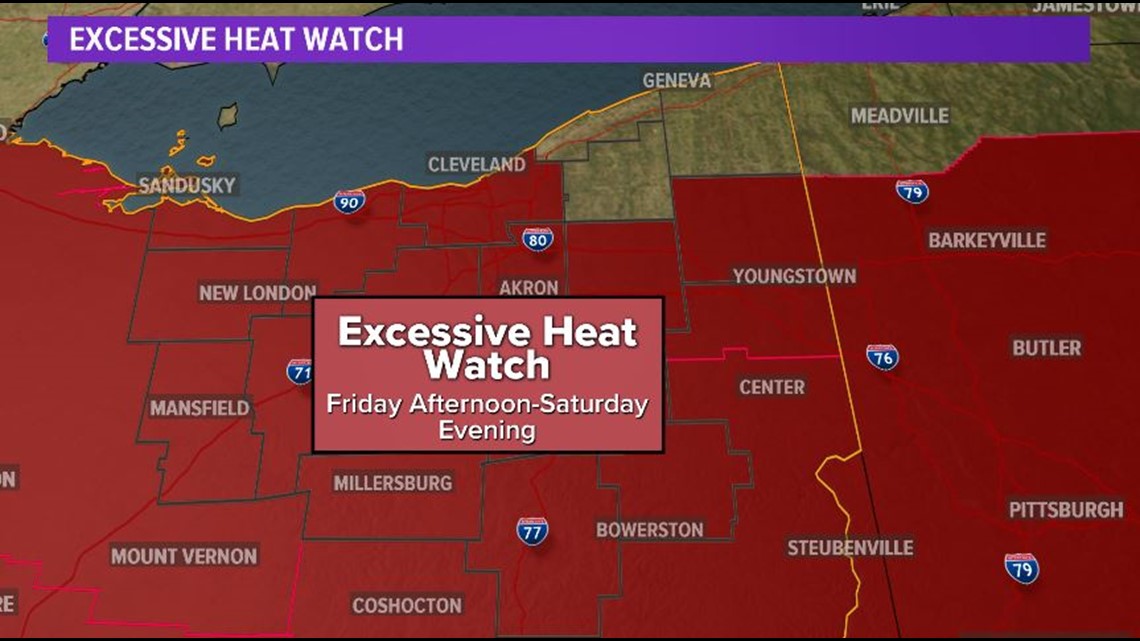 What is does an EXCESSIVE HEAT WATCH mean? The watch is issued when a prolonged period of hot weather is expected with high temperatures and high humidity combine to create a dangerous situation when heat illnesses are possible.
At this point, we are only under a WATCH, but a WARNING is likely to be issued over the next 24 hours.
Which brings us to just how hot will it get? Forecasts currently predict temperatures for Friday and Saturday into the mid 90s across northern Ohio. However, heat indices (or the way it really feels to humans) will range from 105 to 110 degrees or more in some locations.
Here's what the heat index looks like for Saturday across northern Ohio:

This high heat can make you sick. Two common types of heat related illness are heat exhaustion and heat stroke.
Here is an informative article about the differences between the two and what to watch out for in you have symptoms:
Temperatures on Sunday will start to ease up, and by Monday we are back to highs "only" around 80 degrees. Our normal high for this time of the year is 83 degrees. Our normal low is 65 degrees which would feel really nice over the next couple of days.
Last night, we saw the dramatic arrival of the first effects of what's left of post tropical cyclone Barry.
Many of you sent us your photos of some very impressive looking storm clouds that rolled through the area. See our photogallery below:
PHOTOS: The best of Tuesday's storm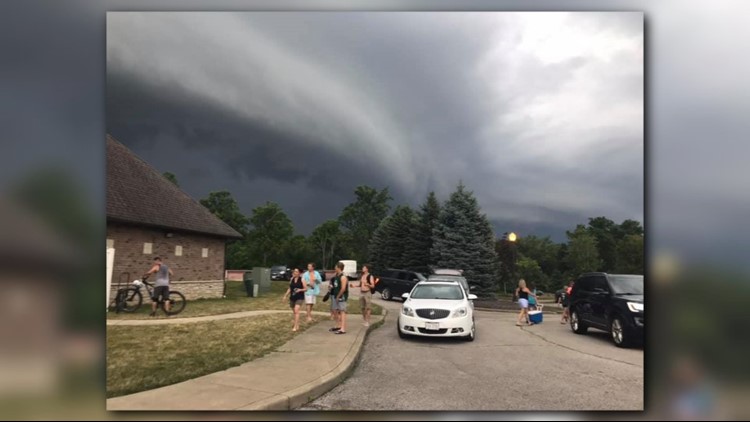 But what are these types of clouds? They are are known as shelf clouds or low, horizontal, wedged-shaped clouds that are part of a parent storm like a cumulonimbus cloud or any cloud that is considered convective in nature.
You'll notice the wind usually comes first, then the rain with these type of storms and create an awe-inspiring sky when they approach. They are NOT associated with tornadoes unlike roll clouds that appear to spin or "roll."
Northeast Ohio still is under the threat of more heavy rain showers or thunderstorms this afternoon and evening as the remaining energy of Barry moves across the area.
Already today, the National Weather Service reported rainfall amounts of 2.25" in the city of Ashland in Ashland County, 2.00" south, southwest of Portage Lakes in Summit County and 1.13" in Mansfield in Richland County from storms since midnight.
Flash flooding is still a threat through the evening hours. An AREAL FLOOD ADVISORY is in effect until 8:15 p.m. this evening for parts of Richland and Ashland Counties due to the heavy rainfall earlier today.
Chief Meteorologist Betsy Kling will have the latest on Channel 3 News at 6, 7 & 11 p.m.
Chapter twelve
:
July 16, 2019
Two majors topics to discuss on this Tuesday: The remnants of Barry and the upcoming northeast Ohio heat wave. Plus, we have a full moon tonight.
The National Hurricane Center says the center of what is left of Barry is located over central Illinois as of 5 p.m. EDT on Tuesday afternoon and is expected to move through Ohio over the next few days.
By Wednesday morning, the center should be near Chicago with the heavier rains extending to the east of the center.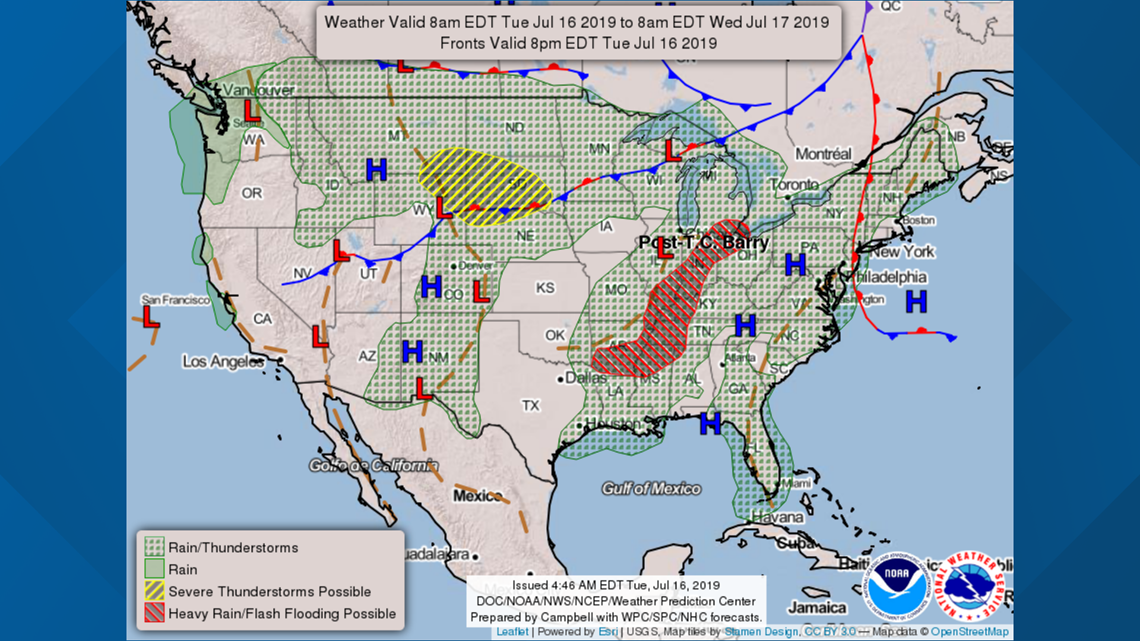 That should put the heaviest rainfall amounts over northwest Ohio into the western Kentucky for the day on Wednesday. By late Wednesday and into Thursday, the center shifts slightly eastward bringing heavier rains and a chance of thunderstorms into eastern and northeastern Ohio.
The National Weather Service in Cleveland says northern Ohio has a 100% chance of rain on Wednesday by later in the day, meaning everyone will get at least some rainfall.
On its current track, the center of Barry should pass eastward through central Ohio before crossing into Pennsylvania on Thursday or early Friday according to the National Weather Service.
Flash flooding could be a threat where the heavier rains fall. Stay up on the latest forecast for rapidly changing conditions.
The bigger threat for northern Ohio will be increasing temperatures and humidity levels across the area.
By Friday, actual temperatures will approach the mid 90s with heat index values (or the way it really feels) around 110 degrees. This trend will continue well into the weekend. Our first chances of real relief will come late Sunday night and early Monday with the passage of a cold front that will finally bring the heat to an end for now.
Did you know the official definition of a heat wave varies by location? For northern Ohio, a heat wave is considered three consecutive days of 90+ degree temperatures.
The reason this definition isn't uniformed for all areas is because a city like Phoenix which has temperatures in the 100s nearly all summer would always be in a heat wave under our definition. But 100s are just considered "normal" for them.
Here are some tips to keep in mind during our heat wave.
Turn on the air conditioner or go where it's air-conditioned, like a shopping mall, grocery store, senior center, movie theater, museum, or library. Fans aren't enough.
Don't walk long distances, lift heavy objects, or do other strenuous things.
Drink lots of water and other clear drinks that don't contain alcohol or caffeine, as these can "dry you out." Remember: If your urine is a light yellow color, you're drinking enough water. If it's darker yellow, you need to drink more.
Avoid hot foods and alcoholic beverages.
Take cool showers, baths, or sponge baths.
Wear lightweight, light-colored, loose-fitting clothing. A good choice is clothing made of natural fabrics like cotton.
Wear hats and stay out of the sun.
We took a look back at Cleveland weather data and found our longest heat wave latest for 12 days in 1940 from July 9th to July 20th. Interestingly, most of our long lasting heat waves in northern Ohio have occurred in June or July.
Here's a look at the top 5 longest heat waves in Cleveland over the years: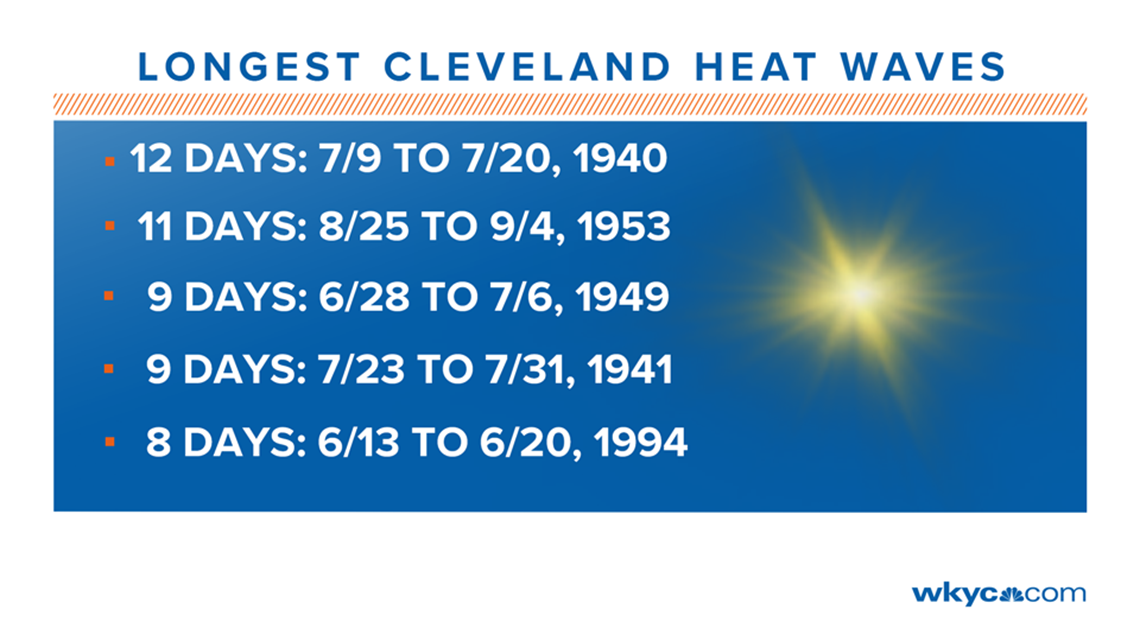 And don't forget, the full "buck" or "thunder" moon of July occurs at 5:38 p.m. EDT this evening. Here is an interesting article about this month's full moon:
Chapter thirteen
:
July 15, 2019
For just the 2nd time this summer, the Cleveland saw an Air Quality Advisory for ground-level ozone issued on Monday by NOACA (the Northeast Ohio Areawide Coordinating Agency). We could see a few more of these issued later in the week as temperatures rise into the 90s across all of northern Ohio. It is always best to avoid things that involved gas powered engines, like lawn mowers, until the evening hours to help cut down on the ground particulates that cause unhealthy air.
Today, I crunched some rainfall numbers comparing the first half of June to the first half to July 2019. Let's just say, July has been a lot drier. The Cleveland area has seen 4.36 inches LESS rain than the same period last month.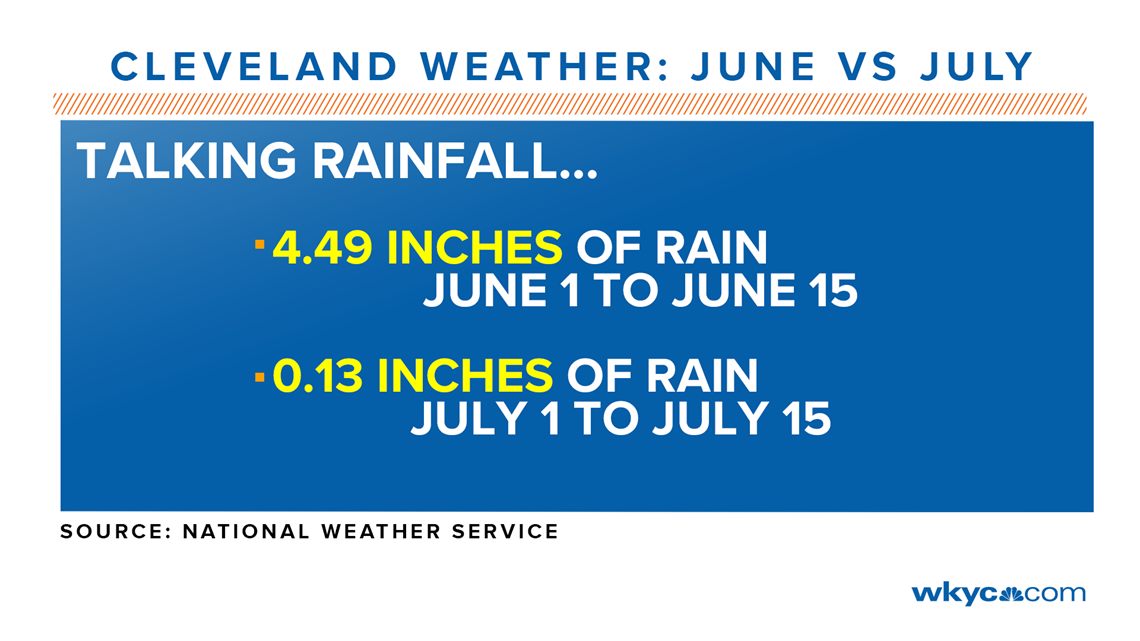 As for temperatures, we have now seen a total of 8 days of 90 degree+ temperatures for 2019... that compares to 11 days by this time last year.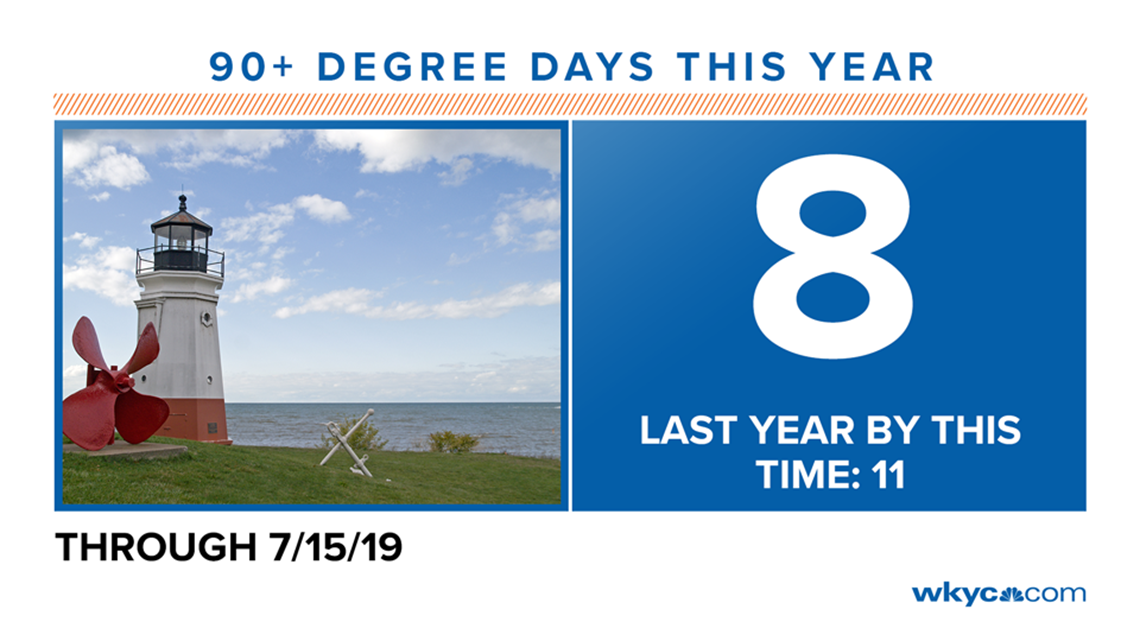 A few severe thunderstorms popped up this evening across the area. Severe thunderstorm warnings were issued for Lorain, Erie, Huron, Portage, Stark, Summit and Wayne Counties.
Several trees were reported down just to the northeast of Wadsworth in Medina County and just northwest of Norton in Summit by trained weather spotters in the 8 p.m. hour.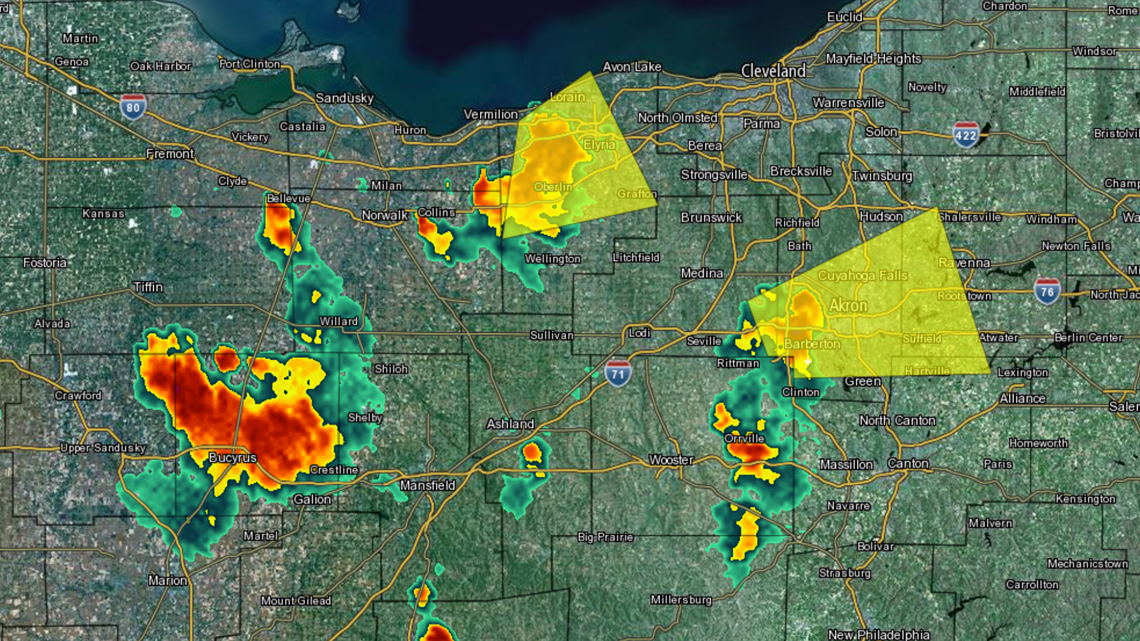 Check out a time-lapse view of the storms moving through downtown Cleveland around 9 p.m. this evening from the Channel 3 CSU Cam.
The forecast for Tuesday is calling for a chance of showers and thunderstorms and temperatures in the 80s. A heat wave is coming that could last for at least 5 days by the end of the week.