NEW YORK CITY -- Howard Stern doesn't hate Cleveland like some people may think.
During his SiriusXM show Monday morning, Stern spoke extensively about his weekend trip to Cleveland where he inducted Bon Jovi into the Rock and Roll Hall of Fame.
►PLAY-BY-PLAY | 2018 Rock and Roll Hall of Fame induction: Real-time updates
"Thank you to the people of Cleveland for being so nice and friendly," Stern said. "I love Cleveland. It's always good to us. I was only b******* about traveling. Peace and love. Peace and love."
Stern faced some criticism in the weeks prior to induction night as headlines emerged after saying he didn't want to come to Cleveland. But for those not familiar with Stern's personality, he frequently discusses his distaste for traveling anywhere -- so his comments were not directed at Cleveland itself.
►RECAP | Backstage at the Rock Hall induction ceremony
"I'm such a recluse," he said. "I was really tired. I really was. The people at the Rock and Roll Hall of Fame were real nice. I was so happy for Jon and the whole band. It was great to see Richie Sambora. … We had a great time. I love those guys. … You know what my impression was, seriously? Everyone was having fun but me. All the time people are having a really good time."
PHOTOS | Rock and Roll Hall of Fame induction red carpet arrivals in Cleveland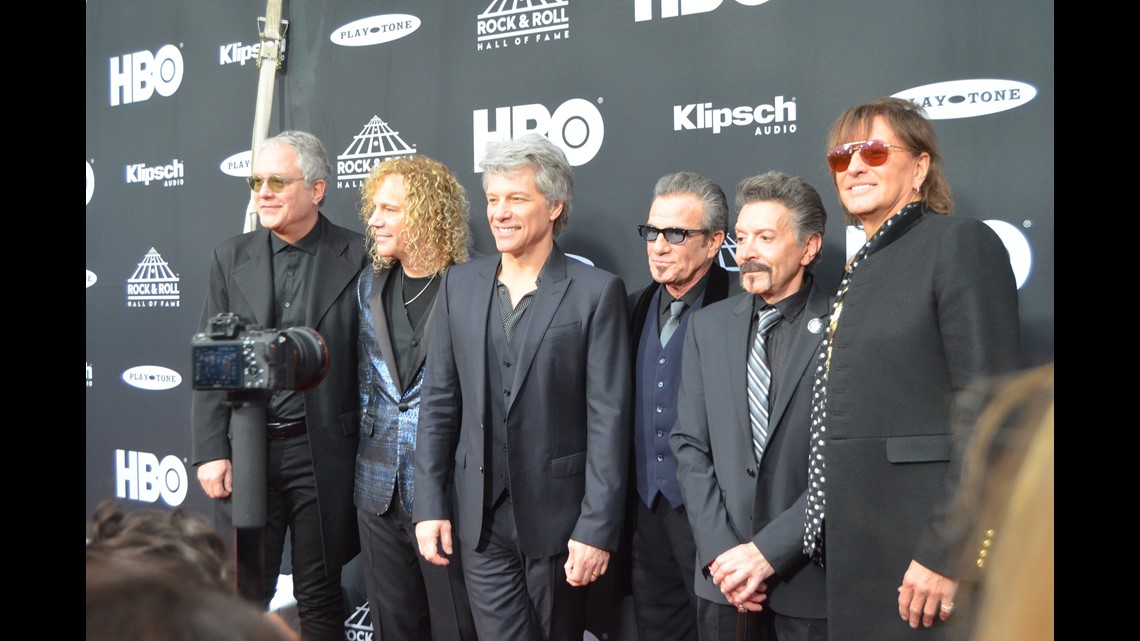 Stern admitted he left the induction ceremony early so he could get back to his hotel room.
"I ran back to that room by 10 o'clock. By the way, I just wanted to get back to my room, honestly, and watch Netflix because it just released the new Lost in Space."
Speaking of hotels... Stern isn't too fond of staying in them -- and his time in Cleveland was no different.
"I tried to sleep in the afternoon. The hotel was mostly Rock and Roll Hall of Fame inductees because it was right next to the venue. 300 of the 350 rooms were taken up by the Rock and Roll Hall of Fame. First of all, I've got to be on the top floor because I don't want people above me. This is what happens to me in hotels. I had a whole plan. I got there around 10 o'clock in the morning."
►MORE | Meet the 2018 Rock Hall inductees
His plan was to order lunch at the hotel, but he said room service was on a two-hour delay. Plus, Stern said there were lots of noisy people in rooms around him with doors slamming and a woman singing.
But he did enjoy Public Hall.
"It was a big f*cking hall. Beautiful. 10,000 people were in there, right?"
What else did he say about his time in Cleveland? Here are some other highlights from his Monday broadcast:
- "I was Mr. Miserable. Get to Cleveland and it's just pouring, raining and freezing. Yeah."
- "I was so paranoid. They go, 'We want Howard's speech for the teleprompter.' They gotta load it into - the teleprompter. I went, 'F*** it. I know this speech. I don't need a teleprompter. I don't want anybody reading my speech.' I get f****** crazy. I rarely looked at the teleprompter during it, honestly."
Watch Stern's full induction speech: NOTE -- content contains explicit language.
- "After my speech I went to the table to watch Bon Jovi perform. I saw Bob Kraft, who I know from the New England Patriots, the owner. I said hi to him. Then this guy comes up to me, he's talking to me and I shook his hand. I didn't know who the f*** he was. Beth whispers to me, 'That's Bill Belichick.' … I think I met the owner of the Cleveland Browns, but I'm not real sure."
- "At one point, some woman starts poking me and she goes, 'Selfie. Selfie.' You're trying to watch the show and you're trying to get into it. I go, "Ma'am, I'm in the middle of the f****** show here.' I just said, 'I'm bailing outta here.' It was crazy."
►LIST | See every Rock Hall inductee
- "I was glad I went. I was glad I did it for Jon. Even though I'm a miserable a******, I was fine. It was fun, but never again. I am staying home."
- "It really did move me to be there with them. They've always been very kind to us as a show. I know Jon personally and Richie and David. I always liked those guys. … I was really happy for Jon. It meant a lot to him. He was kind of miffed that he wasn't in the Rock and Roll Hall of Fame. I got to kid around about it and say, 'Hey, what the f***'s wrong with you guys? How could you not put these guys in the Rock and Roll Hall of Fame?'"