University Hospitals fertility failure: One year later
What's changed since a disaster in University Hospitals fertility clinic ruined thousands of eggs and embryos?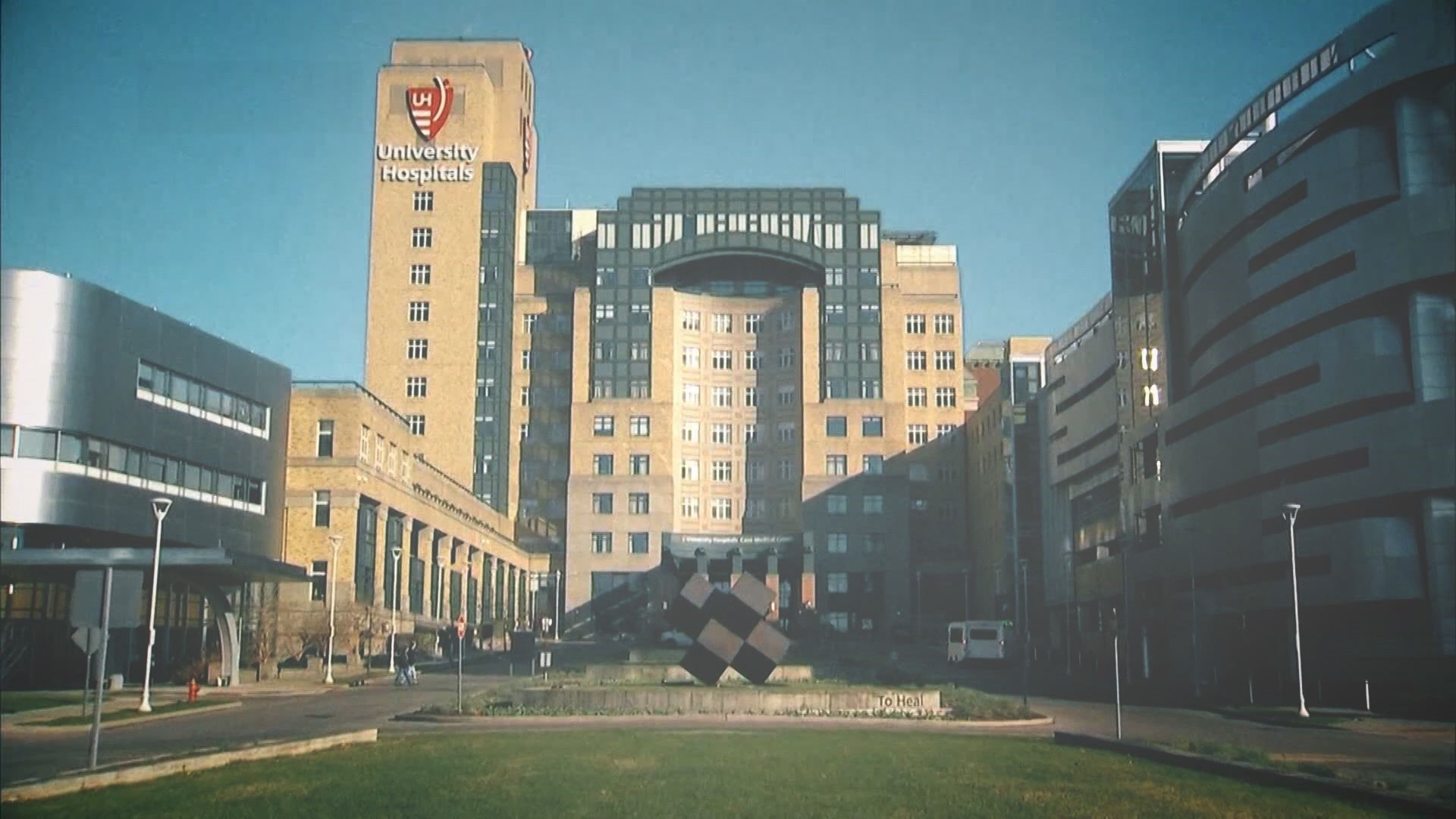 It's been one year since a failure inside the University Hospitals fertility center changed the lives of hundreds of would-be parents. But for all the lives that changed, some never even had a chance to begin.
What went wrong?
:
Failure leads to anguish among would-be parents
Nearly 1,000 women suddenly saw their shot at motherhood teetering in uncertainty overnight.
University Hospitals fertility clinic staff left for the day March 3, 2018 and soon after, it all went wrong.
Temperatures began to rise inside a freezer tank containing thousands of eggs and embryos. That spells danger, but no alarms sounded.
Instead, someone had turned off the remote alarm system on the cryo tank, meaning clinic staff never received an alert to the tank's rising temperature. When staff arrived for their shifts the next morning, it was too late.
More than 4,000 eggs and embryos were compromised, jeopardizing parenthood for nearly 1,000 patients. Many of these women had already been through too much, struggling to conceive or plagued by health problems that shut the window on their fertility.
The specimens inside the tank were not in dated order, with each vial containing two or three eggs or embryos per patient. That means one patient could have had several vials in her name inside the same tank.
UH notified all impacted patients via letter, but the trouble was only beginning.
Sequence of events
:
A timeline of what happened
Below is an interactive timeline of events involving the tank failure:
The impact
:
Families devastated by the loss
We first met Katelynn Gurbach the day after WKYC broke the story on the UH fertility failure. She was the first of many patients who shared their heartbreak and anger. While all of the families impacted suffered tragedy, Katelynn's story could be considered the worst case scenario.
Katelynn's loss in this case is one that simply can't be measured. She's an only child and lost her mother to breast cancer at age 13. At 23, she learned she had cancerous tumors on her ovaries and had to have them removed, effectively ending her chance to produce eggs. Prior to surgery, UH's program, Partnership for Families, funded a procedure that allowed Katelynn to have 14 eggs extracted. She and her then boyfriend had four of them inseminated and turned into embryos.
Every day, Katelyn drove past Ahuja Medical Center dreaming of the day she would be ready to implant those embryos and become a mother. She also intended to donate those she didn't use. But that all changed a year ago when she learned all of her eggs and embryos were destroyed in the failure.
It has been a long year of pain, regret and grief. Katelynn had no control over what happened in the fertility lab, but she does have control over how she'll let it impact her.
Katelynn chose to turn her devastation into action. To heal herself, she focused her energy on her church and volunteering to help others, usually the homeless. For now, dating is not a priority, but her dreams of becoming a mother are still very much alive. However, her vision of "how" has changed.
"It's not as imminent as it was when I thought I was going possibly my own children, but now it's definitely very real in the next couple years, it's something that I have to put the pedal down for, because I see myself as a single person with a 4 or 5-year-old girl," Katelynn said.
Katelynn initially thought about adoption, but through her volunteer work she started learning about the foster system.
"I want to be able to care for and love a child, and it won't be my own, and that's OK now. Now, that's OK," she said.
Katelynn is doing the research and learning about the approval process. She's also trying to come to terms to what it might mean if she's chosen.
"If things go very well for their parents and they're able to be reunited, then you have that again, to where you lose, and I don't know if it's because it's fresh now or what, but to think that can happen again or that it will happen again, but in a different way, it's hard," she said.
To reach this point in her life meant Katelynn had to deal with the past. Just before the holidays she decided to no longer pursue her legal claim against University Hospitals.
"The very best thing that I could do, is what I did, because I have to take care of myself and I can't go through this for years. I can't feel like this for years," she said.
A year ago after the disaster, she told us her biggest regret was that she wouldn't be able to pass on her mother's genes to her biological child. She's used this past year to work on that and now sees another option.
"There are a lot of, I think, good qualities that I have that my mom also had, that I can pass along that don't have to come from my DNA."
Kimberly Stika Buchar and her husband, Joseph Buchar, were also impacted by the tank failure.
They saw the story on the morning news and Kimberly had a gut feeling that her embryos were included. Two days, her doctor revealed the bad news.
"I just knew inside that they were in there," Kimberly said.
The couple has two children as a result of fertility treatments. Their second daughter was a result of IVF through University Hospitals, which is how their 10 embryos ended up in that tank.
The couple hadn't decided if more children were part of their plan.
"We didn't realize we'd have to make a decision by March 2018," Kimberly said.
A year later, the Buchars also demand accountability.
"We feel betrayed," Kimberly said. "A decision was made for us that we didn't have the opportunity to make."
"They need to be held accountable because we've been, for lack of a better term, violated, and that can never be replaced," Joseph added. "...You entrust them with probably the greatest decision you can make in your life and something like this happens. They have to be held accountable, not only for us but for the future."
Matt and Emily Petite began their journey through UH back in 2014. Their son, Mason, was the result.
The couple chose to store two remaining embryos with the hospital with the hope of giving Mason a sibling late last year. Now, that won't happen.
"We had our future in that tank and your human error has robbed us of that," Emily said. "And no other round of IVF is going to give us back what we lost."
When WKYC first broke the news of the tank failure, it never even registered with the Petites that they may be impacted. When they read the story, it didn't occur to them because they hadn't received a letter or any contact from UH. Eventually, Emily called the hotline and received the heartbreaking news.
"I just felt like we had lost a huge part of us that day," Emily said. "We weren't ready to have another baby right then, or maybe even a couple months from then, but now, that option has just been robbed from us."
The Petites are also frustrated with the way they found out the tank alarm had been shut off via human error. Matt found that news in a Today Show article and broke it to Emily in a text.
"That's not how we should have found out," Emily said. "We have not found out anything from the hospital. It has always been the media letting us know and then we get a letter, and then we get a phone call from the doctor."
Since then, the Petites have joined the fight for better regulations over fertility clinics. They want to see specimens stored in more than one place so there's always a backup in case one fails. They want couples to have faith in IVF, but know to ask questions about specimen storage.
"There's got to be change in the way this process is done," Matt said. "The fact that there's no regulations and you see the impact just in a couple of weeks, I can't wrap my mind around these accredited facilities, that there's no standard operating across the board to receive that.
"I don't want another family to experience what all of us are experiencing."
Both the Petites and Bucars are still involved in litigation against UH.
"If the pain that I'm going through now, and the tears that I cry could help this so that no other family has to go through this again then it's all worth it for me," Kimberly said.
The couple had no control over what happened, but they did have control over how they'd react to it.
"We focused our attention on getting healthier for our kids," Kimberly said.
The couple hit the gym and in the last year, Kimberly's lost 60 pounds, Joe lost 40.
"Getting healthy the way that I have and losing all that weight is being a good role model for my daughters and I want them to see that and I want them to learn from it," Kimberly said.
Both families totally support the science behind fertility treatments and would encourage others to pursue it if they need help having children. But both advise others to ask questions, understand every detail of the process and most importantly ask how eggs, embryos and sperm are stored. They should be separated into separate tanks in the event one fails.
Legal action
:
Dozens of lawsuits filed
The first of dozens of class action lawsuits was filed March 11, 2018.
The incident gained national attention, resulting in representation from women's rights attorney Gloria Allred.
Allred, representing three women impacted by the failure, held a news conference in Cleveland in April.
"It's bad enough when women are treated with callous disregard in any area of life, but especially in this area, which is so intimate and so personal and so life-changing," Allred said.
The lawsuits were all consolidated in April, which some attorneys favored, saying it allowed for a class action case. Other attorneys wanted to avoid class action status.
Cuyahoga County Common Pleas Judge John Russo said consolidating the cases means those affected receive "consistent adjudication" before one court "while also independently maintaining the equitable protection of their rights."
In July, UH requested a gag order claiming that some plaintiffs' attorneys had made "inflammatory and prejudicial statements" to the media regarding the case.
Judge Stuart Friedman granted that gag order, barring those involved in the case from making public statements.
Six more suits were filed in January in federal and Geauga County court against UH and CAS Data Loggers, the company responsible for monitoring the alarm systems on the tanks.
Adam Wolff, from Peiffer Wolf Carr & Kane, one of the local firms representing the victims, said, "What we know is that the alarm had been turned off and University Hospitals hadn't even tested that alarm in a period of approximately one year before this happened."
Some attorneys representing the victims feel UH has used legal maneuvers to avoid being held responsible for the tank failure.
Most recently, the hospital filed a motion to keep contested documents from the public, filing it privately so it would not appear on the court docket.
Attorney Chris Patno, of McCarthy, Lebit, Crystal & Liffman, said, "We've been met with nothing but roadblocks and stonewalls."
Former judge speaks out
What's an embryo and what's it worth?
That lies at the crux of Brickel et al v. University Hospitals Ahuja Medical Center et al.
The answers will be groundbreaking. But a year after the fertility failure, the answers remain elusive for the families touched by the loss of 4,000 embryos and eggs entrusted and destroyed at the facility.
Retired Judge Stuart Friedman had an intimate view of the cases, overseeing for nine months, the voluminous case file while winding down a judicial career that began in the 1980s.
It was a case the legal scholar embraced. One he wanted to see until the end. But age limits precluded another election run past his 70th birthday and his replacement – half his age – declined his offer to stay on as a magistrate.
To Friedman, this was a once-in-a-career case.
"People have lost something, and the question is, have they lost a life, have they lost a potential for life? Or is this just a thing?" he told WKYC.
So many questions contained from the 70-plus lawsuits, now consolidated, brought by dozens of attorneys, some of the best personal injury lawyers from across the country. More than 100,000 pages of records produced by UH alone.
In court, it coldly comes down to placing a label and yes, a price tag, on each family's loss.
"In some cases, you have to feel horrible for the victims because in many cases they have no children, or they had one child and wanted to have another one and that possibility is gone now," Friedman said.
In these cases, labels matter.
UH attorneys want the failure labeled medical malpractice, a designation for which Ohio law caps financial exposure. In an early ruling, Friedman denied the motion.
"In these cases, it's very difficult to decide what has happened and who has suffered what losses," he said. "Each case is different. Each case requires a different analysis."
Attorneys representing some women argue UH acted negligently or that a breach of contract occurred. In these cases, damages could skyrocket.
Finally, other lawsuits raise a legal quandary, contending the embryos are human; their destruction equal to a wrongful death.
Such a legal finding could have far-reaching implications, legally and socially.
"That is another issue that has not been resolved," Friedman said.
"When is conception? The law has never addressed this, and I don't think the legal system is qualified to address it right now."
There have been settlements, or as the attorneys say, "resolutions" reached in several cases. Exactly how many and for how much, remains confidential. For the other cases, more legal wrangling, discovery exchanges, perhaps even more appeals and some trials, remain on the horizon.
Gag orders and records being filed under seal is the new norm for the cases in Cuyahoga County Common Pleas Court.
Friedman sees the potential for legal arguments to make their way to the state or U.S. Supreme Court.
"[Both sides] recognize that a trial would just prolong things," Friedman said.
His days as a judge ended in early January when newcomer Judge Ashley Kilbane was sworn in. She arrived via Chicago in 2009, recruited as a rising star a decade ago by the Porter Wright law firm to handle civil litigation.
"She's wise beyond her years," said Hugh E. McKay, partner in charge of Porter Wright in Cleveland who hired Kilbane shortly after she graduated law school.
"She's super bright, naturally great judgment, a lot of things many people take years to develop comes by naturally and more quickly."
For the past four years, Kilbane honed her criminal law skills as an assistant county prosecutor. She was not the choice of county Democrats to replace Friedman, but she won the primary anyway, and then handily defeated her Republican challenger in November. All while raising twin daughters.
Nonetheless, Friedman hoped to keep a hand in the UH cases while allowing Kilbane to ease into her first year on the bench.
"To have these 70 plus cases on your docket in addition to everything else is a lot for a brand-new judge," he said.
In a letter to Kilbane, he offered to serve as a magistrate on the UH cases. Under the arrangement, his rulings would have to be approved by Kilbane. The new judge passed on the offer.
"We had a meeting about something else and she said, 'Oh, by the way, I'm not going along with your suggestion," Friedman recalled. "That's her decision, so again, I disagree with it, but it's her decision and she had the right to do it.
"I just inferred that she wanted to have as much control as possible for these cases."
Through a court spokesman, Kilbane declined a request to interview.
Her former boss said Kilbane, regardless of her judicial experience and the star quality of attorneys involved in the case, has the legal acumen and energy to ensure the families and UH receive equal justice.
"I think she's a perfect person for a complex case with a lot of complex personalities. I think that's right up her alley," McKay said. "I don't think Judge Kilbane is subject to intimidation. I think she's very tough, very confident and nobody's going to intimidate her."
What's next?
:
What's being done to prevent future failures?
The fertility failure at UH and, the very same weekend, Pacific Fertility Center in San Francisco, served as a wake- up call for a largely unregulated industry to do some serious self-analysis. But is it enough?
While the disaster at UH will likely cost the hospital millions in legal fees, settlements and free treatment, it did not destroy the fertility program. In fact, the hospital claims it has seen an increase in patients seeking its services.
So what did they do to prevent future failures?
They added four new liquid nitrogen storage tanks for eggs, embryos and sperm and updated the remote alarm system so that now five people will be alerted if there's a problem.
They updated their policy regarding checks and preventative maintenance on tanks per the manufacturer's requirements.
They hired additional embryologists, nurses and support staff.
They now conduct monthly audits on the lab and report findings to UH's Quality Council.
Prior to the failure the UH lab passed its voluntary inspection by the College of American Pathologists and had up to date credentials.
The problem with the industry is that there is no one federal or state agency monitoring these labs. Not even a year after the biggest fertility disaster in history. The FDA, CDC, CMS, College of American Pathologists, Joint Commission on Accreditation of Healthcare Organizations and the American Society for Reproductive Medicine, all play a part in some facet of fertility lab oversight, but when problems happen, there's no place for the buck to actually stop.
And none of the existing oversight could have prevented last year's incidents.
One issue is that the liquid nitrogen tanks that store the eggs, embryos and sperm are not labeled as medical devices, so no government agency has authority over them. If they were, the FDA would have oversight.
The American Society for Reproductive Medicine sets the standard for the field, but has no regulatory field. In a statement, Sean Tipton, Chief Policy, Advocacy and Development Officer said:
"After consulting with experts from around the world, the American Society for Reproductive Medicine is currently in the process of finalizing a new report from our Practice Committee on cryopreservation of reproductive tissues. This report will provide new guidance on how facilities can best ensure safe handling, preservation, and use of these tissues.
The Society for Assisted Reproductive Technology is not itself an accrediting body, but as one of its membership requirements does require each program have an accredited lab. Upon reviewing the standards of these organizations SART is now accepting accreditation from only two organizations, the Joint Commission and the College of American Pathologists. SART is currently working with both organizations to revisit their standards pertaining to tissue cryopreservation."
The College of American Pathologists has updated its lab checklist for its inspections because of the disaster. That update includes new rules on monitoring the temperature of liquid nitrogen tanks, requiring extra tanks be on site and updating procedures for alarms.
All of which, UH has done.
While there's been some talk about legislation on the state level in Ohio to regulate these labs, so far nothing has passed. New Jersey is the closest to passing a law that would add state licensing and regulatory requirements to any embryo, egg or sperm storage facility operating in that state.