CLEVELAND — University Hospitals Health System announced Thursday it will be closing two of its suburban hospitals and emergency departments at UH Richmond and Bedford medical centers.
They say the reason is an unprecedented staffing shortage.
It's no secret that healthcare is facing a severe staffing shortage, especially among nurses. More than half of the hospital nursing force across the country is older than 50.
But no one expected the burnout from the COVID-19 pandemic would drive nearly a third of nurses to retire, leave the profession or find traveling nurse positions that paid more.
Now that fallout is hitting close to home.
"This isn't a decision about dollars, this is a decision about staffing," says Dr. Paul Hinchey, President, UH Community Delivery Network.
On Aug. 12, University Hospitals will close the inpatient and emergency departments at both UH Richmond and Bedford Medical Centers. Those services will be consolidated into the expanding Ahuja Medical Center, six miles from Bedford, and UH Lake West, six miles from Richmond.
Nearly 600 employees will be impacted, including 337 at Richmond and 280 at Bedford, but there will be no layoffs and all employees will be absorbed into other UH facilities.
"None of our employees are going to lose their jobs, every single one of them is critical to the system, there are literally hundreds of jobs we need to fill across the system and everyone will have a home and they will be given the choice of where they go," Dr. Hinchey said.
UH says the two centers are the smallest and oldest, Bedford opened in 1928, Richmond in 1961. But because of the staffing shortage, they've decreased capacity significantly.
"We had close to 50 to 60 beds in each of those facilities but back in October, as we were in the peak of a COVID crisis and facing significant staffing challenges. we actually reduced the number of beds at each of those facilities down to fourteen," Dr. Hinchey said.
"Today University Hospitals has more unfilled caregiver positions than at any other time in our 156-year history. We currently have more than three thousand job openings system wide including nearly a thousand bedside nurses," says Dr. Cliff Megerian, CEO of University Hospitals.
What will stay? The Behavioral Health Center at UH Richmond will continue, and doctor offices will remain.
"All of our doctors will still be there, patients will still be able to access the doctors the same way they did before they will be the same faces in the same places," Dr. Hinchey said.
"We hope depending upon where the individual patient lives that the disruption will be minimal at the same time we intend to invest in new programs and new services for Bedford and Richmond Heights that will match the specific needs of these communities," Dr. Megerian said.
Bedford City Manager Michael Mallis tells 3News this will have a significant impact on response times and a financial impact on the city.
Some of the programs and services include health education and screenings, grief recovery, workforce development and Food for Life Markets.
Meanwhile like other hospitals in Ohio and across the nation, UH is figuring out ways to attract healthcare workers. They've partnered with colleges and universities to train personnel, offer tuition support and better pay, but it may be years before they can replace what the pandemic took away.
Watch statement from UH President and CEO Dr. Cliff Megerian here:
Key Questions and Answers
Why is UH closing ER and in-patient beds at UH Bedford and UH Richmond?
The decision to discontinue inpatient and emergency department services at UH Bedford and UH Richmond at this time is based on impacts of the workforce shortage in health care.
These hospitals are among the smallest and least utilized within UH. Since October, each hospital dropped from 50 to 14 inpatient beds.
Consolidating services to nearby locations enables UH to more efficiently staff during this critical workforce shortage.
How many employees will this impact?
A total of 600 employees will be impacted. Including 337 at UH Richmond and 280 at UH Bedford.
All caregivers at UH Bedford and UH Richmond medical centers will be offered the opportunity to fill open positions at other hospitals throughout UH system.
No employees will be laid off as part of this consolidation.
How busy are the ERs in both facilities compared to other hospitals?
UH partners with local EMS teams to get patients emergency services as quickly as possible. The distances should not make a noticeable difference for EMS ambulance trips.
EMS can administer care within ambulances or helicopters and works with local hospital systems to get patients to the Emergency Department that's closest.
The closest UH ED to Bedford is 6.2 miles away at UH Ahuja Medical Center. The closest UH ED to Richmond is 6.1 miles away at UH Lake West.
Cleveland Clinic also has Emergency Departments near UH Bedford and Richmond.
The Cleveland Clinic Marymount ED is 4.5 miles away from UH Bedford. The Cleveland Clinic South Pointe Hospital ED is 3.8 miles away from UH Bedford.
The Cleveland Clinic Euclid Emergency Department is 5 miles from UH Richmond.

Will outpatient services still be available at these locations?
UH will maintain local physician services provided at the medical office buildings in these communities. This means that there should be no change for patients who see their physicians there for general medical visits.
The Behavioral Health unit at UH Richmond also will continue to operate for the foreseeable future. The Behavioral Health unit provides inpatient care for psychology patients.
Is there any plan to possibly transform these facilities into some type of community health center?
UH will invest in new programs and services for Bedford and Richmond Heights that match the specific health care needs of these communities
These new services will address four key areas: Wellness and safety, maternal and child health, food security, and workforce development.
UH also will establish UH Wellness Centers in both communities as hubs for new programs including:
Grief Recovery – support for patients and families as they experience grief stemming from all types of losses including death, divorce, unemployment, etc.
Health Education and Screenings – information and free health screenings help detect disease when it's most treatable, and prevent serious health problems that can develop if a medical condition is left unchecked
Workforce development
Fitness and stress reduction programming
Food for Life Market – addresses food insecurity and chronic health conditions by providing patients with nutritional foods to stay healthy.
Similar services and programs are available through the UH Ahuja Rainbow Center for Women & Children and will be provided at The Davis, a new apartment building under construction in Glenville, as well as at the UH Otis Moss Jr. Health Center in Cleveland.
UH and several other hospitals are being impacted by national health care staff shortage trends.
Today, University Hospitals has more unfilled caregiver positions than at any time in its156-year history. There are currently more than 3,000 job openings system-wide including about 900 bedside nurses.
The situation is not unique. Other health systems across the country have similar staffing challenges. There simply are not enough skilled health care professionals to meet the demands for care.
UH has been able to sustain high-quality, compassionate care for patients by adopting innovative new ways to deliver services.
This includes reassigning caregivers to locations and roles where they can be highly productive and are needed most.
While UH can absorb employees at other facilities and distance to other hospitals is less than ten miles, that is not the case in many areas of Ohio where hospital care is dwindling.
Official news release from University Hospitals:
During the peak of the COVID-19 pandemic and a national shortage of nurses, support staff and other caregivers, University Hospitals continued to deliver quality care for all of its patients by reassigning staff to where they were needed most. Many caregivers at UH Bedford and UH Richmond medical centers transitioned to other larger UH hospitals with higher patient volumes.
While the number of hospitalized COVID-19 patients has declined, UH continues to be impacted by the shortage of health care workers.
UH currently has more unfilled positions than at any time in its history, and the competition to hire is intense. At the same time, the system has a responsibility to provide quality, compassionate care for all of its patients safely.
In this environment, UH conducted a thoughtful analysis of its service model, facilities, resources, and community health care needs. The effort included the engagement of an independent, third-party advisory firm.
In this context, UH has reached the decision to consolidate inpatient care in its East Market to UH Ahuja, Geauga, Lake West, Lake TriPoint, Geneva and Conneaut medical centers.
UH will discontinue inpatient services and Emergency Departments at UH Bedford and UH Richmond medical centers. However, local physician services provided at the medical office buildings in these communities will continue. The Behavioral Health unit at UH Richmond will continue to operate at this location for the foreseeable future.
UH will also invest to bring new programs and services to Bedford and Richmond Heights aligned to community needs identified through consultations with local leaders and analysis of the demographic, economic, social and health conditions specific to these communities. Newly emerging UH services will include programs for wellness and safety, maternal and child health, food security, and workforce development.
In addition, UH will work with the mayors of both Bedford and Richmond Heights to determine the best uses for these sites in the future.
"A national workforce shortage has created unprecedented challenges for our health system. Although the decisions were difficult, we are confident they are the right ones for our patients and caregivers," said Paul Hinchey, MD, MBA, UH Chief Operating Officer and President, UH Community Network. "Our hospitals in Bedford and Richmond Heights are aging and among the smallest and least utilized within UH. Consolidating services to nearby locations enables us to staff more efficiently during this critical time.
"Consolidation also allows us to concentrate our investments long term in the most advanced medical technologies and equipment, facilities and services for the best patient outcomes," he added. .
Caregivers at UH Bedford and UH Richmond medical centers will have opportunities to transition to other UH hospitals and locations where UH has unfilled positions.
"Our patients and our health system need them, and we hope that they all will choose to continue their careers with UH. We thank all of our caregivers for their flexibility throughout these challenging times. We also will continue our efforts to attract talent to our organization by striving to be Northeast Ohio's first and most trusted career choice in health care," said Hinchey.
"We remain committed to our patients in Bedford and Richmond Heights. Through the consolidation of services, we are moving to assure that UH patients, wherever they are, always have access to the care they need and trust, now and into the future," he said.
Inpatient services will migrate from UH Bedford to UH Ahuja, 6.2 miles away, and from UH Richmond to UH Lake West (6.1 miles), UH Ahuja (13.9 miles), UH TriPoint (15.6 miles) and UH Geauga (20.6 miles) medical centers.
Caregivers at UH Bedford and UH Richmond will have the option to transfer to different locations within the UH system. UH will be working with them individually about their career path options as details and timing evolve.
UH Bedford Medical Center, 44 Blaine Ave., officially opened in 1928 as Bedford Municipal Hospital. In 1979 the name was changed to The Community Hospital of Bedford, which UH purchased in 1993.
UH Richmond Medical Center, 27100 Chardon Rd., has been serving the residents of Lake and eastern Cuyahoga counties since 1961.
UH CEO Cliff Megerian, MD, FACS, UH Chief Executive Officer and Jane and Henry Meyer Chief Executive Officer Distinguished Chair, addressed the community and UH caregivers in a video posted online.
In the video he said: "We arrived at the decision to discontinue inpatient care at UH Bedford and Richmond medical centers after a lot of careful thought. We appreciate what a hospital, and the long legacy of care delivered at these facilities means to these communities. I'm sure, however, that these decisions are the right ones for all of our patients, and that our patients in Bedford and Richmond Heights will be well-served by the care they will receive at our other medical centers and, by the investments we will be making in programs and services designed specifically for their communities."
According to the Ohio Hospital Association:
There are 250 hospitals in Ohio. 56 of those hospitals are independent (not affiliated with a health system). Click here for more facts about Ohio hospitals.
About 72 hospitals in Ohio are rural/small facilities.
Eight counties in Ohio don't have a hospital (mostly in eastern part of state).
Although there have been rural hospital closures in the state, we are also seeing other activity of new facilities (outpatient centers, urgent care, ED centers, etc.) emerge:

Recent closures (rural):

East Ohio Regional Hospital – 2019 (Oct. 4) **Re-opened in 2021**
Belmont Community Hospital – 2019
Massillon Hospital - 2018
Northside Hospital - 2018
Southwest Regional Medical Center (Brown County) – 2014
Doctor's Hospital – Nelsonville (2014). Closed inpatient, opened outpatient
Summa Wadsworth-Rittman Hospital closed inpatient services – 2014

Recent closures of hospitals (all types):

East Ohio Regional Hospital **Reopened in 2021** (Eastern Ohio)
Belmont Community Hospital (Eastern Ohio)
Affinity Medical Center (NE Ohio)
Doctors Hospital Nelsonville (SE Ohio)
Northside Regional Medical Center (NE Ohio)
Good Samaritan Hospital (Dayton area)
Lakewood Hospital (NE Ohio)
Medical Center of Newark (Eastern Ohio)
Mercy Hospital Mt. Airy
Mercy Hospital Western Hills
Physician's Choice Hospital Fremont
Southwest Regional Medical Center
Summa Wadsworth-Rittman Hospital

American Hospital Association (2021) - Over 100 rural hospitals have closed since 2013, resulting in patients traveling a median 20 miles farther for health care services, according to a report released this week by the Government Accountability Office.
For less common hospital services, the median distance increased much more, GAO found. For 11 closed hospitals that offered treatment services for alcohol or drug abuse, for example, the median additional distance to access these services was 39 miles. Counties with closures also generally had fewer physicians and other health care professionals per 100,000 residents than did counties without closures and their Medicare beneficiaries were less healthy, GAO said. For hospitals that closed between 2014 and 2017, the median total facility margin fell to -13.8% in the year before closure. The share of all rural hospitals at high risk of financial distress has increased in the past five years, the report notes.
Based on OHA's analysis of 2019 hospital Medicare cost reports, many Ohio hospitals are economically challenged. Approximately 22.9% (46 hospitals) have operating margins below 0%.
The financial impact of COVID-19 pandemic to hospitals in Ohio is significant as service utilization decreased (patient hesitancy) and continued surges of COVID-19 forces hospitals to reduce or take-off-line other services to respond to COVID-19 patient needs.
From the March 9 declaration of the public health emergency, to the May 1 restart of some elective procedures, Ohio hospitals suffered a combined $2.38 billion in lost revenue and unanticipated emergency expenses. As elective procedures continued their gradual phase-in, OHA estimated hospitals lost $6.0 million in revenue per day during the pandemic due to low patient volumes and decreased hospital utilization.
The financial impact on Ohio hospitals is $5.95 billion. While the federal government has provided some relief, it is not sufficient to address this seismic hit to hospitals. To date, Ohio hospitals have received $3.12 billion in relief from federal and state primarily through the CARES Act funding. This leaves a $2.82 billion funding gap.
Staffing shortages remain a challenge for hospitals from the clinical and administrative areas of hospitals. Nursing and physicians remain a significant need for hospitals. Labor expenses have risen significantly for hospitals in recent years and labor costs remain a big expense for hospitals. AHA issued a report about the rising costs facing hospitals.

For insurance reimbursements, OHA has this breakdown of coverage options for Ohioans and the payments hospitals received in 2020: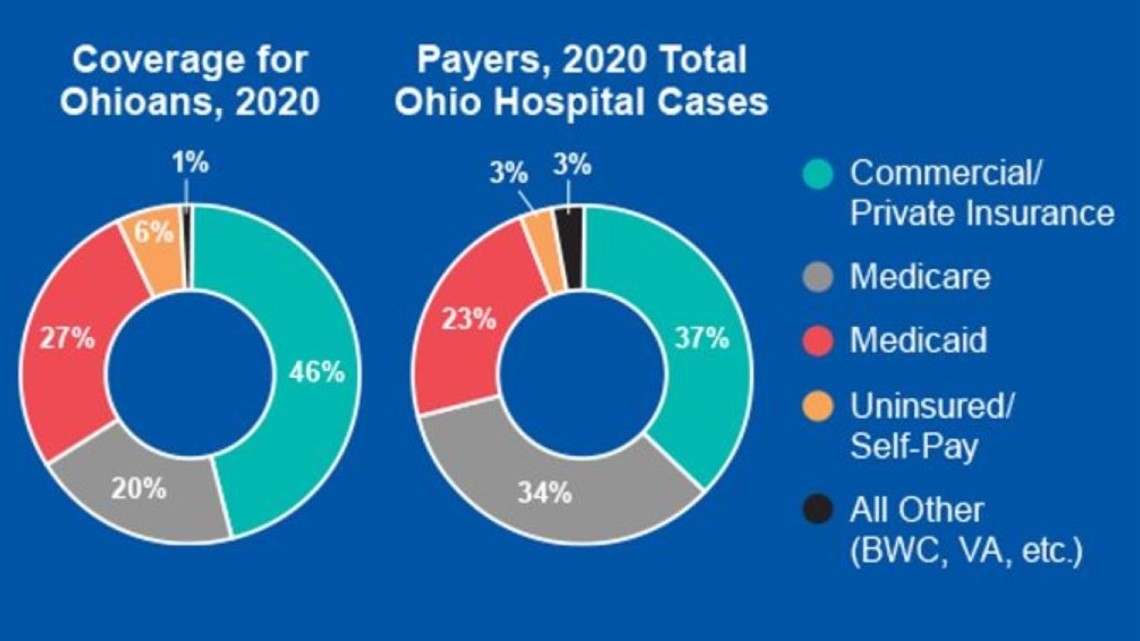 Government payers (Medicaid and Medicare) represent over 57% of hospitals payments, but they reimburse below costs. Medicare reimburses hospitals less than the cost of providing care and their reimbursement rates are non-negotiable. The Medicare Payment Advisory Commission found that hospitals experienced a -8.5% margin on Medicare services in 2020, and it projects that margin will fall to -9% in 2022.
Combined underpayments from Medicare and Medicaid to U.S. hospitals were $100 billion in 2020, up from $76 billion in 2019. Exacerbating this pressure is the fact that Medicare and Medicaid account for most hospital utilization.
94% of hospitals in the U.S. have 50% of their inpatient days paid by Medicare and Medicaid and more than three quarters of hospitals have 67% Medicare and Medicaid inpatient days. Because of the fixed nature of these payments, hospitals are unable to fully absorb the tremendous inflationary forces they are currently facing.
Editor's note: Video in the player above was originally published in an unrelated story on July 13, 2022.