CLEVELAND -- Tuesday's game between the Cleveland Cavaliers and Miami Heat at American Airlines Arena was more than a meeting of two teams fighting for positioning in the Eastern Conference standings as the playoff picture comes into focus.
It was a matchup of close friends and former teammates, as LeBron James and Dwyane Wade squared off for the final time during the regular season, and quite possibly, the last time in their careers as Wade will have to decide if he wants to continue playing after the 2018 NBA Playoffs.
"Absolutely just kind of reaches me hearing the narrative since he came here of you're not quite sure what he's going to do next year," James said after the Heat beat the Cavaliers, 98-79. "He's going to assess everything, and at the end of the game, we just kind of had that moment."
PHOTOS: Cleveland Cavaliers' LeBron James understands he may have faced Dwyane Wade for final time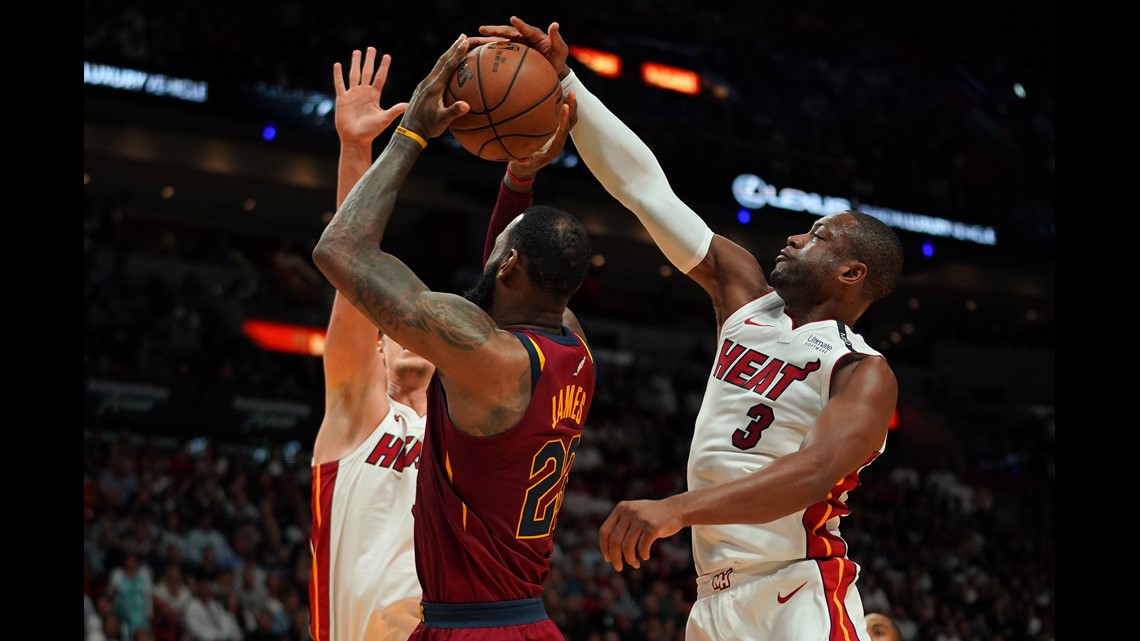 James and Wade first teamed together for Team USA in the Olympics before joining forces with the Heat in July of 2010. The relationship was fruitful on the court, as the Heat won back-to-back NBA championships in 2012 and 2013.
But the bond between James and Wade extends far beyond the basketball court.
"We've been 15 years and strong as brothers, as teammates, as competitors, as teammates again, as competitors again, but our brotherhood is beyond this game of basketball," James said. "We just don't take it for granted. You just don't know, so we'll see what happens in the summer."
Kim Klement
Against his former team, James converted seven of his 18 attempts from the field on the way to a team-high 18 points, pulled down six rebounds, including five on the defensive end of the floor, and handed out seven assists, but committed six turnovers over 38 minutes.
Conversely, in 17 minutes off the bench, Wade scored 22 points on five-of-11 shooting to go along with two rebounds, four assists, one steal and four blocked shots. And two of those blocked shots came against James.
"That's one thing about us, we don't brag about what we do against each other," James said. "We talk about what we do against everybody else."
Soobum Im
Although the Cavaliers have not won in Miami since James left for South Beach in the summer of 2010, a streak that stands at 14 straight setbacks after Tuesday's loss, the 14-time NBA All-Star has plenty of memories at the American Airlines Center, and he plans to build on them in the years to come.
"From an opponent, and then, as one of their own, it's just a lot of memories, obviously, for sure," James said.
"It's been one of the best places for me to be able to showcase my talent either as an opponent or as one of their own. This building ain't going nowhere no time soon, and I ain't either, so we've got some more."