CLEVELAND -- One loss is not going to shake the confidence shooting guard Rodney Hood believes in the potential of the Cleveland Cavaliers.
Speaking to the media after Monday's practice at Cleveland Clinic Courts, Hood talked confidently about his belief the team's ability to rebound after Sunday's 98-80 loss to the Indiana Pacers at Quicken Loans Arena in Game 1 of the first round of the 2018 NBA Playoffs.
"We'll play a lot better," Hood said. "We can't play any worse than we did. We've just got to take care of the ball, get good shots. I think defensively, we did a solid job, but offensively, we can't give them any ammo to come at us."
PHOTOS: Rodney Hood confident Cleveland Cavaliers will rebound from Game 1 loss to Indiana Pacers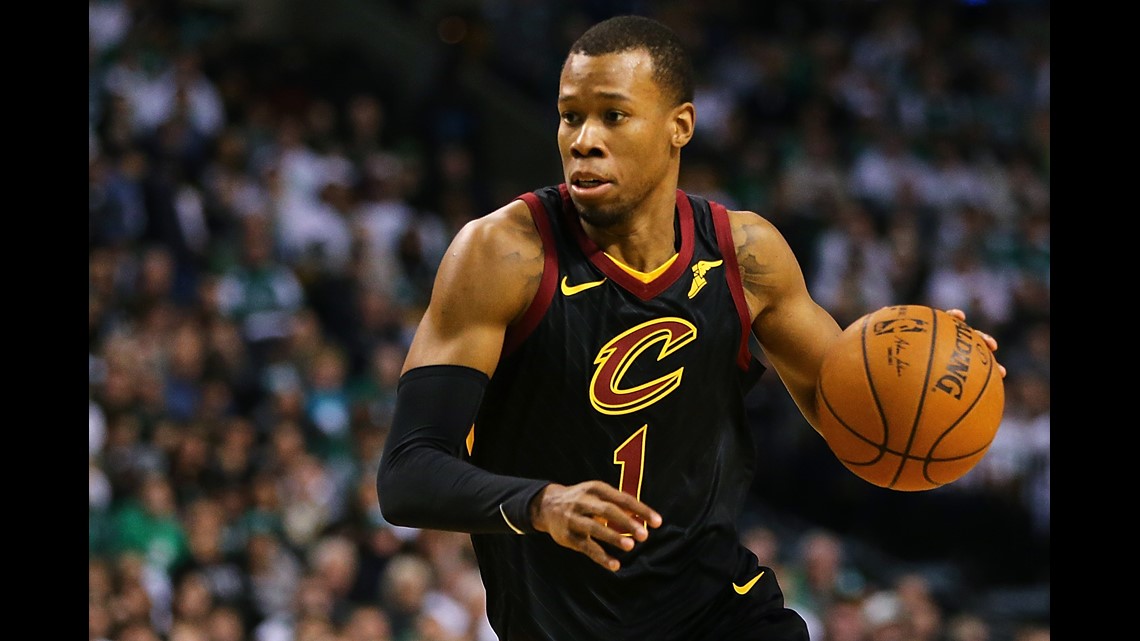 Although there was an emotional lift for the Cavaliers from George Hill's thunderous one-handed dunk on the fast break in the game's early moments, the Pacers quickly stemmed the tide and turned that negative into a positive.
Over the next five minutes, the Pacers outscored the Cavaliers, 14-2, and took an 18-6 lead after forward Bojan Bogdanovic completed back-to-back three-point plays at the 4:58 and 4:33 marks of the first quarter.
During their run, the Pacers got a three-pointer from guard Victor Oladipo, a free throw and 19-foot jumper from forward/center Myles Turner and driving layup from Darren Collison ahead of the consecutive three-point plays.
In the first quarter, the Cavaliers made only five of their 20 attempts from the field, and that included an 0-for-8 showing from three-point range, while the Pacers made 12 baskets, including three triples from Oladipo, on the way to a 33-14 lead after the first quarter.
"I think it was more us," Hood said.
"The long passes, the careless turnovers, obviously, we missed some shots as well, but when we had some momentum going, we had a big turnover that is uncharacteristic of us, so we'll clean those up. They forced some turnovers, so it's some of them too, but we can control some of it."
Adam Glanzman
The Cavaliers finished the game 30 of 78 from the field (38.5 percent), eight of 34 from three-point range (23.5 percent) and knocked down only 12 of their 20 attempts from the free-throw line (60 percent) in the Game 1 loss.
"I felt it," Hood said. "We all felt it during the game. I think we played so tight, especially with some of our shots offensively, but defensively, and in the half-court, we did a good job. Turnovers, and in transition, they're so hard to guard."
David Richard
In addition to avoiding "careless turnovers," Coach Tyronn Lue believes an increased level of intensity and aggressiveness will bring the Cavaliers success in Game 2.
"I don't think it's a sense of urgency," Lue said. "I think we were prepared. We were ready to go. We just didn't play well. If you're thinking too much and you're not aggressive, it's kind of hard in the playoffs. You've just got to be aggressive, attacking on both ends of the floor, and that's what we've got to do better.
"We had some shots that we turned down, a chance to drive close-outs and make another play, and we didn't do that. I just thought their physicality on post-ups and things like that was a lot for us. We've got to own our space."