Punxsutawney Phil is resting up before making his annual weather prognostication on Tuesday, Feb. 2, - albeit with fewer in attendance cheering him on - but AccuWeather meteorologists already have the scoop on what parts of the country can expect six more weeks of winter.
"The groundhog may be a bit confused on Feb. 2," AccuWeather Lead Long-Range Meteorologist Paul Pastelok said. "It could be a hard decision to make for the period leading up to spring."
Legend has it that when Punxsutawney Phil climbs out of his burrow on Feb. 2, if he sees his shadow, there will be six more weeks of winter. However, if he doesn't spot his shadow, then it is a signal from Phil that spring will arrive early.
The Groundhog Day festivities at Gobbler's Knob, Pennsylvania, have gone virtual for 2021, and so has a panel of forecasters including meteorologists from across the country and a familiar face from the popular movie centered around the famous groundhog.
"I think the groundhog will not see his shadow," Tobolowsky told AccuWeather. "You'll have lots of rain, but you won't have winter."
Despite Tobolwsky's firsthand knowledge of Groundhog Day, other panelists disagreed, including Groundhog Day Hall of Fame Inductee and veteran meteorologist for AccuWeather Elliot Abrams. "It's going to be six more weeks of winter, or perhaps a month and a half," Abrams quipped.
Regardless of whether or not Phil sees his shadow on Tuesday morning, AccuWeather's team of long-range forecasters are growing more confident of the weather pattern that will unfold across the U.S. in the coming months.
"It looks like we're going to have a very interesting spring," AccuWeather Senior Meteorologist Dave Samuhel said while sitting on the panel of prognosticators.
So far, Old Man Winter has not had an extended stay in the contiguous U.S. with just glancing blows of Arctic air and periodic snow, as opposed to it being brutally cold with frequent winter storms. Temperatures in Boston, New York City, Pittsburgh, and Cleveland have averaged around 3 degrees Fahrenheit above normal.
Some residents of the Northeast may have been under the impression that a stormy winter was in the cards following a mid-December winter storm that unloaded the heaviest snowfall in years. Philadelphia measured 5.7 inches, making it the biggest snowstorm in the city in more than 1,000 days, but this was merely a dusting compared to the 40 inches that piled up in Binghamton, New York. However, most of this snow melted within a week as warm air quickly returned to the region.
"Another period of colder weather and more snow can return to the northern tier of the nation later in February and March," Pastelok explained.
Samuhel elaborated on this, adding that "parts of New England could have some of their worst weather yet to come later on in February and into March. We'll likely be piling the snow on right through at least March and even into early April before it finally starts to feel like spring."
Not only is a delayed start to spring weather shaping up for the Great Lakes and the Northeast, but also across the northern Rockies and into the Pacific Northwest.
"The last two weeks of January featured an ease up in the intensity and frequency of storms in the Northwest," Pastelok said. "But the start of February, both in frequency and intensity, we'll see an uptick."
"Strong winds, heavy rain, mountain snow and flooding [are predicted to] return to the Pacific Northwest," he added. This could lead to more than six extra weeks of winter for some of the northern Rockies following Groundhog Day.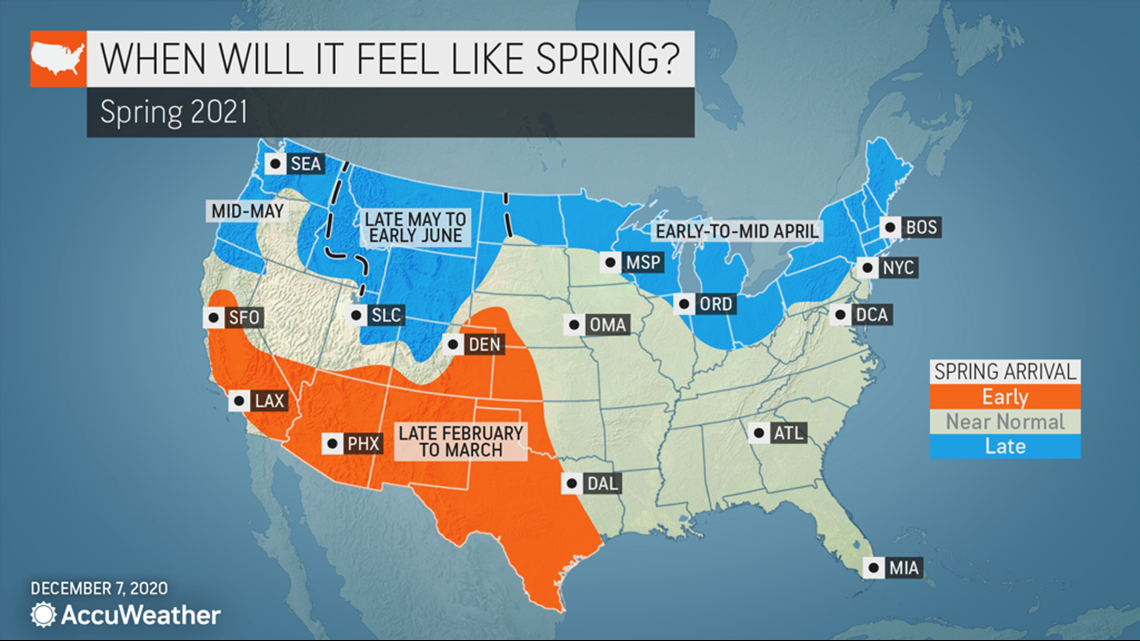 As colder air settles across the northern tier in March, the southern half of the U.S. will see a prolonged spell of milder weather.
"We'll see spring starting basically right out of the gate, so if Phil was looking at the weather down [in the Southwest] he probably will not see his shadow," Samuhel said. It may even begin to feel like spring as early as mid- to late February for places like Phoenix, Las Vegas and Los Angeles with no signs of cooling down in March.
The zone between these regions is in the crosshairs for some destructive weather after the official start of astronomical spring, which arrives on March 20, 2021.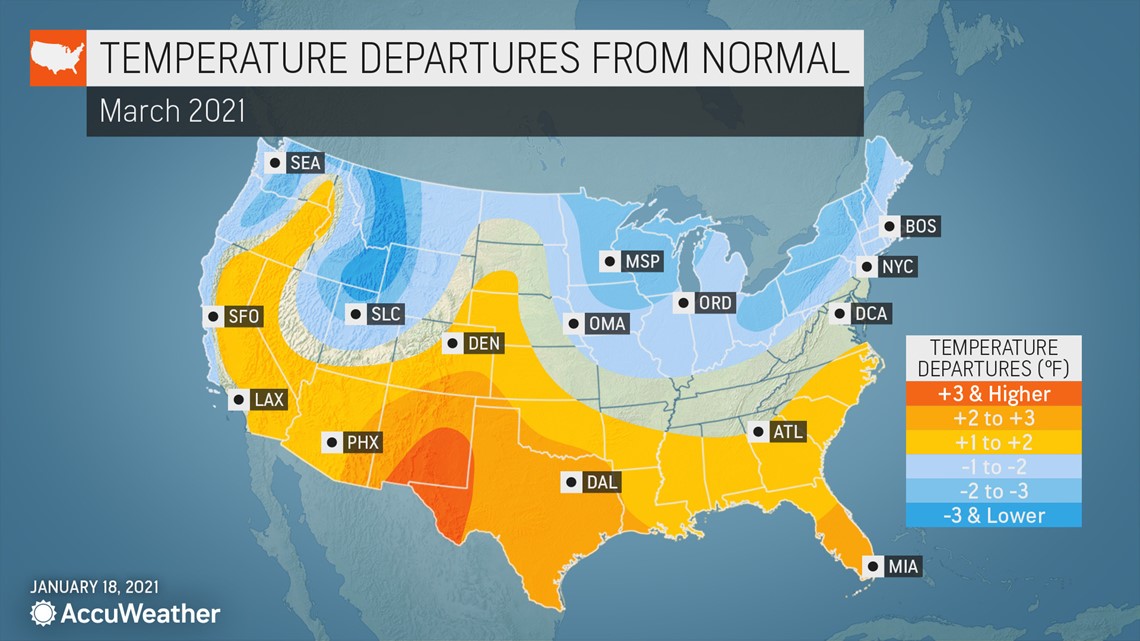 "With the cold air to the north and the warm air to the south, there will be this clash of those air masses. Severe weather could be a big problem," Samuhel said.
Extreme Meteorologist Reed Timmer could have a busy storm-chasing season come spring, especially compared to the below-normal severe weather season the Plains experienced in 2020.
"I agree with the AccuWeather experts. It's going to be a late start to the severe weather season, but it's going to be incredibly active," Timmer said during AccuWeather's Groundhog Day panel.