CLEVELAND — If you're planning to watch the Big Game at home, Clinical Dietitian Stephanie Logosh, MS, RDN, LD, from University Hospital Cleveland Medical Center shares recipes you'll love that are on the lighter side, on Friday's What's New with Betsy Kling and Jay Crawford.
Logosh showed Jay and Betsy how to make delicious buffalo chicken dip, spinach artichoke dip and even a sweet, chocolate chip brownie dessert.
Read on below for the recipes, instructions and how many calories you can shave off these dishes by making simple swaps for healthier options.
Watch the segment here from today's show:
Buffalo Chicken Dip
•2 (10 oz) cans chunk chicken, drained
•2 (8 oz) packages low fat cream cheese, softened
•¾ cup Frank's Red hot sauce
•1 ½ cup shredded cheddar cheese
• The recipe makes 20 servings. 1 serving (1/4 cup) = 112 calories
1.Heat chicken and hot sauce in a skillet over medium heat, until heated through.
2.Stir in the cream cheese and Greek yogurt. Cook, stirring until well blended and warm.
3.Mix in half of the shredded cheese, and transfer the mixture to a slow cooker. Sprinkle the remaining cheese over the top, cover, and cook on Low setting until hot and bubbly.
Serve with crudité, whole wheat crackers, and tortilla chips.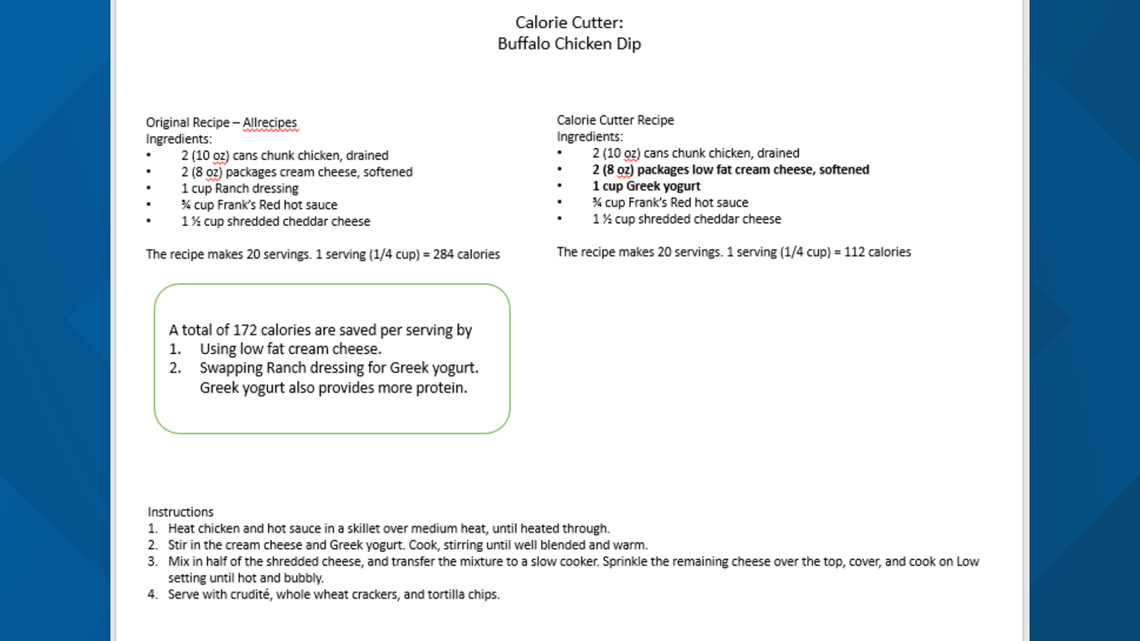 Spinach Artichoke Dip
•1 Tbsp extra virgin olive oil
•½ cup yellow onion, finely chopped
•8 oz Greek Yogurt, plain
•1 (15 oz) can chickpeas, drained and rinsed then blended
•¾ cup Parmesan cheese, grated
•10 oz spinach frozen then chawed, chopped
•9 oz artichoke hearts, chopped
The recipe makes 10 servings. 1 serving (1/4 cup) = 129 calories
1.Preheat the oven to 350 degrees F. Lightly oil a baking dish that holds about 6 cups.
2.Heat olive oil in a separate small skillet over medium heat. Add the onion and cook, stirring often, until softened.
3.Stir in the garlic and cook until fragrant, about 1 minute.
4.Transfer onion and garlic to a medium bowl and let cool.
5.Add the Greek yogurt and pureed chickpeas to the bowl and using a spatula, mash them together to combine.
6.Add the parmesan cheese (1/2 cup) and hot sauce; mix well.
7.Squeeze the excess liquid from the spinach and then add to the yogurt mixture. Add artichoke hearts next and mix well
8.Spread in a baking dish and sprinkle with the remaining Parmesan (1/4 cup). Bake until the dip is bubbling, about 35 minutes. Can serve with whole wheat pita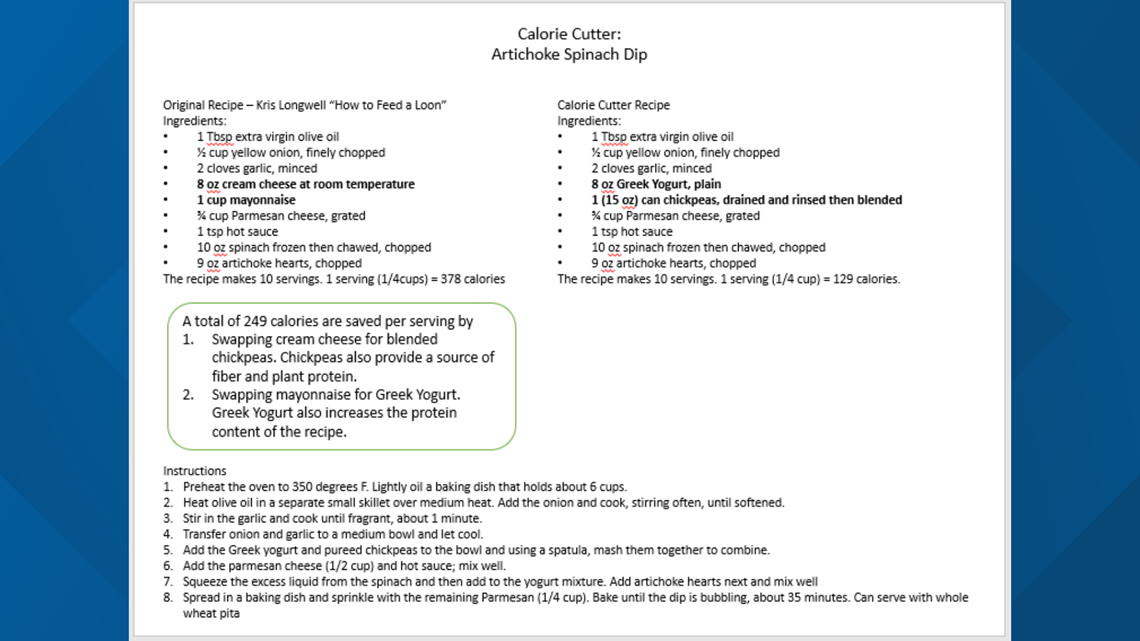 Chocolate Chip Brownies
•1/3 cup pure maple syrup
•2 tsp pure vanilla extract
•1 (15 oz) black beans, drained and rinsed
The recipe makes 9 servings. 1 serving (1 brownie) = 115 calories.
1. Preheat oven to 350 degrees F.
2. Combine all the ingredients except the chocolate chips in a food processor, and blend until completely smooth.
3. Stir in the chocolate chips, then pour into a greased 8x8 pan.
4. Cook the black bean brownies 15-18 minutes, then let cool at least 10 minutes before trying to cut.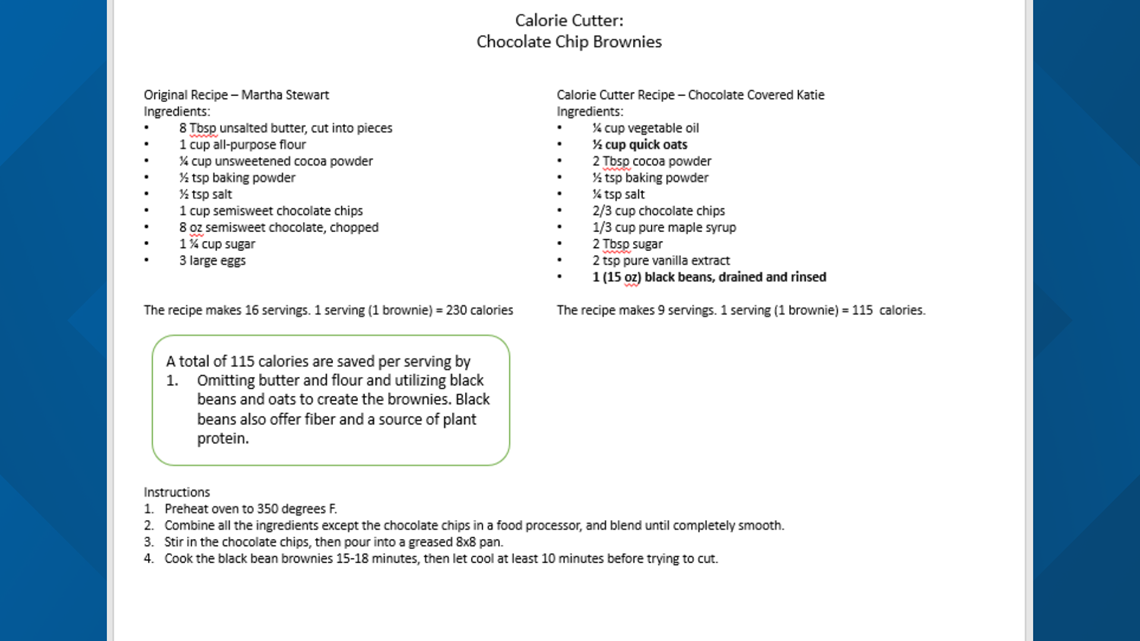 Join Jay, Betsy, digital anchor Stephanie Haney and Matt Wintz on the weather, plus more of our wkyc studios family on What's New airing every Monday through Friday, from 5-6 P.M. on 3News, in our app, on wkyc.com and on YouTube.