CLEVELAND — Kumain ka na -- it's a phrase you're sure to hear in any Filipino household. In Tagalog, it means "Did you eat yet?" so you better show up hungry.
"We make sure that everybody's full and fed and in our culture," Melvin Reyes, a player in the food industry, says. "That's something that's very heartwarming for us."
In 1986, Reyes' parents came to the United States from the Philippines. He was born in Cleveland and raised by many Filipino family members -- his Titos and Titas -- who taught him the importance of food.
The incredible cuisine of the Philippines is important part of the culture I can also relate to, because I am half Filipina. My mom was born and raised in the Philippines and came to the U.S. in the 90s, so when I learned that Reyes was organizing a pop-up Filipino food event last month, I knew I couldn't miss it.
"I mean, a lot of people are searching it out now," he told me. "We're trying to elevate and help bring awareness to the Filipino community."
This winter, Melvin, his brother, and cousins saw sushi trays taking off in the Philippines, so they started a business here called Sushi Bake CLE. The concept evolved to include a pop-up Filipino feast held at Porco Lounge and Tiki Room in March.
Reyes told me food is like a love language for Filipinos, a language influenced by the country's history and by the people who went there for commerce or conquest.
"The Philippines were colonized by many people," he explained, "so it's a huge mix of Chinese, Spanish, even American food."
From pork to seafood, soups and stews to noodles and rice, the cuisine of the nation is as vast and varied as it's more than 7,000 islands. And Reyes, who's passionate about food and the restaurant industry, has been on a mission to get Pinoy -- or Filipino -- food onto more menus and into more mouths.
"It's like 'Hey, why don't we share our love for food with others?' and that's how this whole idea came about," he said. "And then it evolved into this Kamayan event."
Kamayan, or "by hand" in Tagalog, is a traditional form of eating in the Philippines. The term refers to a communal-style Filipino feast, spread out and usually served on banana leaves and eaten without utensils.
"We lay the banana leaves out on the table," Reyes described, "and then we'll put the rice all down the middle and we'll put the entrees all over the side."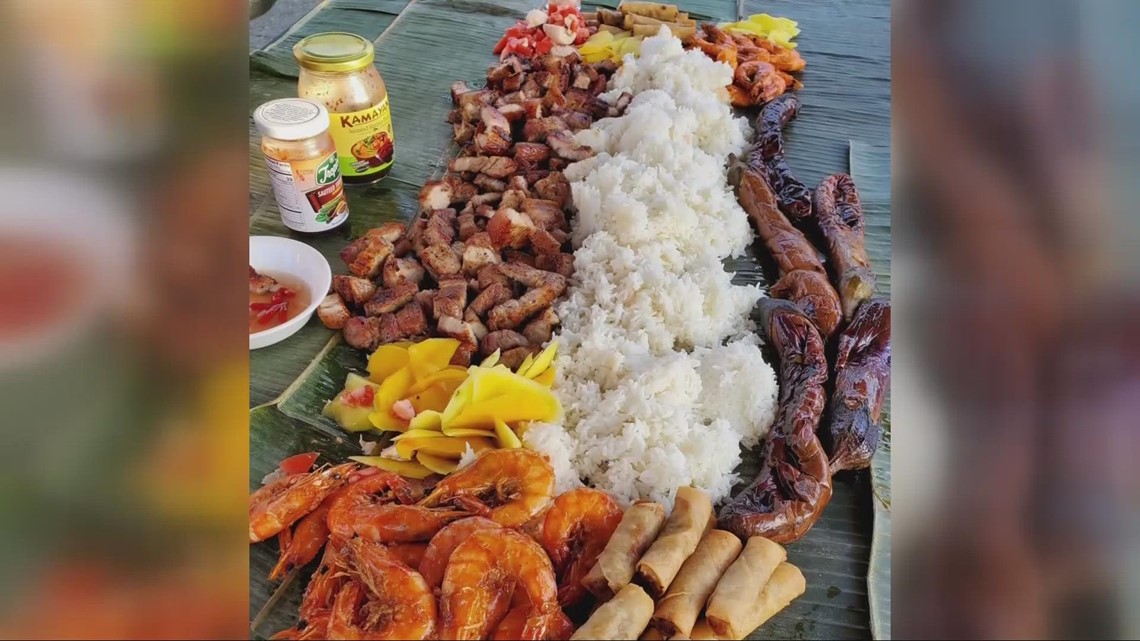 Instead of eating together at a communal table, guests at the March pop-up had individual plates due to the pandemic, but the food still packs the same punch.
"Chicken adobo is the staple," Reyes said. "We also did lechon kiwali -- which is crispy pork belly -- and then the staple lumpia shanghai."
Plus, grilled eggplant, bok choy, ube butter mochi, and garlic butter shrimp -- something for everyone to enjoy, plated up and ready to go.
I couldn't resist starting with one of my favorite foods: lumpia, or fried, pork-filled egg rolls. A meal that's "masarap," or yummy, in Tagalog, and reminds me and so many other Pinoys of home.
"We have that huge love for Filipino food," Reyes said. "During the weekends, we would get together and cook up a huge feast; now we're doing it for everybody else"
With the success of his March pop-up event, Reyes was asked to make Filipino bar food at Porco on Friday and Saturday nights, so be sure to try some of the food for yourself.