CLEVELAND — Welcome to the new Skylight Park at Tower City Center in downtown Cleveland.
A grand opening celebration is planned to unveil the renovated space inside the Skylight Concourse at Tower City on Saturday, July 16. The event runs from noon until 6 p.m.
But what is Skylight Park?
First up... It's replacing the well-known fountains that were located in Tower City's main concourse for years.
"Skylight Park is part of Bedrock's efforts to revitalize Tower City as a hub for shopping and retail experiences, dining, entertainment and more," officials explain.
Furnished with benches, picnic tables and chairs, officials say the Skylight Park will offer guests an opportunity "to connect with nature at Tower City." It was created in collaboration between Bedrock, the Cuyahoga Valley National park and the Conservancy for Cuyahoga Valley National Park "to highlight natural beauty and greenery within Skylight Park."
"Inspired by classic midwestern foliage, hand-selected and native to Ohio, it will feature the Eastern Purple Coneflower (Echinacea purpurea (L.) Moench) and the Black-eyed Susan (Rudbeckia hirta L.)," officials noted in a press release.
Encouraging quotes and mantras will also be posted amidst the greenery "allowing visitors to pause and reflect."
"We are excited for people from across the region to enjoy this innovative urban park that celebrates the value of green space for health, wellness and education," said Donté Gibbs, Vice President of Community Partnerships at the Conservancy for CVNP. "The Conservancy has been an enthusiastic planning partner with Bedrock to develop this new space at Tower City that brings and connects our national park with downtown Cleveland."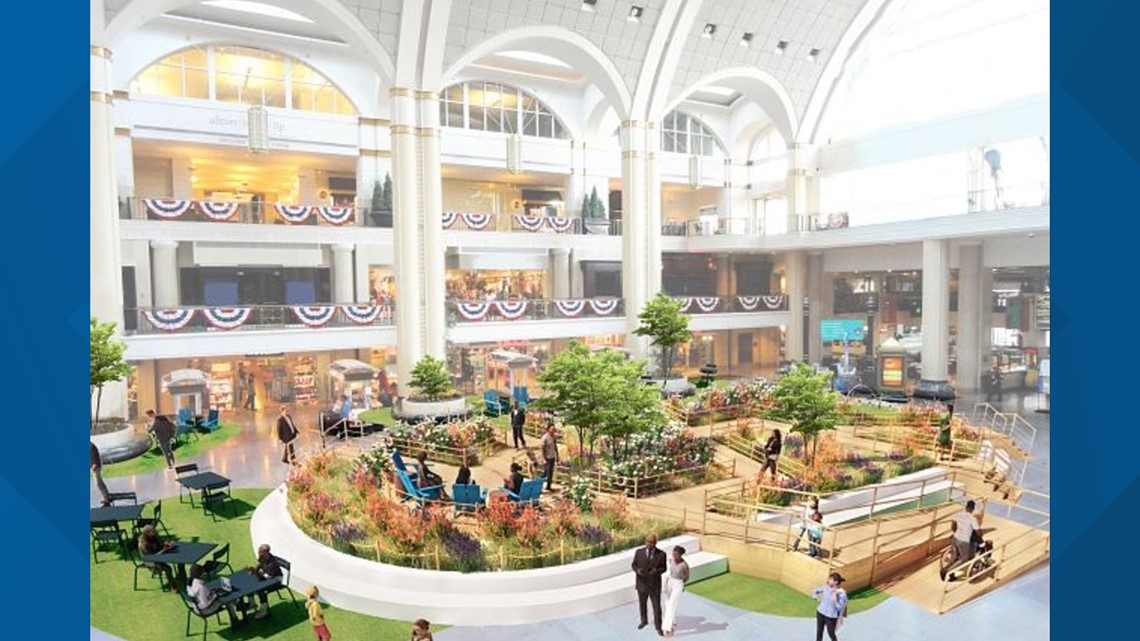 Skylight Park will also feature a lunchtime music series on Thursdays from 11:30 a.m. until 1:30 p.m. You can see the full schedule of events HERE.
Most recently, Bedrock announced three new additions to Tower City, including Unscript'd Boutique and The Eatery's Ninja City and MODBites by Nuevo.
Editor's note: Video in the player above was originally published in a previous story on May 30, 2022.