STREETSBORO, Ohio — Editor's Note: The following story contains elements of suicide. Viewer discretion is advised.
This week has been a blur for Tamia and Tim Woods, but the words of support written in the many cards they've received, the flowers, and being cloaked in love from the community has helped.
"Every parent wants to, you know, raise a child that's a good citizen and wants to be liked," Tim said of their 17-year-old son James. "To hear everybody saying all these good things, it feels good."
"He was a humble, humble young man and he always said 'thank you,'" Tamia added. "Just remember to say 'thank you,' remember to go after your dreams."
It's only been a few days since James tragically died by suicide. His mom and dad later learned he had been a victim of "sextortion," and say the have an obligation to share a crucial message.
"[The suspects] sent him over 200 messages, antagonizing him, tormenting him, telling them that he would ruin his life — sending explicit pictures out to his friends, making him use all of his money that he had in cash, to send to them cards, iTunes cards," Tamia said. "He gave them their Raising Cane's card. Like, he tried to give them everything that he had just to make it go away and they wouldn't. They played on his embarrassment and his shame and really made him feel like he had no other choice."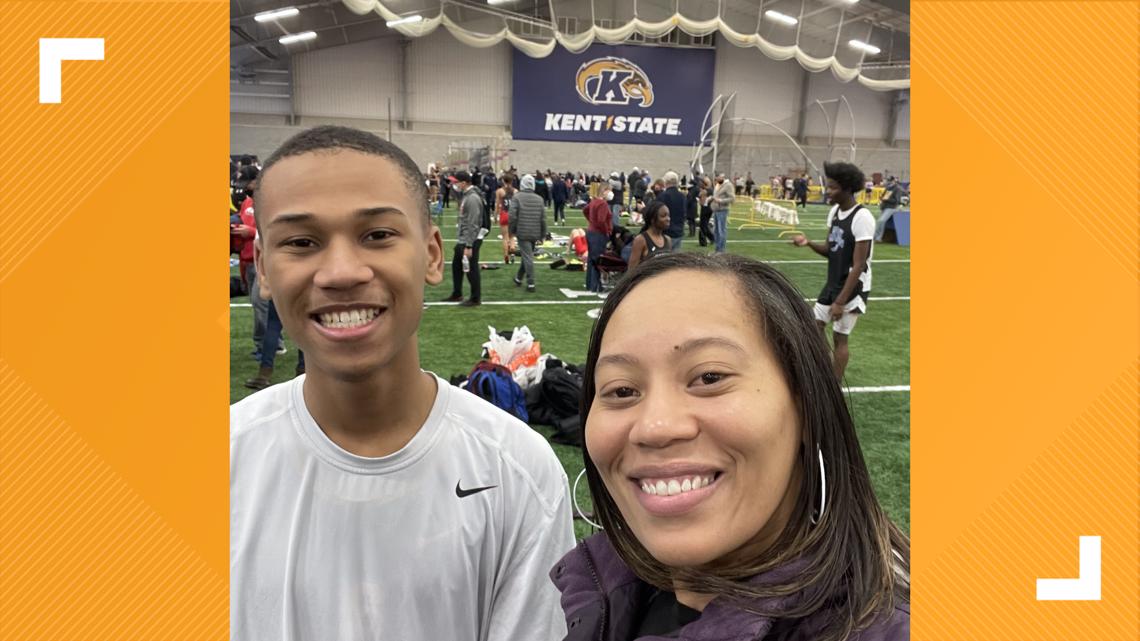 Sextortion is an online crime when an adult poses as a same-aged peer, sometimes convincing victims to share sexual pictures or perform sexual acts on camera. Streetsboro police say the suspects, claiming to be a young woman, tricked James into sharing too much.
The whole ordeal happened in a matter of 20 hours, and now, the Woods say their mission is to prevent this from happening to anyone else. This week, Tamia and Tim spoke to James' track team, urging them to talk to a trusted adult.
"The main thing is your parents," Tim stressed. "They're your biggest fans. You know, if you've got any problems — no matter how scared or embarrassing it could be — don't be too ashamed. They're the right people to be vulnerable to.
"Open up. Talk to them. They're there to help you through whatever it is you're going through, and even if you can't talk to your parents or feel you can't, you've got all the teachers, guidance counselors, you've got your coaches from all the sports you're doing. There's other people out there who [are] wiser than you to help you through your problems."
Streetsboro police and the school district are stepping up to help, too. In a press release, they offered resources and a safe place for victims.
There's also an ongoing criminal investigation. In a statement, Streetsboro Chief of Police Tricia Wain said:
"The investigation is ongoing. One of our investigating officers, Sgt. Stanley Siedlecki is our department liaison with ICAC (Internet Crimes Against Children). Sgt Siedlecki was instrumental in getting the suspect accounts deactivated while we continue our investigation. Investigators are also working with HSI (Homeland Security Investigations) and the FBI in hopes of identifying the suspect. In cases like these, many of the suspects are overseas making identification very difficult."
Tamia, a devoted parent, never knew what her son was going through. Here is her final plea to the community:
"I thought it was video games, I did, and he didn't tell me. So I just want the kids — please, kids, I'm begging you — tell your parents that. They ask, please tell, please tell your parents, because everybody says talk to your children, and I want you [parents] to talk to your kids. Please talk to your kids, but kids, please, please talk to your parents."
If you're struggling with thoughts of suicide, please call or text 988. Someone is available to help you 24 hours a day, seven days a week.