"Ninety-five percent sure I won't be back," Clowney told Cabot. "But there's still that 5 percent. You never know what can happen."
It appears the three-time Pro Bowl selection's odds of returning are even slimmer now.
The Browns have excused Clowney from Friday's practice and it appears unlikely that the defensive end will be playing in Cleveland's regular-season finale vs. the Pittsburgh Steelers on Sunday. Speaking to Cabot, the 29-year-old expressed dissatisfaction with how he's been used by the Browns' coaching staff and appeared to allude to the team favoring star defensive end Myles Garrett.
"Let's say it. Let's be honest," Clowney told Cabot. "[It seems to me] they don't want me to outplay nobody."
The No. 1 overall pick of the 2014 NFL Draft, Clowney initially arrived in Cleveland after signing a one-year deal with the Browns ahead of the 2021 campaign. While Cleveland fell short of its playoff expectations, Garrett and Clowney created one of the most formidable pass-rushing combinations in the league, with the duo combining for 25 sacks.
Following the Browns' 2021 regular-season finale vs. the Cincinnati Bengals, Garrett publicly lobbied for Clowney to return to Cleveland in 2022, which he did, signing another one-year deal with the team. But while Garrett has put together another stellar season, totaling 15 sacks, Clowney has posted just two, while appearing in 12 of the Browns' first 16 games.
Coach Kevin Stefanski refused to directly address Clowney's status — or provide any specifics about his decision to punish the defensive end — as the Browns (7-9), who always seem to be embroiled in drama, prepared to face the Steelers (8-8) on Sunday.
However, Stefanski did indicate Clowney won't be on the trip.
"Nothing comes above the team," he said.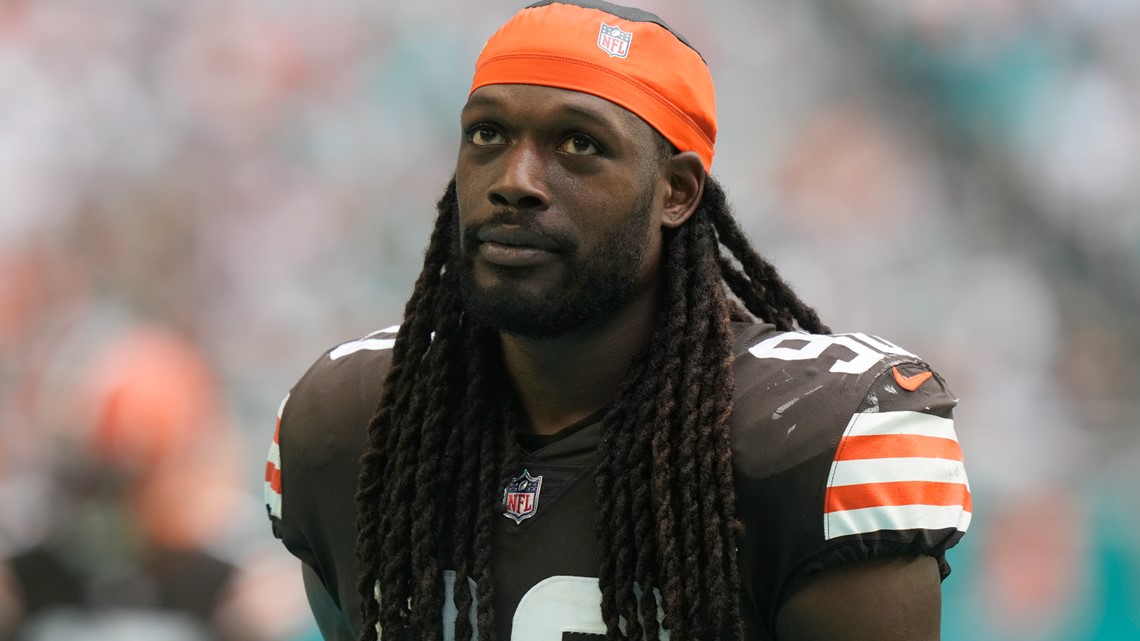 In the interview, Clowney made it clear he has no personal issues with Garrett, who has 15 sacks going into the Week 18 matchup with Pittsburgh. Garrett said Friday he understood that Clowney wanted to be more productive, but was disappointed in how his teammate ultimately expressed it.
"This is our team," Garrett said. "He's my brother. He's my teammate and I wish we could have talked about this man-to-man and to us as coaches as well. Could have sat us all down and had just a conversation and that would've probably been the way I would've handled it.
"But hindsight is 20/20. He's feeling a lot of emotion towards what has been a season of ups and downs and there's no perfect way to handle things. But I wish he would've handled a little bit differently."
Garrett said his relationship with Clowney remains "cordial" and he didn't take the comments to heart.
Asked if he would welcome Clowney back at any point, Garrett said: "We want volunteers, not hostages."
"If you feel like no one believes in you here," Garrett said, "then go where you feel like you're wanted and loved and appreciated."
Clowney revived his career with nine sacks last season. Earlier this season, he expressed his disappointment that the Browns were changing his assignment in games to give Garrett more favorable matchups.
Defensive line coach Chris Kiffin revealed Clowney refused to play on any down other than third in the Oct. 23 game at Baltimore. He was benched for the first series the following week against Cincinnati for his behavior.
Kiffin said the decision to move Garrett around is natural.
"We're going to put our best player in the best position to win," he said.
Kiffin also disagreed with Clowney's assertion that Garrett was treated differently.
"It was a frustrating season for all of us — everybody in this organization, defensively and for him," Kiffin said. "Obviously, he didn't have the production he had last year so he is frustrated. The way he went about it I don't agree with, but we are here today dealing with it."
Clowney came to the Browns' facility and attended a position meeting with his fellow defensive lineman before being told to leave.
The upheaval surrounding Clowney is similar to last season's messy situation with wide receiver Odell Beckham Jr., who was suspended by the Browns and eventually traded after weeks of drama.
Stefanski doesn't think there's a disconnect between his players and staff.
"Every team, all 32, we all deal with things throughout the season," he said. "Sometimes they stay in house and you deal with them, and sometimes they don't. That is very similar to family. That is what we do. We operate as a family. Sometimes you make tough decisions, but that is what we are trying to do."