Rock and Roll Hall of Fame induction ceremony: Everything you need to know about the 2021 event
13 new inductees will be honored this year, including JAY-Z, Foo Fighters, Tina Turner, The Go-Go's, Carole King and Todd Rundgren.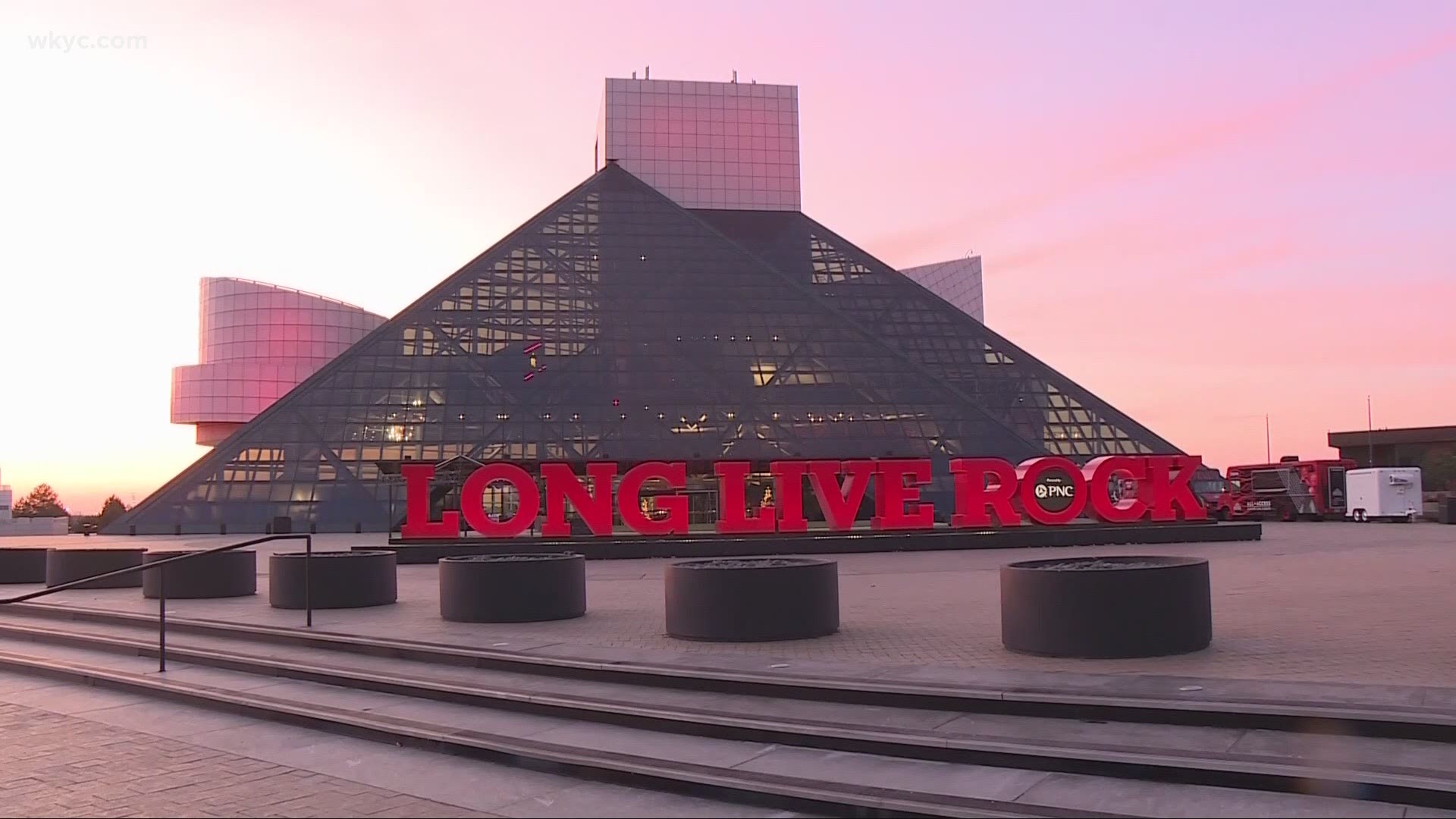 It's almost time for rock 'n' roll's biggest night.
Which A-list stars will be in Cleveland? How can you follow live updates from the ceremony? When can you watch the induction on HBO or streaming on HBO Max? Scroll through the chapters below for all the must-know information...
Back in Cleveland
:
Let the rock 'n' roll celebration begin!
When is the induction? Saturday, Oct. 30.
What time does it start? 8 p.m.
Where is the ceremony being held? Rocket Mortgage FieldHouse will host the inductions for the first time ever.
Editor's note: Video in the player above was originally published on March 2 when the Rock Hall announced the induction ceremony was moving to Rocket Mortgage FieldHouse.
Live coverage
:
How you can watch the inductions and get real-time updates
The only way you can watch the full induction ceremony live this year is by attending the event for yourself at Rocket Mortgage FieldHouse (tickets are still available HERE).
Live updates from WKYC.com: If attending the event is not an option for you, 3News will have crews there providing live updates all night right here on WKYC.com. We'll also be sharing pictures on our Facebook, Twitter and Instagram pages. Be sure to download the free WKYC app (Android, Apple) so you can have any big Rock Hall updates sent straight to your phone.
When will it air on TV? If you're hoping to watch the ceremony on TV, you'll have to wait until 8 p.m. on Nov. 20 when it airs on HBO and streams on HBO Max. A simulcast will also be available that same night on SiriusXM Rock and Roll Hall of Fame Radio (channel 310) and Volume (channel 106).
Who's being inducted?
:
Meet the class of 2021
There are 13 fresh inductees joining rock 'n' roll's hallowed halls with the class of 2021. This group features several two-time inductees, including Dave Grohl (Foo Fighters, previously inducted with Nirvana in 2014), Carole King (previously inducted with Gerry Goffin in 1990) and Tina Turner (previously inducted with Ike and Tina Turner in 1991). CLICK HERE to read in-depth bios of all 13 inductees.
Here's the 2021 list broken down by induction category...
PERFORMER
Foo Fighters
The Go-Go's
JAY-Z
Carole King
Todd Rundgren
Tina Turner
AHMET ERTEGUN AWARD
MUSICAL EXCELLENCE AWARD
LL Cool J
Billy Preston
Randy Rhoads
EARLY INFLUENCE AWARD
Kraftwerk
Gil Scott-Heron
Charley Patton
"It's off the charts," Rock Hall President and CEO Greg Harris told 3News when the 2021 list of inductees was announced on May 12. "It's our most diverse class ever. There's something in there for everybody. Having The Go-Go's, Carole King and Tina Turner going in, it's the first time we've had three female inductees in a long, long time. They're all terrific. We're really honored. This is an amazing class."
More star power
:
Want more celebrity? Here you go...
The Rock and Roll Hall of Fame induction ceremony is always a star-studded event. So who else is participating in this year's event? Here's the initial list of special guests -- but more are expected to be announced at a later date...
Angela Bassett: Inducting Tina Turner with performances by Christina Aguilera, Mickey Guyton, H.E.R. and Bryan Adams
Taylor Swift: Inducting Carole King with performances by Swift and Jennifer Hudson
Drew Barrymore: Inducting The Go-Go's
Paul McCartney: Inducting Foo Fighters
Lionel Richie: Inducting Clarence Avant for the Ahmet Ertegun Award
COVID precautions
:
Health safety protocols in place
For those who are attending the Rock Hall induction ceremony, there are some very important COVID-19 safety protocols you need to know. All attendees will be required to do one of the following:
Provide proof of being fully vaccinated. Or...
Provide proof of a negative COVID test within 48 hours of entering the venue.
A proper ID that matches your name on the vaccination card or document with your negative test is also required.
Turn it up!
:
Sample some of the inductees' tunes
Crank up your speakers and rock out as you explore some music from the new inductees...
FOO FIGHTERS
THE GO-GO'S
JAY-Z
CAROLE KING
TODD RUNDGREN
TINA TURNER
LL COOL J
KRAFTWERK
CHARLEY PATTON
BILLY PRESTON
RANDY RHOADS
GIL SCOTT-HERON
CLARENCE AVANT
Induction process
:
How inductees are selected
A committee of more than 1,000 people -- including former inductees, historians and members of the music industry -- voted to select the class of 2021. The annual Rock Hall fan vote also carried some weight in making the final decision.
To be eligible for induction, an individual artist or band must have released their first commercial recording at least 25 years prior to the year of nomination. Factors in determining the inductees are:
The artist's musical influence on other artists.
Length / depth of career and body of work.
Innovation and superiority in style / technique.
Rock Hall rewind
:
Looking back at last year's induction
The 2020 induction ceremony didn't go as originally planned due to the COVID-19 pandemic. After delaying the induction until November, the Rock and Roll Hall of Fame canceled its in-person event and swapped it for a pre-taped ceremony that aired exclusively on HBO and HBO Max.
The eight inductees from last year include:
Whitney Houston
T. Rex
Jon Landau
Depeche Mode
The Notorious B.I.G.
Irving Azoff
Nine Inch Nails
The Doobie Brothers
You can see real-time updates from the 2020 ceremony HERE.