The family of Mentor Police Officer Mathew Mazany has broken its silence for the first time since the 14-year veteran was killed in a hit-and-run crash last weekend:
Through our grief and tears, my family and I would like to express our deepest gratitude to the community and to the Mentor Police Department for the outpouring of support that we have received. We are humbled and so deeply touched beyond words by our community for standing with us and supporting us through this tragedy.
The 41-year-old's death is just the second in the line of duty for the department since 1947. He followed his father's footsteps into law enforcement, and leaves behind a son and an ex-wife.
A candlelight vigil is scheduled for Friday night at 8:30 p.m. at the Mentor Civic Amphitheater, and visitation for Officer Mazany will be held at the Monreal Funeral Home on Curtis Blvd. in Eastlake from 2 p.m. to 8 p.m. on Sunday. A private funeral service will then take place Monday at 10 a.m. at the same location, followed by a procession and public service at the Mentor Fine Arts Center. Ohio Gov. John Kasich has ordered all flags across the state to fly at half-staff from sunrise to sunset on that day.
PHOTOS | Memorial honors Mentor officer killed in hit-and-run
PHOTOS | Memorial honors Mentor officer killed in hit-and-run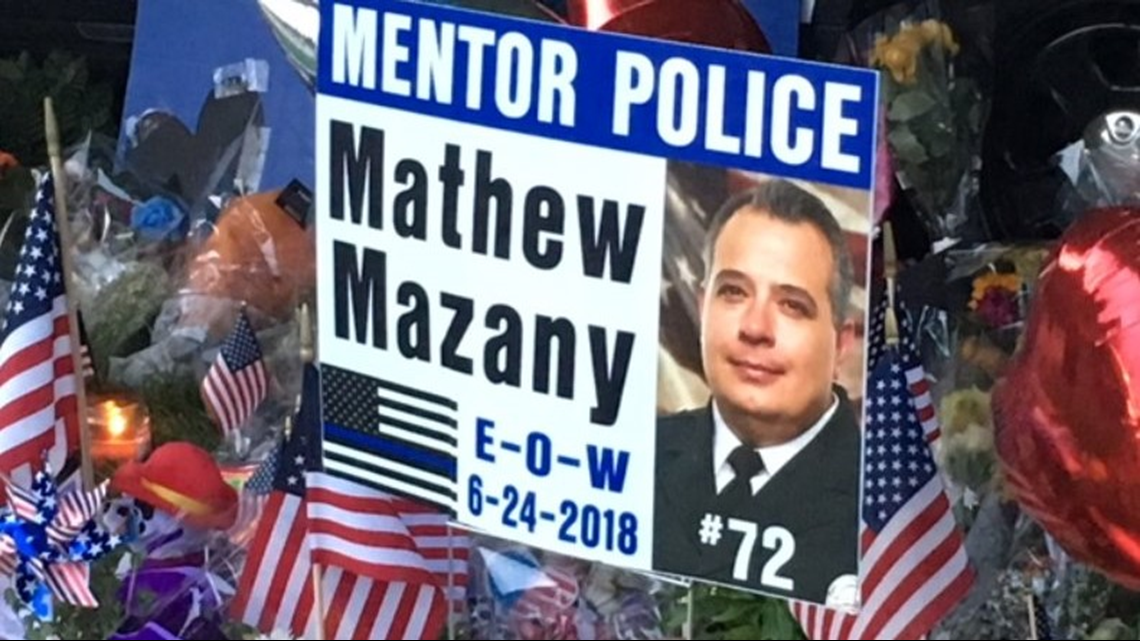 Twenty-four-year-old Brian Anthony, of Kirtland, was charged in Mazany's death with leaving the scene of a crash and tampering with evidence. Additional charges are pending, and Anthony is currently being held without bail.
RELATED | Mentor officer killed in hit-and-run pulled over suspect driver in 2012
MORE | Here's how you can help the family of fallen Mentor police officer Mathew Mazany