CANTON, Ohio — For many around Cleveland and the NFL, the question will be, "What took so long?"
But regardless of the length of time, on Wednesday the sport finally righted what was perhaps one of its greatest wrongs, as Browns legend Mac Speedie was elected to the Pro Football Hall of Fame. The prolific pass catcher was among 10 "senior" candidates selected for enshrinement as part of the Hall's special "Centennial Slate" celebrating the 100th anniversary of the start of the NFL.
Speedie played for Cleveland from 1946-52, with the first four years coming in the old All-American Football Conference and the last three coming in the NFL. He was named an All-Pro six times and four times led his respective league in receptions, and finished his career with 349 catches for 5,602 yards (both still third in club history) and 33 touchdowns. His mark of 800 yards per season would also not be eclipsed for more than two decades.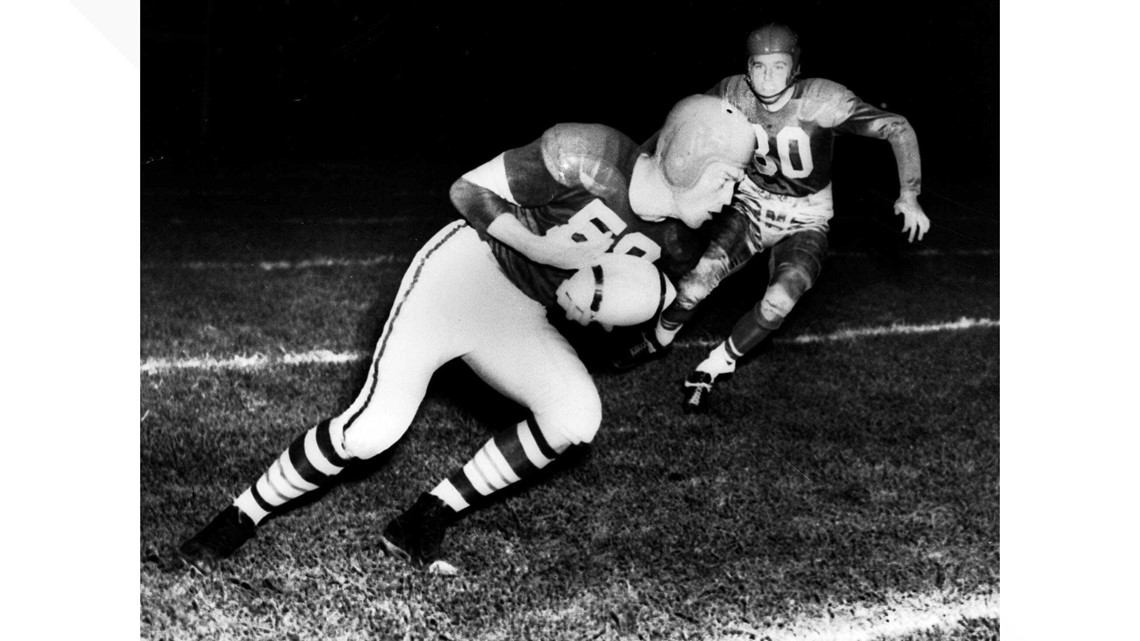 During Speedie's tenure, the Browns played for a league championship every single year, winning the AAFC in each of its four seasons and the NFL in 1950. Several players from that dynasty era (including Otto Graham, Marion Motley, and Speedie's receiving mate Dante Lavelli) are already enshrined in Canton, but Speedie's time did not come until 67 years after his last American football snap. Several people believed he was blackballed by his former coach, the legendary Paul Brown.
Brown and Speedie had a contentious relationship during his playing days, and it was forever fractured when Speedie left Cleveland for a higher salary in Canada prior to the 1953 season. Speedie claimed Brown told him "he was going to get even," and despite intense lobbying from former teammates Speedie was passed over for the Hall during his lifetime. He died in 1993 at the age of 73, but will now be the Browns' 17th Hall of Famer and the first since offensive lineman Gene Hickerson in 2007.
As part of the Centennial Slate, the Hall of Fame commissioned a special blue ribbon panel that elected 10 "seniors" (players whose careers ended more than 25 years ago), three contributors and two head coaches that will be inducted in addition to the normal five Modern-Era inductees who will be announced the day before Super Bowl LIV. Controversial former Browns owner Art Modell, Canton businessman and NFL co-founder Ralph Hay, and Northeast Ohio native and Ohio State legend Randy Gradishar were also named as finalists, but none were selected for enshrinement.
Here is the full list of new Hall of Famers:
Harold Carmichael, WR - Philadelphia Eagles & Dallas Cowboys, 1971-84
Jim Covert, OT - Chicago Bears, 1983-91
Bill Cowher, head coach - Pittsburgh Steelers, 1992-2006
Bobby Dillon, DB - Green Bay Packers, 1952-59
Cliff Harris, S - Dallas Cowboys, 1970-79
Winston Hill, OT - New York Jets & Los Angeles Rams, 1963-77
Jimmy Johnson, head coach - Dallas Cowboys & Miami Dolphins, 1989-93, 1996-99
Alex Karras, DT - Detroit Lions, 1958-70
Steve Sabol, NFL Films - 1962-2012
Donnie Shell, S - Pittsburgh Steelers, 1974-87
Duke Slater, T - Milwaukee Badgers, Rock Island Independents, & Chicago Cardinals; 1922-31
Mac Speedie, E - Cleveland Browns 1946-52
Ed Srinkle, G/DE/TE - Chicago Bears, 1944-55
Paul Tagliabue, NFL commissioner - 1989-2006
George Young, general manager - New York Giants, 1979-97