At one time, the Browns had a 41-14 lead, but the Cowboys (as they are apt to do) came charging back at them in the fourth quarter, cutting that huge lead down to three. But Cleveland came up with a huge play from Odell Beckham Jr.: His third touchdown of the day on a 50-yard reverse run, although he actually took the handoff 10 yards behind the line of scrimmage.
It's a dangerous play if he gets brought down, as it would put the Browns way behind the sticks, but Beckham turned the right corner and zoomed down the sideline for the score.
The Browns re-took an 11-point lead after a blocked extra point led to a two-point conversion, and shortly thereafter Denzel Ward came up with a interception to snuff out a final rally by the Cowboys. Cleveland wins its third in a row to go to 3-1 for the first time since 2001, while Dallas drops to 1-3.
I will say this to you: The Browns have been looking for a signature win for a long period of time, whether it was in Pittsburgh or against another strong team. The answer was usually "no," as they'd often come up a little bit short or not get the job done altogether. But this is a signature win, not only because of who they beat, but where they beat them.
We wondered if the Browns offense could throw the ball effectively against Dallas and get involved in an up and down battle by scoring point-for-point. They answer? Yes, they can, and while we worry about the Cleveland defense, the offense today's NFL can score with the best of them, and they needed all of those points on this Sunday.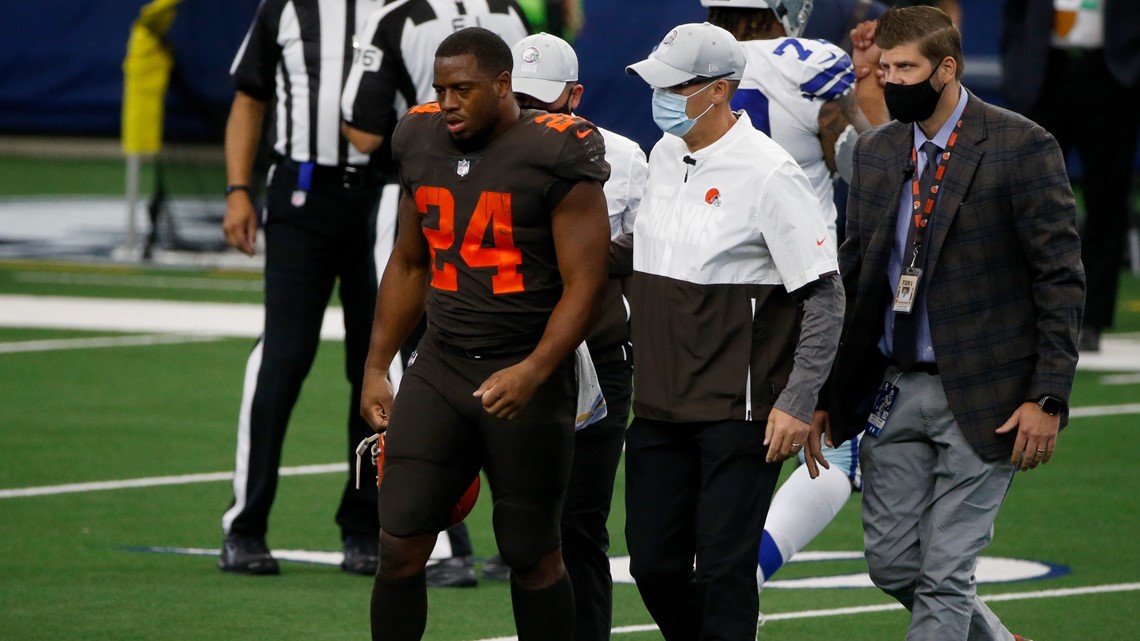 But after Chubb's exit, in front of that impeccable Browns offensive line, the team ran for a ton of effective plays no matter who the back was. D'Ernest Johnson, Dontrell Hilliard, and of course Kareem Hunt, who becomes the main guy to go to if Chubb is out for a long period of time. Hunt had two rushing touchdowns in another tremendous game, despite being questionable all week long with a groin injury.
The Browns can keep building on this, and Baker Mayfield also had a strong game with his largest offensive output of the season. Now with three wins in a row, they're in the land of playing big games each and every Sunday, and it starts next week when the Colts come to town.
Until then, take a deep breath, and enjoy your Victory Monday.